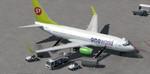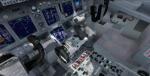 69.05Mb (1091 downloads)
FSX/Prepar3D Boeing 737-700 S7 (Siberian Airlines) Oneworld Package with enhanced VC. Russian airline S7 currently operate 19 Boeing 737-800 with a further 9 on order. One is painted in the Oneworld livery. FSX native model by TDS/ Tenkuu Developers Studio with advanced 737-800 VC added. Includes utility for ground services, Passenger bus, cargo, stairs, refuelling truck etc (find it under - Views - Instrument panel - Util) The wonderful Boeing 737-700 from TDS will be enjoyed by many more people now, assembled in one ready tested and ready to fly package. The VC is the Alejandro Rojas Lucena/FSND fantastic revised Boeing 737-800 VC model. This VC model includes Working wipers (right mouse click on switch) with rain effect. Switches for LCD Screens, EICAS, PFD, MFT. Autobrake switch. Opening pilots window. Cabin Lights switch. Realistic FMC. Ground Proximity Warning System (GPWS), More Realistic night VC textures. There are custom Boeing sounds included for that extra realism. I have added the great textures by Triadi Sudwarman. Model is not modified in any way. VC added and aircraft.cfg edited to allow correct VC views. TDS wonderful native FSX Boeing 737-700 model. See VC docs to get the best out of the VC and FMC. Assembled and prepared for FSX/P3D by Chris Evans
Posted Sep 3, 2016 05:18 by chris evans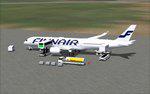 5.28Mb (784 downloads)
FSX Finnair Airbus A350-900 V5. This version 5, features more improved and detailed aircraft model, ( image comparison between v5 and v4 inside ), also modifications have been done on both, taxi lights and wing lights. Taxi lights will add new night lighting on main landing gears and wheels and add bleu LED ground lighting effect for each gears. Landing light will add logo lights on winglets, ( more info regarding proper functioning of the night effects in the Read Me FSX ). Version 5, included CamSim's own static displays and Animated Ground Servicing (AGS). 2d panel. No VC. Model design and paint by Camil Valiquette
Posted Sep 3, 2016 02:42 by Camil Valiquette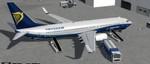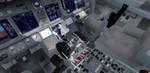 69.35Mb (2877 downloads)
FSX/Prepar3D Boeing 737-800 Ryanair EI-DCL Package with enhanced VC. Irish airline Ryanair is the world's largest operator of the Boeing 737-800 with 353 currently in operation (2016) and a further 115 or order. Ryanair currently ranks no. 5 in the world for passengers carried. FSX native model by TDS/ Tenkuu Developers Studio with advanced 737-800 VC added. Includes utility for ground services, Passenger bus, cargo, stairs, refuelling truck etc (find it under - Views - Instrument panel - Util) The wonderful Boeing 737-700 from TDS will be enjoyed by many more people now, assembled in one ready tested and ready to fly package. The VC is the Alejandro Rojas Lucena/FSND fantastic revised Boeing 737-800 VC model. This VC model includes Working wipers (right mouse click on switch) with rain effect. Switches for LCD Screens, EICAS, PFD, MFT. Autobrake switch. Opening pilots window. Cabin Lights switch. Realistic FMC. Ground Proximity Warning System (GPWS), More Realistic night VC textures. There are custom Boeing sounds included for that extra realism. I have added the photoreal textures by Liam Donaldson. Model is not modified in any way. VC added and aircraft.cfg edited to allow correct VC views. TDS wonderful native FSX Boeing 737-700 model. See VC docs to get the best out of the VC and FMC. Assembled and prepared for FSX/P3D by Chris Evans.
Posted Sep 2, 2016 11:43 by chris evans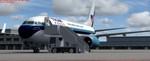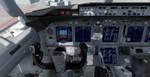 67.81Mb (1395 downloads)
The Eastern Air Lines "Trump Pence" 737-7L9 currently used for the Trump US presidential campaign. The Aircraft ATC Is N278EA... Originally had The "Star Trek" and "Florida Panthers" Schemes. Textures and packaging by Nelson Acosta using the internal model by Alejandro Rojas Lucena/FSND and configs by Chris Evans. Model By TDS.
Posted Sep 2, 2016 03:38 by Nelson Acosta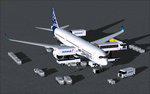 5.47Mb (624 downloads)
FSX Airbus House Colors Airbus A350-900 V5. This version 5, features more improved and detailed aircraft model, ( image comparison between v5 and v4 inside ), also modifications have been done on both, taxi lights and wing lights. Taxi lights will add new night lighting on main landing gears and wheels and add bleu LED ground lighting effect for each gears. Landing light will add logo lights on winglets, ( more info regarding proper functioning of the night effects in the Read Me FSX ). Version 5, included CamSim's own static displays and Animated Ground Servicing (AGS). 2d panel but no VC. Model design and paint by Camil Valiquette.
Posted Sep 1, 2016 13:48 by Camil Valiquette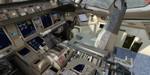 52.58Mb (3787 downloads)
FSX/P3D Boeing 777-200ER Malaysia Airlines NC with Virtual Cockpit and working Honeywell FMC. Malaysia Airlines operated 17 Boeing 777-200 until March 2016. 2 were involved in accidents in 2014, one being shot down over Ukraine and one being the missing 'flight 370'. Includes revised VC and FMC (via Views-Instrument panel). Model features are Opening doors & Cargo doors, detailed textures, accurate paint, dynamic shine & effects, dynamic flexing wings that respond to turbulence, fully independent suspension, trim animation, gear steering, accurate flight dynamics, spoiler animation, reflective cockpit windows, crash effects, animated tilting bogies, full night lighting, ground service vehicles when cargo door open, (FSX - Go to Views - Instrument Panel -Posky Util - P3D Vehicle - Instrument panel - Posky Util), detailed virtual cockpit and more. Added jetway (Ctrl J) and custom B777 sounds. I have added the great textures by Christopher Maclachlan. See FMC docs. P3D USERS NOTE: Some cockpit instruments can only be set in the 2d panel. Use F9 and F10 to switch between VC and 2d panels. Prepared and assembled for FSX by Chris Evans
Posted Sep 1, 2016 06:20 by chris evans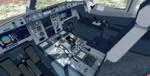 81.31Mb (5321 downloads)
FSX/P3D Airbus 320-200 JetBlue package. Based in New York, low cost operator Jet Blue is America's 5th largest airline and currently (2016) operate 130 Airbus A320-200 aircraft. Full working VC, working wipers, with groundhandling gauge and FMC. Added exits for Jetways (press Ctrl J) and better Thomas Ruth VC with updates by Chris Evans and Louis Quintero. Use FMC under Views/Instrument panel in FSX menu. (FSX : Go to Views -Instrument Panel. P3D: Go to Vehicle - Instrument panel), Custom CFM sounds. Also added jetway configs (Ctrl J). Model by Project Airbus. Added the great textures by Rui Cristina. Assembled for FSX/P3D by Chris Evans
Posted Aug 31, 2016 04:22 by chris evans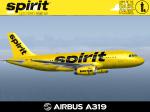 43.76Mb (1918 downloads)
The Spirit Bare Fare livery on the Project Airbus A319-132 model. Textures by Jeffrey S. Bryner. Comes with the default A321 Virtual Cockpit.
Posted Aug 30, 2016 18:06 by unknown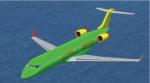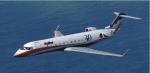 20.92Mb (616 downloads)
This is an update for FSX of the IRIS CRJ-200. I have given it the CRJ-700 panel including the interior model file in the model folder. I have added the missing wheels and the missing scrape points. I have updated the flight dynamics. I have repainted the blank textures; included the paint kit, and included the textures from the paint by CaptainAJ737. See readme for why.
Posted Aug 30, 2016 17:06 by Bob Chicilo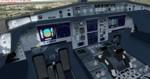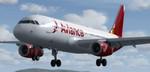 82.73Mb (3040 downloads)
FSX/P3D Airbus 320-200 Avianca Costa Rica package. Avianca Costa Rica is the national airline of Costa Rica and currently (2016) operate 27 Airbus A320-200 aircraft. Full working VC, working wipers, with groundhandling gauge and FMC. Added exits for Jetways (press Ctrl J) and better Thomas Ruth VC with updates by Chris Evans and Louis Quintero. Use FMC under Views/Instrument panel in FSX menu. (FSX : Go to Views -Instrument Panel. P3D: Go to Vehicle - Instrument panel), Custom CFM sounds. Also added jetway configs (Ctrl J). Model by Project Airbus. Added the great textures by Luiz Jimenez Trejos. Assembled for FSX/P3D by Chris Evans
Posted Aug 30, 2016 10:52 by chris evans