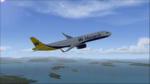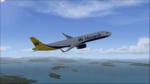 59.71Mb (1312 downloads)
FSX Monarch Airlines A321-231 with sharklets. 2d panel but no VC. Project Airbus A321-200 model
Posted Mar 30, 2017 03:07 by w.thomason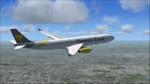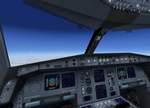 38.22Mb (2498 downloads)
Thomas Ruth Airbus A330-200 in Thomas Cook Sunny livery. Includes the Thomas Ruth A330 VC.
Posted Mar 29, 2017 21:39 by w.thomason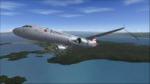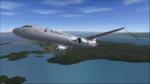 60.80Mb (1828 downloads)
American Airlines repaint of the Project Airbus A321-231 with Sharklets. 2d panel but no VC .
Posted Mar 29, 2017 11:54 by w.thomason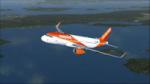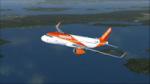 58.80Mb (3692 downloads)
EasyJet repaint of the Project Airbus A320-200 with sharklets. 2d panel but no VC
Posted Mar 29, 2017 11:46 by w.thomason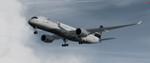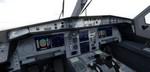 67.90Mb (4460 downloads)
FSX/P3D Airbus A350-941XWB Lufthansa D-AIXB "Stuttgart" package. D-AIXB is one of Lufthansa's currently (January 2017) 2 Airbus A350 win operation. Lufthansa have a further 22 A350 on order. The Airbus A350 XWB is a family of long-range, twin-engine wide-body jet airliners from the European aircraft maker Airbus. The A350 is the first Airbus aircraft with both fuselage and wings made mainly from carbon fibre structure. The A350 is intended to replace the A340 and compete with Boeing's 787 and 777. Added the great textures by Stefan Bree. Assembled using the pack base by FSPainter with enhanced Thomas Ruth VC with updates by Phillip Wallaert, Louis Quintero and some further edits by Chris Evans.
Posted Mar 29, 2017 06:56 by chris evans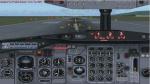 27.04Mb (1226 downloads)
This is an update of the TDS B727-200 and assembled by Chris Evans. I have changed the size of the GPS, added a HUD, a more modern autopilot, a GPS icon, and a trim gauge. All done on the 2D panel; VC left unchanged. I added the rest of the wheels, and corrected the scrape points; I updated the flight dynamics and changed the touchdown effect.
Posted Mar 28, 2017 10:19 by Bob Chicilo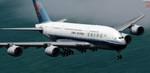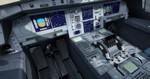 71.56Mb (4293 downloads)
FSX/P3D Airbus A380-800 China Southern package. China Southern currently (2017) operate 5 A380-800 on several international routes including Australia, Europe and the US. Includes full working VC, working wipers, with ground handling gauge and FMC. Added exits for Jetways (press Ctrl J) and better Thomas Ruth VC with updates by Chris Evans and Louis Quintero. Use FMC under Views/Instrument panel in FSX menu. Model/VC by Project Airbus/Thomas Ruth. I added the great textures by SLT. Prepared and assembled for FSX by Chris Evans.
Posted Mar 26, 2017 05:03 by chris evans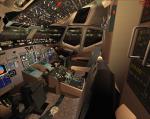 16.67Mb (15986 downloads)
MD-83 model by Alejandro Rojas Lucena, with custom sounds,VC (best VC in the freeware world!), passenger stairs front and rear. Lufthansa texture by ricardo_tv. Have fun to fly
Posted Mar 26, 2017 00:58 by ricardo_tv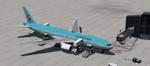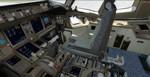 53.81Mb (3639 downloads)
FSX/P3D Boeing 777-200ER Korean Air package. As of March 2017, Korean fly 14 Boeing 777-200ER aircraft. Includes revised VC and FMC (via Views-Instrument panel). Model features are Opening doors & Cargo doors, detailed textures, accurate paint, dynamic shine & effects, dynamic flexing wings that respond to turbulence, fully independent suspension, trim animation, gear steering, accurate flight dynamics, spoiler animation, reflective cockpit windows, crash effects, animated tilting bogies, full night lighting, ground service vehicles when cargo door open, (FSX - Go to Views - Instrument Panel -Posky Util - P3D Vehicle - Instrument panel - Posky Util), detailed virtual cockpit and more. Added jetway (Ctrl J) and custom B777 sounds. I have added the great textures by Denis Minaev. Thanks to Garret Smith for the great FMC. See FMC docs. P3D USERS NOTE: Some cockpit instruments can only be set in the 2d panel. Use F9 and F10 to switch between VC and 2d panels. Prepared and assembled for FSX by Chris Evans.
Posted Mar 24, 2017 07:02 by chris evans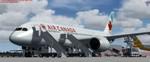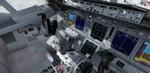 103.48Mb (3397 downloads)
FSX/P3D Boeing 787-8 Air Canada package with new enhanced VC. Air Canada currently operate 8 Boeing 787-8. Model by TDS/ Tenkuu Developers Studio with advanced 737-800 VC added. The wonderful Boeing 787-8 from TDS will be enjoyed by many more people who do not know how to install a VC into a FSX native model. So now the 787-8 has the nearest VC I can find -- the 737-800. The layout of the 787 cockpit is not a million miles away from the advanced 737-800. The VC is the Alejandro Rojas Lucena/FSND fantastic revised Boeing 737-800 VC model blended with Ken Wiggington's work on the default 737 VC to make it more resemble a 787. This VC model includes Working wipers (right mouse click on switch) with rain effect. Switches for LCD Screens, EICAS, PFD, MFT. Autobrake switch. Opening pilots window. Cabin Lights switch. Realistic FMC. Ground Proximity Warning System (GPWS), More Realistic night VC textures. There are custom Boeing sounds included for that extra realism. I added the great textures by Aziz Polash. Aircraft.cfg edited to allow correct VC views. Assembled and prepared for FSX by Chris Evans.
Posted Mar 23, 2017 18:39 by chris evans