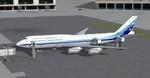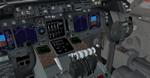 39.35Mb (1858 downloads)
FSX Aerolineas Argentinas Boeing 747-822. A new B747-800 painted with Aerolineas Argentinas retro livery. This is a repaint of a fictional aircraft registered as LV-AYD. SkySpirit Boeing 747-8 model and effects included.Assembled and upgraded for FSX with the developed B747 VC (virtual 3d cockpit) from Alejandro Rojas Lucenda. This is the Project Opensky FSX native Boeing 747-8i GenX model, and includes ground cargo servicing, stairs (FSX - Go to Views - Instrument Panel -Posky Utility), opening nose section and more. Included CF engine sounds from BrandonG, with realistic jet whine to make your flight sound great. Upgraded using the vastly improved Boeing 747 VC from Alejandro Rojas Lucena/FSND (See panel docs for details). VC includes FMC, EICAS, MFD with control panel, GPWS, working wipers, cabin lights, fire suppression, avionics switch, fuel crossfeed, landing lights switches, taxi light switch, engine generators, APU generator, battery switch, starter switches, de-ice switch, general lights switches. Louis Castro
Posted Oct 26, 2015 14:20 by Louis Castro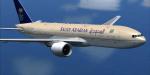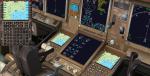 614.28Mb (9028 downloads)
Upgraded version of my Previous Upload Changelog: More Liveries (13) FMC by Jb777 (see FMC Docs) Working LNAV and GPWS. VC model available. Model by POSKY . Contains 3 authentic sound sets. Edited Aircraft.cfg with Passenger and cockpit views. Also contains a Working EFIS, V1 Vr V2 and Flap Speeds(On PFD) Working DSP with ECL and Detailed Traffic Radar.Model features are Opening doors & Cargo doors, detailed textures, accurate paint, dynamic shine & effects, dynamic flexing wings that respond to turbulence, fully independent suspension, trim animation, accurate flight dynamics, spoiler animation, reflective cockpit windows, crash effects, animated tilting bogies, full night lighting, ground service vehicles when cargo door open, (FSX - Go to Views - Instrument Panel -Posky Util), detailed virtual cockpit and more. Happy Flying
Posted Oct 26, 2015 06:20 by Hanzalah Ravat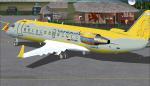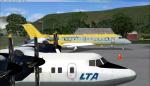 26.46Mb (1087 downloads)
Bombardier CRJ-200 Aereotuy YV1130C, Venezuela. Model by Project Opensky. Texture by Yankyvictor.
Posted Oct 25, 2015 23:20 by YANKYVICTOR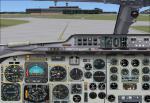 108.73Mb (2674 downloads)
This is an update to the Project Fokker fs2004 Fokker F-28 Fellowship. Included are ten textures including; Air Ontario 1363 and US Air 405. Includes texture thumbnails, and XML gauges for the 2D panel, NO VC panel.
Posted Oct 25, 2015 20:17 by Michael E. Roberts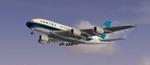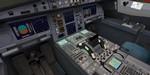 59.58Mb (3166 downloads)
Airbus A380-800 China Southern package. China Southern is the world's 6th largest airline and Asia's largest airline in terms of fleet size. As of 2015, China Southern operate 5 A380-800 aircraft. Includes full working VC, working wipers, with GPWS and FMC. Added exits for Jetways (press Ctrl J) and better Thomas Ruth VC with updates by Chris Evans and Louis Quintero. Use FMC under Views/Instrument panel in FSX menu. Model/VC by Project Airbus/Thomas Ruth. I included the great textures by Triadi Sudarmawan. Prepared and assembled for FSX by Chris Evans.
Posted Oct 25, 2015 12:53 by chris evans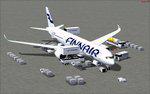 5.21Mb (2056 downloads)
FSX Finnair Airbus A350-900 v4. This CamSim version 4 features more Animated Ground Servicing (AGS), featuring trucks hooking and unhooking trailers and static displays. 2d panel but no VC. Model design and paint by Camil Valiquette.
Posted Oct 24, 2015 07:04 by camil valiquette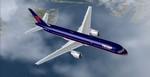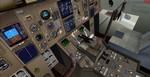 70.84Mb (3355 downloads)
This is a repaint of the Project Opensky Boeing 757-200 with Donald Trump's personal aircraft paint scheme.
Posted Oct 23, 2015 21:23 by Zac Wojcik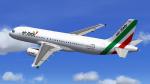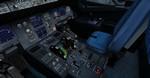 54.75Mb (3053 downloads)
Project Airbus A320-232 in the colours of now defunct Air Italy. Model by Project Airbus. Repaint by Jacques Louw.
Posted Oct 23, 2015 04:13 by Jacques Louw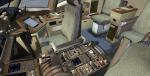 139.84Mb (7377 downloads)
This is a WORK IN PROGRESS!!! Adapted from Chris Evans' updated 777. Working LNAV and GPWS. VC model available. Model by POSKY with British Airways livery. Contains an authentic sound set. FMC by Garret Smith. Edited Aircraft.cfg with Passenger and cockpit views. Added Groundhandling Panel which offers a better Pushback and a Taxispeed Limiter. Also contains a Working EFIS, V1 Vr V2 and Flap Speeds(On PFD).Model features are Opening doors & Cargo doors, detailed textures, accurate paint, dynamic shine & effects, dynamic flexing wings that respond to turbulence, fully independent suspension, trim animation, gear steering, accurate flight dynamics, spoiler animation, reflective cockpit windows, crash effects, animated tilting bogies, full night lighting, ground service vehicles when cargo door open, (FSX - Go to Views - Instrument Panel -Posky Util), detailed virtual cockpit and more. Added jetway (Ctrl J) and custom B777 sounds.Includes the great textures by Stephen Groom Happy Flying
Posted Oct 23, 2015 00:33 by Hanzalah Ravat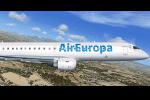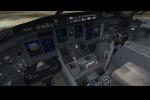 14.07Mb (5064 downloads)
Embraer Emb 195 Air Europa. Original model by AI Ardvark, VC merge by Dr. MaCouglious, textures by Juan Villamor
Posted Oct 21, 2015 20:50 by Juan Villamor