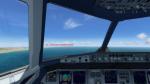 392.70Mb (1582 downloads)
Package has all three great A330-200 models created by Thomas Ruth. All the engine models come with a dedicated sound pack. In total 32 liveries from all over the globe has been added. Current VC here is the Microsoft FSX A321 VC model but you can easily switch to the Thomas Ruth A320 VC model. For this read the file VC_info.txt in the aircraft 'Docs' folder. Panels has been expanded with TCAS, CockpitSounds, GPWS, Flightdeck SFX panels, V-Speed callouts, and GroundHandling. Extra XML gauges for TCAS and Anti-Skid have also been added. Airbus callouts were added including the notorious and funny 'retard' sound. Extra VC sounds (EFIS controls, Clock, EICAS, ILS, Master Warning)) has been added in a newly created Airbus_A321.cab, of which the main functionality has not been touched. Reference and Checklists htm files have been added. Contact points has been adapted. Logo lights usage has been changed so that you have more control when to set them on or off. For a full mod list please refer to the file Flanker256.txt in the aircraft 'Docs' folder. Liveries included: Aer Lingus, Aeroflot, Air China, Air France, Air Transat, Aerolineas Argentinas, Avianca, China Eastern, China Southern, Corsair, Delta Airlines, Eithad (2x), Eva Air, Garuda Indonesia, Greeenland Air, Hainan Airlines, Iberia, Iran Air, Korean Airlines, KLM (2x), Kuwait Air, Lufthansa, LTU, Malaysia Airlines, Qantas, Sichuan Airlines, South African Airways, Swiss Air, TAP, US Airways. Package has been tested in both FSX (with SP2) and Prepar3d v4.5
Posted Apr 18, 2021 16:14 by Flanker256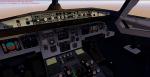 72.96Mb (362 downloads)
FSX/P3D Airbus A330-300 Egyptair package. Cairo based Egyptair currently have 3 A330-300 and fly to destinations mainly in the northern hemisphere worldwide. Model by Thomas Ruth. Also added jetway configs (Ctrl J). Revised original VC by Microsoft updated by Collin MacKenzie to include built in FMC and more. Textured and assembled for P3D5 (Should also work in other P3D and FSX) by Chris Evans
Posted Apr 18, 2021 04:42 by chris evans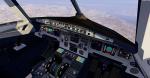 102.52Mb (639 downloads)
FSX/P3D Airbus A319-100 Lufthansa package. Lufthansa currently have 23 Airbus A319 flying to destinations mainly around Europe. The A319 is a shorter version of the A320 family. Custom Airbus sounds. 2020 revised model. Revised original VC by Microsoft updated by Collin MacKenzie to include built in FMC and more. Textured and assembled for P3Dv5 (Should also work in other P3D and FSX) by Chris Evans
Posted Apr 17, 2021 09:02 by chris evans
60.14Mb (584 downloads)
P3D/FSX Boeing 747-83QF Silk Way West package. Azerbaijan cargo carrier Silk Way West is based at Heydar Aliyev International Airport and currently have 5 Boeing 747-8F flying to destinations around Asia, Europe and North America. Skyspirit/Project Opensky native FSX Boeing 747-8F assembled and upgraded for FSX with the developed B747 VC (3d virtual cockpit) from Alejandro Rojas Lucenda (Manual included). This is the Project Opensky FSX native Boeing 747-800F model, and includes ground cargo servicing, stairs (FSX - Go to Views/P3D go to Vehicle - Instrument Panel -Posky Utility), opening nose section and more. Custom GE sounds included. Also includes the Boeing 747 VC textures upgrade. This give a much clearer 747 interior virtual cockpit look. Textures and assembled for P3Dv5 by Chris Evans. Should work in FSX and previous P3D versions.
Posted Apr 16, 2021 09:27 by chris evans
107.04Mb (607 downloads)
FSX/P3D Boeing 777F AirBridgeCargo package with FSX native VC. AirBridge Cargo is a Russian cargo airline based at Moscow Sheremetyevo. AirBridgeCargo is part of the Volga-DNEPR group and currently has one Boeing 777F in it's fleet. Includes revised VC and Honeywell FMC (via Views-Instrument panel). Project Opensky model features opening doors & cargo doors, detailed textures, accurate paint, dynamic shine & effects, dynamic flexing wings that respond to turbulence, fully independent suspension, trim animation, gear steering, accurate flight dynamics, spoiler animation, reflective cockpit windows, crash effects, animated tilting bogies, full night lighting, stairs, ground service vehicles when cargo doors open, (FSX - Go to Views - Instrument Panel - Posky Util), detailed virtual cockpit and more. Added custom B777 sounds. VC night lights fixed thanks to Hagar. To use FMC - Go to Views - Intrument panel - FMC. See FMC docs. Fantastic native FSX model by Skyspirit/Project Opensky. Jetway exits added. Thank you to Zachary777 for the native conversion of the brilliant Jacob Kubique VC. Gauges added by Chris Evans. Textured and assembled for P3D v5 by Chris Evans. Should also work ok in FSX and other P3D versions.
Posted Apr 15, 2021 05:03 by chris evans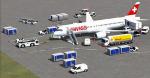 13.47Mb (229 downloads)
FSX Swiss Airbus A220-300 AGS-2. Introducing Second Generation AGS-2 ( Animated Ground Servicing ) featuring additional new animations and vehicles. One additional Air Stairs model is included with less AGS for smaller airport without Jet Bridge. 2d panel (No VC). Model design and paint by Camil Valiquette. ( CamSim )
Posted Apr 15, 2021 01:49 by Camil Valiquette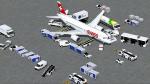 15.88Mb (161 downloads)
FSX Swiss Airbus A220-100 AGS-2. Introducing Second Generation AGS-2 ( Animated Ground Servicing ) featuring additional new animations and \vehicles. One additional Air Stairs model is included with less AGS for smaller airport without Jet Bridge. BONUS: As Swiss fly to London City Airport with the A220-100, a special model with minimun AGS for EGLC London City Airport limited space is also included. 2d panel (No VC). Model design and paint by Camil Valiquette. ( CamSim )
Posted Apr 15, 2021 01:46 by Camil Valiquette
75.92Mb (591 downloads)
FSX/P3D Airbus A321-251NX Cathay Pacific package. Hong Kong based airline Cathay Pacific currently have 2 A321-251NX with another 4 on order. Includes 2020 revised model and VC. Modified the Project Airbus A321-200 modified paintkit to resemble a NX model. 2020 updated A321 model by Project Airbus updated to FSX native and updated VC by Speedbird77. Autobrakes fully functional within the vc. Check near the gear lever. ECAMS lower screen is more accurate. Credit to "FsWorX". Includes A321 checklist. Airbus sounds included. Tested in P3D v5 and should work in FSX and previous P3D versions. Zip preview for images. Textured and packaged by Chris Evans
Posted Apr 14, 2021 12:06 by chris evans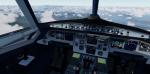 80.96Mb (547 downloads)
FSX/P3D Airbus A320-271NX Swiss package. Switzerland's flag carrier airline has it's main hub at Zurich and currently have 3 A320-271NX with another 14 on order. This is the standard Project Airbus A320 painted to resemble a NX version. Model by Project Airbus. 2020 updated VC by Speedbird77 with built in FMC by Garret Smith. Includes A320 operation manual and checklist. Airbus sounds included. Textured and assembled for P3D v5 by Chris Evans. Should work in FSX and other P3D
Posted Apr 13, 2021 08:54 by chris evans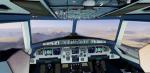 75.69Mb (498 downloads)
FSX/P3D Airbus A330-300 Cathay Pacific package. Hong Kong based Cathay acific currently have 43 Airbus A330-300 and fly worldwide. Model by Thomas Ruth. Also added jetway configs (Ctrl J). Revised original VC by Microsoft updated by Collin MacKenzie to include built in FMC and more. Textured and assembled for P3D5 (Should also work in other P3D and FSX) by Chris Evans
Posted Apr 12, 2021 07:43 by chris evans