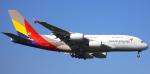 24.45Mb (3403 downloads)
Replacement textures for Project Airbus A380 Asiana Airline, sorry I uploaded a unfinished texture folder by mistake.
Posted Mar 4, 2015 11:32 by Stephen Browning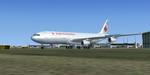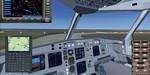 56.71Mb (3488 downloads)
Airbus A340-313 Air Canada NC with VC for FSX. Includes enhanced default A321 VC with better gauges and popup FMC (Go to FSX top menu - Go to Views -Instrument Panel), GPWS callouts. Custom CFM sounds. Also added jetway configs (Ctrl J). Model by Project Opensky. Included great textures by Alex Sui. Prepared and assembled for FSX by Chris Evans
Posted Mar 4, 2015 04:47 by chris evans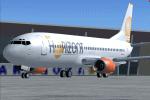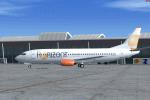 19.13Mb (2038 downloads)
Imminent launch new Spanish airline. Horizont Air is an airline of Aragon origin (Spain) of local model, belonging to the Aragonese Aerospace Corporation. Three years ago, two zaragozanos pilots attempted to create an airline based in Zaragoza, but now ruled funding, so they could not go ahead with the project. However, now you have secured funding to launch the company. 2d panel with Jelair co-pilot voice, FMC, groundhandling, callout. No VC. Vista Liners model. By Juan Villamor.
Posted Mar 3, 2015 12:52 by Juan Villamor
77.12Mb (3779 downloads)
Boeing 767-300F Freighter FedEx with Advanced VC for FSX Complete package for FSX only of the Skyspirit2010 Boeing 767-300F in FedEx livery. As of Feb 2015, FedEx Express have 14 operational B767-300F and a further 39 on order. Two Cargo model's included,one with & one without winglets. The wonderful creation from Project Opensky will be enjoyed by many more people who do not know how to install a VC, views, exits, Utilities etc into a FSX native model. So now this 767-300 has the nearest VC I can find -- the 737-800. The layout fof the 767 cockpit is not a million miles away from the advanced 737-800. The VC is the Alejandro Rojas Lucena/FSND fantastic revised Boeing 737-800 VC model. This VC model includes Working wipers (right mouse click on switch) with rain effect. Switches for LCD Screens, EICAS, PFD, MFT. Autobrake switch. Opening pilots window. Cabin Lights switch. Realistic FMC. Ground Proximity Warning System (GPWS), More Realistic night VC textures. There are custom Boeing sounds included for that extra realism. Jetways also edited (Ctrl j). I have added the high quality textures from Paul Craig. Also added 767 sounds for more realism. Model is not modified in any way. Aircraft.cfg edited to allow correct VC views. Skyspirit wonderful native FSX Boeing 767-300F models. See VC docs to get the best out of the VC and FMC. Enhanced VC added for FSX by Chris Evans.
Posted Mar 3, 2015 07:40 by chris evans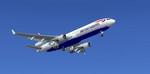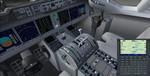 58.77Mb (4153 downloads)
McDonnell-Douglas/Boeing MD-11 British Airways , with Virtual Cockpit and working Honeywell FMC for FSX. Freeware SMS/FS Painter. MD-11 model. I have used the great textures by Jordan Beal. Zip preview for images. Prepared, tested and assembled for FSX by Chris Evans.
Posted Mar 3, 2015 05:08 by chris evans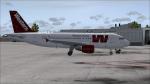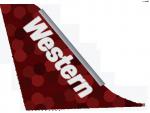 3.15Mb (319 downloads)
Western Airlines Texture - created for the Project Airbus A319. Western Airlines was a large airline based in California, with operations throughout the Western United States and Western Canada, as well as into Mexico. A modern livery for an airline that not exist anymore. Requires the Project Airbus A319 CFM model.
Posted Mar 1, 2015 15:04 by Jan9698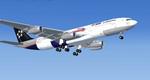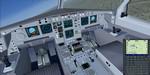 50.93Mb (4164 downloads)
Airbus A340-200 Lufthansa Star Alliance package. VC adaptation, 2D panels for wide and standard screen by Philippe Wallaert. Special thanks to Pierre Fasseaux for the clock gauge. Model by Project Opensky. Added Garret Smiths FMC. Textures by Shane Strong. Assembled for FSX by Chris Evans.
Posted Mar 1, 2015 06:56 by chris evans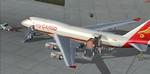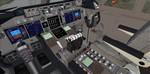 68.25Mb (1329 downloads)
Boeing 747-481F (BDSF) ACT Airlines - My Cargo package with enhanced VC. Boeing 747-481F (BDSF) ACT Airlines - My Cargo upgraded version. Assembled and upgraded for FSX with the developed B747 VC (virtual 3d cockpit) from Alejandro Rojas Lucenda. This is the Project Opensky updated FSX native Boeing 747-400 PW4000 model, and includes - ground cargo servicing, opening doors, stairs (FSX - Go to Views - Instrument Panel -Posky Utility) and more. I have included 747 engine sounds, with realistic jet whine to make your flight sound great. Upgraded using the vastly improved Boeing 747 VC from Alejandro Rojas Lucena/FSND (See panel docs for details). VC includes FMC, EICAS, MFD with control panel, GPWS, working wipers, cabin lights, fire suppression, avionics switch, fuel crossfeed, landing lights switches, taxi light switch, engine generators, APU generator, battery switch, starter switches, de-ice switch, general lights switches. Jetways exits and view points edited. Thank you to Project Opensky for their outstanding donations to the worldwide community of flight simulation. I have included the high quality textures by unknown. Also includes the Boeing 747 VC textures upgrade. This give a much clearer 747 interior virtual cockpit look. Assembled for FSX by Chris Evans.
Posted Feb 28, 2015 06:53 by chris evans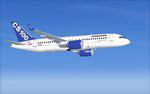 4.89Mb (1276 downloads)
FSX House Colors Bombardier FTV5 C-GWXZ CSeries 100 V4. This version 4, features more improved and detailed aircraft model and textures , including CamSim's own static displays and Animated Ground Servicing (AGS). 2d panel but no VC. Model design and paint by Camil Valiquette.
Posted Feb 28, 2015 04:41 by camil valiquette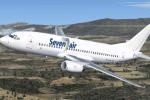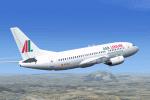 20.46Mb (1451 downloads)
Seven Air Company was Aerea Canaria Air Transport SA, I think it lasted just over a year. In addition to its own aircraft, an agreement signed with the Government of Andalusia to promote tourism and operating an aircraft of an Irish group. All Seven Air B737-300. 3 liveries with GPWS, Jelair, Callout, FMC... Model Eric Cantu (Vista Liners). Texture by Juan Villamor. 2d panel but no VC
Posted Feb 27, 2015 10:37 by Juan Villamor