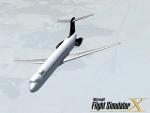 1.10Mb (4790 downloads)
This is another repaint for the flyable FSX AI Default MD-83. This is an FSX livery from the tribute for Microsoft Flight Simulator X. This repaint is used from my blank texture. The repaint requires a flyable FSX AI MD-83 package by Braden Peters. Texture by Victor Vu
Posted Oct 12, 2008 20:35 by Victor Vu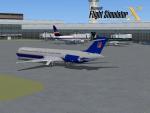 1.35Mb (5536 downloads)
This is another repaint for the FSX AI Default MD-83. This is a United Airlines repaint registration no. N918UA. This United Airlines repaint has an old livery made in circa 1993, with red stripes. This repaint is realistic except without the words: "Worldwide Service" on the front of the nose. This is one another of the downloader's request. This repaint requires the flyable base pack of the FSX Default MD-83 by Braden Peters. By Victor Vu
Posted Oct 11, 2008 20:43 by Victor Vu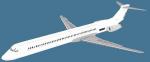 0.63Mb (3852 downloads)
This is the first time I made a paint kit for FSX. I've made a paint kit for the FSX AI Default MD-83 because there aren't any white textures or repaint kits available for the MD-83. But this white texture can be used for anything. So come up and use this paint kit to paint any airline you want. By Victor Vu
Posted Oct 11, 2008 20:43 by Victor Vu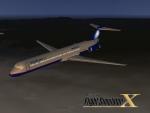 1.16Mb (4817 downloads)
This is another repaint for the FSX AI Default MD-83. This is an Aeromexico repaint registration no. XA-TLH. This Aeromexico repaint has a new livery, with the Aeromexico website and a Mexican Flag. This repaint is realistic except with a few orange color for the tail. This is one another of the downloader's request. This repaint requires the flyable base pack of the FSX Default MD-83 by Braden Peters. By Victor Vu
Posted Oct 11, 2008 20:42 by Victor Vu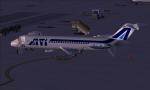 1.30Mb (7929 downloads)
Textures only for the FSX AI Default flyable MD-83. An FS Downloader requested the Alitalia texture because there is not a download that is suitable for FSX on a certain airline. The downloader also wanted me to do the Aeromexico and Hawaiian, and the 737-800 Air Jamaica, & hopefully tthese will be available soon. By Victor Vu
Posted Oct 10, 2008 23:21 by Victor Vu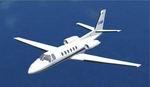 0.21Mb (4433 downloads)
This is an update for FS X acceleration of the Cessna Citation Bravo D-IRON by Keith A. Whyte and repainted by Tomás Cubero Maingot. I have updated the flight dynamics and changed the panel so the aircraft works in FS X. No virtual cockpit. You will need the repainted aircraft for this update to work. Bob Chicilo.
Posted Oct 9, 2008 08:37 by Bob Chicilo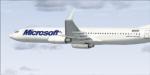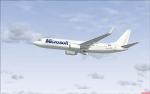 9.12Mb (4343 downloads)
FSX default Boeing 737-800 Microsoft textures only is meant as a tribute to the Microsoft Airlines Livery.
Posted Oct 8, 2008 22:40 by Ken Pochinko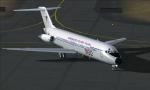 1.00Mb (6633 downloads)
This is my first time to paint this texture for this FSX AI Aircraft. Though not detailed as other real American Airlines Texture, this texture can be used as an AI-Traffic (must have an AI installer for this) or you can fly that aircraft with this texture (just get a base pack). Requires the AI MD-83 made flyable by Bradon Peters. By Victor Vu
Posted Oct 8, 2008 22:33 by Victor Vu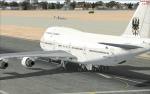 7.39Mb (1455 downloads)
Fictitious Textures only for the default B747-400 as a tribute to the wonderful Prussian Royal Family Airline.
Posted Oct 8, 2008 17:59 by RoyalCharters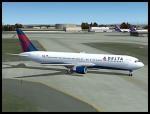 10.00Mb (17579 downloads)
Delta Airlines 767-300 Delta Airlines OC,NC, NNC, NNC(2007). Original model by Project Opensky. No VC. Repackaged by Delta Virtual and uploaded by Mahin Khandaker
Posted Oct 6, 2008 06:36 by Mahin Khandaker