7.33Mb (10749 downloads)
Textures only for the default Boeing 737 800 in Aeromexico colors.
Posted Jan 5, 2009 21:36 by Carlo Calvillo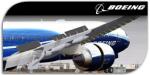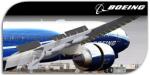 0.04Mb (5058 downloads)
POSKY 777 Antenna CBU Textures Fix v2009 This file contains a fix for the Posky 777 CBU and roof textures. Original files found on internet and Posky repaint textures from Posky site are incorrect. This file contains their OEM versions and my fix versions. You can just copy paste replace yours with 2 color version files enclosed or repaint the squares in the color of your choosing using the Layout image I provided. No more holes and ghosts on your aircraft Fusealage. Scratch built FSX SP2 Vista 2009v2 Posky OEM VC Model Aircraft on the way. No more whats missing on an decent Freeware FSX aircraft after download, All FSX SP2 Vista. Courtesy of "Blaq ACE's Sweeded Sims", VC Models,Software and Updates by Posky Jan 2009 files.
Posted Jan 5, 2009 13:25 by MD Goins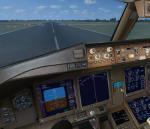 15.46Mb (34546 downloads)
FSX/FS2004 Boeing 777-300ER KLM Royal Dutch Airlines - PH-BVB. Model features high resolution textures, dynamic flexing wings, body gear steering, nose gear steering, rudder lock, ground spoilers, low speed aileron locks at high speed, fully animated control surfaces, fully independent suspension, trim animation, opening passenger doors, animated tilting bogies, rolling wheels, animated thrust reversers with reverser block doors, detailed textures, full night lighting, crash affects, ground service vehicles and more. Model designed by Hiroshi Igami/Yosuke Ube. Original Model By Project Opensky. Livery Vincent v/d Hof
Posted Jan 3, 2009 08:11 by Paul Atreides

0.24Mb (7578 downloads)
This revised 777 package inclues: - Correct 777 performance and feel based on airline FAA Level D simulators and documentation. - Use of MSFS payload and fuel editor. - Use of MSFS flight planner and Navigation Log for flight/fuel planning. - Use of true 777 landing gear footprint as default gear points. Standard 3-wheel points have been included as an additional option [courtesy of Philip Foglar, POSKY] in this update along with more new variants of 777-200ER [PW4098, GE90-90B]. Engine start-up time has been modified again for more realistic timing [YouTube Video was used as a reference]. Also included are the FDEs for the recently released 777-300 series. AES Compatability files included. The FDEs included for this series are copyrighted by Project Opensky, Brandon D. Henry, and Warren C. Daniel.
Posted Jan 1, 2009 04:55 by Project Opensky

7.61Mb (1183 downloads)
This is another fictional repaint for the FSX Default A321. The tail represents the Washington Monument in Washington, D.C. The Landmark Airlines variation is not included in the A321. Splash Screen included. By Victor Vu.
Posted Dec 31, 2008 07:11 by Victor Vu

7.15Mb (3606 downloads)
This is the 80's livery for the British Airways A321 repaint. The aircraft went into service in 2004. However, no A321 was painted in this 80's livery. The repaint was painted in this manner to demonstrate if this A321 went into service in the 1980's. By Victor Vu.
Posted Dec 31, 2008 00:21 by Victor Vu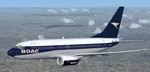 10.27Mb (4534 downloads)
This is a repaint of the Project Opensky - Boeing 737-600 Dreamliner Model. FOR FSX. BOAC was 'British Overseas Airways Corporation' and a predecessor to BA. In what I think BOAC colors would look like now on a B737. Painted by me Colin Lowe
Posted Dec 29, 2008 05:55 by Colin Lowe

1.00Mb (5425 downloads)
Boeing 737-800 Air Berlin D-ABBC textures only for the default Boeing 737-800.
Posted Dec 29, 2008 05:32 by Jim Dhaenens

5.91Mb (5543 downloads)
This is an imaginary 'Emirates Airbus' is a stretched version of Airbus' - uses Camille Valiquette Boeing 787 Super 11. The Airbus has a slightly increased wing area, stronger landing gear with larger tires, and engines with increased thrust. When the Airbus entered service in 1988, it pioneered the use of "glass cockpit" instrumentation, the first digital fly-by-wire control system used in an airliner, and sidestick controllers. Model by Camille Valiquette. Uploaded by Muhatashim Zarf. Textures from FSX Emirates Boeing 787 Super 11. Systems and gauges from Fsx A321.
Posted Dec 28, 2008 12:21 by Muhatashim Zarf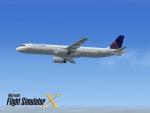 14.14Mb (7231 downloads)
This is another repaint for the FSX Default A321. I have painted two, different Continental liveries; one in the current livery, and one in old colors. Those repaints are both fictional, because there are currently no Airbus aircraft in Continental Airlines service. However, the Airbus A300 was the only Airbus went into service on Continental. The aircraft might replace the Boeing 757 if there were A321s in service. Splash screens included each. By Victor Vu.
Posted Dec 24, 2008 08:14 by Victor Vu