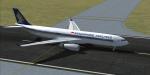 1.97Mb (197 downloads)
FSX/P3D Singapore Airlines textures for Thomas Ruth's A330-300. Requires the Thomas Ruth A330-300 RR based model. Mario Monfrecola
Posted Nov 8, 2018 02:09 by uploader
50.86Mb (1125 downloads)
FSX/P3D (incl. v4) Boeing 747-400BCF Asiana Cargo Package. Based at Seoul, South Korean airline Asiana is South Korea's 2nd airline along with Korean and as of November 2018, operate 11 Boeing 747-400F cargo aircraft, flying busy routes all over the globe. Project Opensky Boeing 747-400 assembled and upgraded for FSX with the upgraded Boeing 747 internal cockpit (VC) from Alejandro Rojas Lucenda (Manual included). This is the Project Opensky FSX native Boeing 747-400F model, and includes ground cargo servicing, stairs (FSX - Go to Views - Instrument Panel -Posky Utility. P3D go to Vehicle - Instrument Panel -). Included CF engine sounds from BrandonG, with realistic jet whine to make your flight sound great. Thank you to Project Opensky for their contributions to the worldwide community of flight simulation. I have added the quality textures by RyanC. Also includes the Boeing 747 VC textures upgrade. This give a much clearer 747 interior virtual cockpit look. Zip preview for larger pictures. Added wing views. Tested in P3D v4 and should be ok in FSX and other P3D versions. Zip preview for images. Custom packaged by Chris Evans
Posted Nov 7, 2018 12:01 by chris evans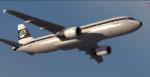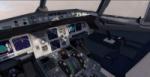 67.51Mb (500 downloads)
FSX/P3D> (incl. v4) Airbus A320-200 Aer Lingus retro Livery package. Ireland's national airline, Aer Lingus, celebrated it's 80th year in 2016. This is the one A320 painted in the 1960's livery. As of November 2018, Aer lingus operate 34 Airbus A320-200. Added the better Thomas Ruth modified VC with latest updates by Chris Evans and Louis Quintero, camera views, jetways and wheel levels. Model by Project Airbus. Great textures by Tomi Koivunen. Enhanced VC & panel included by Thomas Ruth with updates by Louis Quintero, FMC by Garret Smith. Airbus sounds included. Tested in P3D v4 and should be ok in FSX and other P3D versions. Zip preview for images. Custom packaged by Chris Evans
Posted Nov 6, 2018 11:21 by chris evans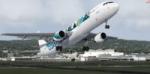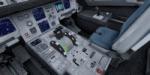 48.97Mb (899 downloads)
FSX/P3D (incl. v4+) Airbus A321-200 Alaska Most West Coast Livery package. To mark the acquisition of Virgin America, several aircraft were painted in special liveries. This one represents an Airbus A321neo originally destined for Virgin America, promotes Alaska Airlines dominating West Coast presence. As of November 2018, Atlas Global operate 8 A321NEO with a further 2 on order. Native FSX model by Project Airbus. I added the high quality textures by H.Tagorti. Includes enhanced Thomas Ruth/Frank Dore Airbus VC with updates by Phillip Wallaert, Louis Quintero and some further edits by Chris Evans. Fixed wheel levels. Fixed jetway codes. Tested in P3D v4 and should be ok in FSX and other P3D versions. Airbus sounds included. Zip preview for images. Custom packaged by Chris Evans
Posted Nov 5, 2018 14:00 by chris evans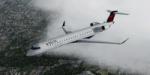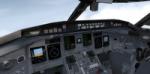 56.13Mb (1785 downloads)
FSX/P3D Bombardier CRJ-900 Delta Connection package. Delta Connection is a subsidiary of Delta Airlines and operates through various regional airlines around the USA. Delta Connection operate a total of over 150 CRJ-900 (Nov. 2018) This is the FSX Native AI model by UTT with added upgraded VC by David Hoeffgen , includes built in FMC, working wipers and more (see VC docs in folder). This is a basic AI exterior model and looks good and has a great VC! Thanks to Kyle Meeks for the great textures. Put together and tested in P3Dv4 by Chris Evans. Should work in FSX and all P3D versions.
Posted Nov 4, 2018 10:13 by chris evans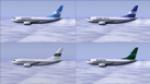 7.05Mb (129 downloads)
This is a texture pack for the Boeing 737-600 Westjet package enhanced by Chris Evans (found like b737-600_westjetx.zip), akin to our kitt737200.zip series for the Cantu/Kittyhawk-type 737-200/Adv. It will allow, after some text-editing work, for several small independent, fictitious airline companies. Textures available for following regions: Europe, Middle East, U.S.A., Central America, South America, Lebanon, Israel. Comes too with a improved aircraft.cfg file. Comes with a French readme too. by G. Guichard
Posted Nov 4, 2018 06:56 by G. Guichard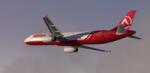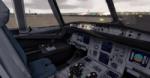 47.97Mb (710 downloads)
FSX/P3D (up to v4+) Airbus A321-200 AtlasGlobal package. Turkish airline AtlasGlobal is based in Istanbul and flies passenger flights to destinations around the Middle East, Europe, Eastern Europe and Russia. As of November 2018, Atlas Global operate 14 A321-200. Native FSX model by Project Airbus. I added the high quality textures by Torsten Maertke. Includes enhanced Thomas Ruth/Frank Dore Airbus VC with updates by Phillip Wallaert, Louis Quintero and some further edits by Chris Evans. Fixed wheel levels. Fixed jetway codes. Tested in P3D v4 and should be ok in FSX and other P3D versions. Airbus sounds included. Zip preview for images. Custom packaged by Chris Evans
Posted Nov 3, 2018 13:47 by chris evans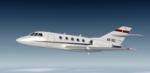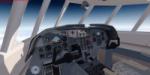 39.77Mb (2363 downloads)
Dassault Falcon 20E for Prepar3D V4 and FSX. Version 1.1 with accumulated fixes such as FSX interior glass, panel cfg and gauge fixes. 3 different models and 6 liveries. Models: Business Jet, ECM and Cobham Electronic Warfare Training Aircraft. Liveries: Royal Norwegian Air Force, Royal Norwegian Air Force ECM, French Air Force, Cobahm, HB-VDZ and White. Custom flight dynamics and gauges. It has a working VC but uses the Lear 45 2D panel and sounds. See Readme for installation and options. Pilot Notes are included.
Posted Nov 3, 2018 08:55 by uploader
10.55Mb (528 downloads)
FSX Cathay Pacific Airbus A350-1000 AGS V6. Mainly the version 6 is for the new ground animations. New animations and static display has been added from previous versions, including multiple animation effects to one object. Aircraft wingspan / newest winglets have been upgraded, also featuring a new 2D panel. Note: all CamSim aircraft models include exclusive Animated Ground Servicing (AGS) and static displays. 2d panel but no VC. Not compatible with P3D4+. Model design and paint by Camil Valiquette.
Posted Nov 3, 2018 06:16 by Camil Valiquette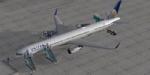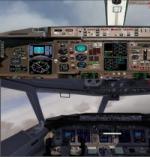 132.05Mb (2086 downloads)
FSX/P3D (incl. v4) Boeing 757-300 United Airlines package. Founded in 1931 as Varney Airlines, United is now the world's 3rd largest airline and headquartered in Chicago. As of November 2018, United operate 21 Boeing 757-300. The fantastic new FSX Native Boeing 757-300 from TDS includes high detail model with ground servicing and more. The VC is the Alejandro Rojas Lucena/FSND fantastic Boeing 737-800 VC cockpit plus a 2d 757/767 panel by Philipe Wallaert (press F10). This VC model includes Working wipers (right mouse click on switch) with rain effect. Switches for LCD Screens, EICAS, PFD, MFT. Autobrake switch. Opening pilots window. Cabin Lights switch. Realistic FMC. Ground Proximity Warning System (GPWS), More Realistic night VC textures. There are custom Boeing 757 sounds included for that extra realism. I added the photoreal textures by RyanC. Edited views, wheel levels. Added wing views. See VC docs to get the best out of the VC and FMC. Prepared and assembled for P3D & FSX by Chris Evans.
Posted Nov 2, 2018 12:30 by chris evans