74.07Mb (675 downloads)
FSX/P3D Airbus A321-251N Play package. Play is an Icelandic low cost airline based at Keflavík International Airport. Currently Play have 3 Airbus A321NEO flying to destinations in Europe. . 2020 updated A321 model by Project Airbus updated to FSX native and updated VC by Speedbird77. Painted in the NEO theme Autobrakes fully functional within the vc. Check near the gear lever. ECAMS lower screen is more accurate. Credit to "FsWorX". Includes A321 checklist. Airbus sounds included. Tested in P3D v5 and should work in FSX and previous P3D versions. Zip preview for images. Textured and packaged by Chris Evans
Posted Oct 5, 2021 10:29 by chris evans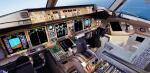 76.96Mb (731 downloads)
FSX/P3D Boeing 777-300ER Singapore Airlines 2021 updated with re-animated and revised virtual cockpit. Singapore's flag carrier airline is based at Singapore Changi Airport and currently have 27 Boeing 777-300ER. Realistic CFM soundpack added. Original VC by Jacob Kubique. Converted to FSX native by Zachary777. VC updates by Speedbird77 with gauges by G. Munro and Ken Wiggington. See Credits for more. Textured and assembled for P3d v5 by Chris Evans. Should also work in FSX nd previous P3D
Posted Oct 3, 2021 08:47 by chris evans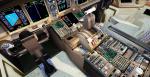 77.34Mb (874 downloads)
FSX/P3D Boeing 777-200LR Emirates 2021 updated with re-animated and revised virtual cockpit. Emirates is the world's 4th largest airline by passenger mumbers and a flag carrier of the United Arab Emirates. Currently Emirates have 10 Boeing 777-200LR and is also a global cargo carrier. Model by Hiroshi Igami, Yosuke Ube with support of Posky members. Original VC by Jacob Kubique. Converted to FSX native by Zachary777. VC updates by Speedbird77 with gauges by G. Munro and Ken Wiggington. See Credits for more. Textured and assembled for P3d v5 by Chris Evans. Should also work in FSX nd previous P3D.
Posted Oct 2, 2021 07:00 by chris evans
40.98Mb (952 downloads)
Airbus A320'NEO' House Livery. This is the A320 model CFM By Project Airbus painted in NEO colours. NEO textures by blascogm. Uses the default FSX A321 VC.
Posted Oct 2, 2021 00:15 by Maldivian001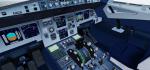 72.61Mb (704 downloads)
FSX/P3D Airbus A350-900 Iberojet package. Iberojet is a Spanish charter airline and currently has 2 Airbus A350-900. FSX native AI model by FS Painter. 2020 updated interior model by Speedbird77. Textures, assembled and tested in P3D v5 and should be ok in FSX and earlier P3D versions. By Chris Evans.
Posted Oct 1, 2021 11:06 by chris evans
12.54Mb (468 downloads)
FSX Air France Airbus A220-300 AGS-2. Extra animation in Second Generation AGS-2 ( Animated Ground Servicing ). New high definition textures, saved in 32 bits. 2d panel but no VC. Model design and paint by Camil Valiquette. ( CamSim )
Posted Oct 1, 2021 02:26 by Camil Valiquette
16.91Mb (121 downloads)
FS9/FSX TDS Boeing 757-200PW in Tarom Classic textures. Repaint by Sergey Gleba aka serg09. Link to my products on SimMarket: http://secure.simmarket.com/paintsim.mhtml. Requires the TDS 757-200PW base model
Posted Sep 29, 2021 11:26 by Sergey Gleba aka serg09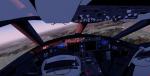 84.45Mb (498 downloads)
FSX/P3D Boeing 787-9 Royal Air Maroc Oneworld with FSX Native 787 VC. Morocco's flag carrier airline is based at Casablanca Mohammed V International andcurrenty have 4 Boeing 787-9. The high quality Boeing 787-9 from TDS. The VC is the Erik Bender great adaption of the X-plane Mariano Gonzalez (MagKnight)'s 787 VC. Cockpit textured lighter grey. TDS high spec. native FSX Boeing 787-9 model. See Document to get the best out of the VC. Texture
Posted Sep 29, 2021 10:54 by chris evans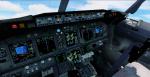 65.17Mb (481 downloads)
FSX/P3D Boeing 737-800 American Airlines N905NN Astrojet package. TDS high spec. native FSX Boeing 738-800 model. The VC is the FSND modified version of the Microsoft Boeing 738 VC to include various upgrades. Thank you to Alrot for this. I retextured the VC to make it more resemble the darker grey of today's 737's. See Document folder to get the best out of the VC. Textured, packaged and prepared for FSX & P3D up to v5 by Chris Evans.
Posted Sep 28, 2021 10:20 by chris evans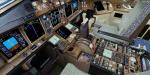 75.41Mb (704 downloads)
FSX/P3D Boeing 777-300ER Aeroflot 2021 updated with re-animated and revised virtual cockpit. Russia's flag carrier airline is base at Moscow Sheremetyevo Airport and currently have 20 Boeing 777-300ER in their fleet. Realistic CFM soundpack added. Original VC by Jacob Kubique. Converted to FSX native by Zachary777. VC updates by Speedbird77 with gauges by G. Munro and Ken Wiggington. See Credits for more. Textured and assembled for P3d v5 by Chris Evans. Should also work in FSX nd previous P3D
Posted Sep 27, 2021 11:58 by chris evans