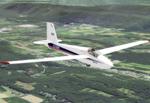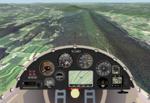 14.63Mb (550 downloads)
This is an example of the Schweizer SGS 1-26E glider which was produced a an all metal monocoque sailplane. It was the last model of the SGS1-26 produced by Schweizer. This sim model will work well with both FSX SP2 and P3D V3. Simply unzip the Schweizer_SGS1-26E_622 folder into your airplane folder of FSX or P3D. For more detailed information read the attached pdf. Happy soaring from Ray Girdler
Posted May 30, 2017 16:00 by Ray Girdler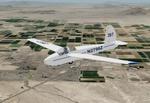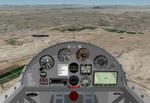 11.99Mb (568 downloads)
Schweizer SGS 1-26C version 1.0 For FSX SP2 and P3D V3 This is an example of the Schweizer SGS 1-26C which was essentially a SGS 1-26B that could be kit-built. Initially when Schweizer introduced the SGS 1-26 in 1954 it was intended to restricted to kits however most of the ships now flying in the US were factory built. This sim model will work well with both FSX SP2 and P3D V3. Simply unzip the Schweizer_SGS1-26C_287 folder into your airplane folder of FSX or P3D. For more detailed information read the attached pdf Happy soaring from Ray Girdler
Posted Apr 19, 2017 10:27 by uploader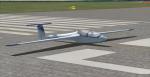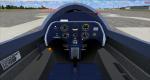 6.29Mb (1334 downloads)
If My Heart Had Wings first glider by Mellin - Version 1.0.0 This is a glider from a visual novel: 'If My Heart Had Wings', by Pulltop and/or moenovel. This glider was built by students of KEIFU Technical Collage in Kazegaura, Japan who attended 'Soaring Club'. With this glider they flew through 'Morning Glory' (a rare meteorological phenomenon). More information about this visual novel can be found on their page: http://moenovel.com/imh/
Posted Apr 14, 2016 11:05 by Piotr Mellin Malicki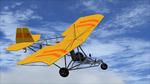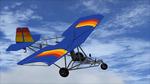 33.00Mb (2157 downloads)
Some minor adjustments to the AltraMax Version 2 textures to color the aircraft like the original version. Simply extract to your Altra MAX main folder and overwrite the existing textures with these. Enjoy!
Posted Oct 10, 2015 16:10 by Thomas Vaillencourt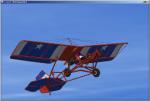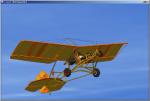 44.95Mb (5586 downloads)
This is a Blender FSX Project created By Krispy1001(Kris Pyatt) Project Name: AltraMax Version 2 (Pilot Added) The AltraMax Blender FSX project is setup with animations, and 11 different variations of the aircraft. The original project was requested by Tom Vaillencourt at simviation.com Credits: 3D Model and Animations by Kris Pyatt AKA Krispy1001 Livery Paint schemes and "AltraMax" Logo by Tom Vaillencourt Project beta testers Tom Vaillencourt, Krispy1001 Flight envelope tested and modified by Kris Pyatt and Tom Vaillencourt Thank you, Krispy1001 (Kris Pyatt)
Posted Oct 7, 2015 02:33 by Kris Pyatt aka (krispy1001)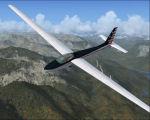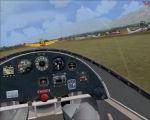 12.07Mb (3370 downloads)
The Schweizer SGS 2-32 is an American two-seat, mid-wing, two or three-place glider built by Schweizer Aircraft of Elmira, New York. The 2-32 was designed to be the highest performance two-place glider available, when it first flew in 1962. The first customer aircraft were delivered in 1964, shortly after certification was completed. The 2-32 has been used as a tourist glider, trainer, cross-country and high-altitude sailplane and has set many US and world records. A total of 87 aircraft were completed. Feature: Full FSX DX10 model rebuilt whit the FSX acceleration sdk, New "Shiny Bubble Glass" canopy reflection, New VC panel animation and Gauges, New rear seat position, All gauges now working and wheels are fully animated, New Reflective texture, and new aircraft dynamic by Jon Davidson + 2 new livery textures.
Posted Jan 7, 2015 03:37 by Ronald Dandurand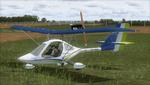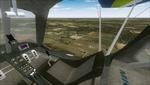 17.82Mb (6692 downloads)
The ML400 is a Brazilian microlight aircraft that was designed and produced by Microleve of Rio de Janeiro. When it was available the aircraft was supplied as a complete ready-to-fly-aircraft or as a kit for amateur constructionThe ML 400 complies with the Federation Aeronautique Internationale microlight rules. It features a strut-braced parasol wing, a two-seats-in-side-by-side configuration enclosed cockpit, fixed tricycle landing gear and a single engine in pusher configuration. Includes VC.
Posted Dec 11, 2014 05:18 by Garnier D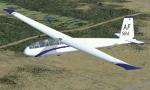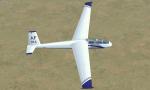 9.90Mb (905 downloads)
Repaint of Wolfgang Piper's Blanik L-13. Represents a TG-10C Kestrel (L-13AC) aerobatic trainer of the US Air Force Academy. Repainted by R.E. Wyman. Requires the LET Blanik L-13 found at www.fsglider.de
Posted Oct 20, 2014 21:18 by R.E. Wyman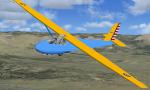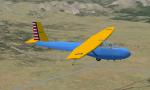 1.36Mb (558 downloads)
Repaint of Wolfgang Piper's Schweizer SGS2-33A. This is a fictional repaint of the SGS2-33A for the US Air Force Academy. Requires Wolfgang Piper's FS2004 Schweizer SGS2-33A Glider Package with FSX update "233av1a.zip". Painted by R.E. Wyman.
Posted Sep 8, 2014 23:15 by R.E. Wyman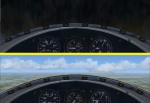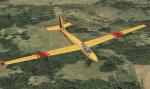 0.21Mb (364 downloads)
A conversion of the Schweizer S-232 from FS9 to FSX contained a reflection_map texture which made it impossible to see outside from the virtual cockpit. This fixes the canopy on the FSX conversion so you will have visibility from the virtual cockpit. Correction by R.E. Wyman.
Posted Aug 5, 2014 23:39 by R.E. Wyman