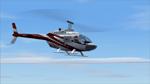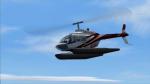 7.98Mb (2811 downloads)
This is a scratch built revision of the default Bell 206B III JetRanger using Gmax. Features highly detailed exterior and virtual cockpit, maximum moving parts, interactive VC, dynamic shine, and reflective textures. Now features low skids and floats. By: Eagle Rotorcraft Simulations
Posted Jul 20, 2011 01:25 by George A.Arana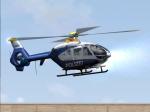 1.69Mb (995 downloads)
Polizei Brandenburg Adebar 1 + 2 Photoreal Texture only for the Heiko Richter EC-135
Posted Mar 20, 2011 11:19 by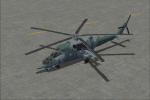 2.03Mb (4339 downloads)
FS2004/FSX - Deadly looking, and just as lethal, the Mil MI-24 series of Helicopter Gunships are perfect Cold War images of the Soviet concept of a "Flying APC" Armed with AT Missles, Rockets and Cannon, and capable of transporting 8 Troops in its cabin. Caused much concern in the West, where there was no counterpart, and given the NATO code-name "Hind". Designed in FAB AH-2 Sabre, the MI-35 for the 2°/8° GAv "Poti" subsidied in Base Aerea of Porto Velho, in Rondonia (the Amazonia) Brazilian State. Texture by Clovis Shiguikyu, requires original model by Tim Conrad.
Posted Mar 19, 2011 22:52 by Clovis Shiguikyu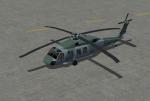 0.91Mb (1712 downloads)
FS2004 - The Sikorsky UH-60 Blackhawk needs almost no introduction. In its many variants, it is one of the most widely recognized helicopters in the world. Texture by Clovis Shiguikyu, requires original model by Jordan Moore.
Posted Mar 19, 2011 22:28 by Clovis Shiguikyu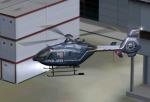 0.89Mb (511 downloads)
EC-135 Polizei Berlin Wotan Photoreal Texture for the EC-135 by Heiko Richter
Posted Mar 19, 2011 16:54 by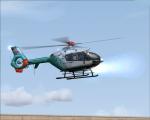 1.92Mb (690 downloads)
Polizei Rheinland-Pfalz Sperber 1 + 2 Photoreal Texture only for the Heiko Richter EC-135
Posted Mar 17, 2011 20:26 by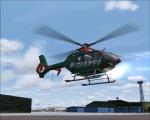 1.99Mb (474 downloads)
Texture Only....Merlin 1 + 2 Photoreal for the great EC-135 by Heiko Richter
Posted Mar 16, 2011 18:07 by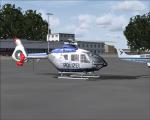 4.52Mb (668 downloads)
Polizei Sachsen Passat 1 + 2 Photoreal textures Only For the EC-135 by Heiko Richter
Posted Mar 12, 2011 13:49 by benimix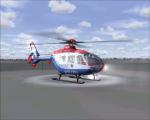 2.36Mb (546 downloads)
Polizei Hamburg (Hamburg Police) Libelle 1 + 2 photoreal textures. D-HONE and D-HTWO Requires Heiko Richter's beautiful EC-135 package.
Posted Feb 24, 2011 15:00 by benimix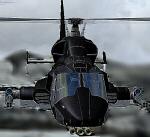 9.83Mb (16598 downloads)
Freeware with 2d panel and external model (no vc); AFS-design brings a excellent rendition of the famous supersonic helicopter AIRWOLF from the same 80 years cult series AIRWOLF, and 2 models of possible opponents ( Concept Aircrafts ) of AIRWOLF, out for the Flight Simulator FSX and FS2004. The original series AIRWOLF is an American television series that ran from 1984 to 1987. It was about the sophisticated spy high-tech military helicopter, code named AIRWOLF, and took their team, which various missions. It was a lot of espionage and the theme of the Cold War. The series was produced by Donald P. Bellisario. There were 79 episodes, each with 45 minutes in length, in 4 Stafeln. In the first three seasons Jan-Michael Vincent played as Stringfellow Hawke for the pilot of AIRWOLF, Ernest Borgnine as Mr. Dominic Santini, owner of Santini Air Services and Systems Officer of the AIRWOLF, Alex Cord as Michael Coldsmith Briggs III ( CIA Code Name: Archangel ) CIA agent and in the second and third season, Jean Bruce Scott as Caitlin O'Shannessy, co-pilot of AIRWOLF with. The last season was recast with new actors. Panel, GAUGES, model, sound and textures by www.afs-design.de - Author: A.Meyer. No VC!
Posted Jan 28, 2011 15:44 by Andreas Meyer