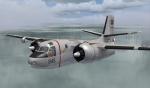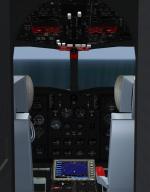 69.67Mb (5105 downloads)
by Milton Shupe, Tom Fliger, Nigel Richards, Steve Bryant, Todd Disrud, Marcel Ritzema, John Humphries, Jeremy U., Lazerbeak, and Jan Visser with help from SOH members. Functional VC model included; Pkg incl one Aircraft with one or more textures, a great flight model, authentic radial custom sounds, and features custom panels with aircraft specific gauges, easy-to-read clickable virtual cockpits, and beautifully crafted exterior textures. This aircraft release is one of 7 aircraft in a series that will be released. NOT INTENDED FOR USE IN FSX - Port Over Okay
Posted Feb 27, 2012 11:35 by Milton Shupe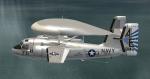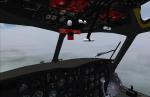 63.62Mb (3750 downloads)
The Grumman "Seven" Projects for MSFS2004/FS9 ACof - VERSION 1.0 (E-1B) by Milton Shupe, Tom Fliger, Nigel Richards, Steve Bryant, and Jan Visser with help from SOH members. Functional VC model included; Pkg incl one Aircraft with one or more textures, a great flight model, authentic radial custom sounds, and features custom panels with aircraft specific gauges, easy-to-read clickable virtual cockpits, and beautifully crafted exterior textures. This aircraft release is one of 7 aircraft in a series that will be released. NOT INTENDED FOR USE IN FSX
Posted Feb 21, 2012 23:14 by Milton Shupe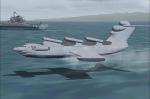 16.51Mb (3609 downloads)
The Lun-class Ekranoplan is ex payware from Alphasim. the Ekranoplan (NATO reporting name Duck) was a ground effect aircraft designed by Rostislav Evgenievich Alexeev and used by the Soviet and Russian navies from 1987 to sometime in the late 1990s. It flew using the extra lift generated by the effect of its large wings when close to the surface of the water - about four meters or less. Lun was one of the largest seaplanes ever built, with a length of 73 m (240 ft), rivaling the Hughes H-4 Hercules ("The Spruce Goose") and many jumbo jets. The name Lun comes from the Russian for harrier.
Posted Jan 17, 2012 03:55 by Alphasim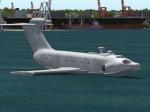 18.54Mb (2159 downloads)
The Soviet Navy command of the 1960s was very interested in a fast military transport capable of carrying a large payload. The Central Hydrofoil Design Bureau was one of the organizations working on this top secret project, about which little was known until the fall of the Soviet Union. Chief Designer R.E. Alexeev designed several prototypes in the 1960s. At the start of the 1970s, Alexeev designed a medium-sized Ekranoplan to be used as a military transport. The new vehicle was named "Orlyonok" ("Eaglet"). The first flying unit (S-23) was initially tested on the Volga River in the autumn of 1972, and the next year dismantled and transported to the Caspian Sea for continued testing. In 1975 the S-23 crashed during testing, later proved to be due to a deficiency in the alloy used for the hull. A different alloy was used in all subsequent units built.
Posted Jan 4, 2012 05:44 by Alphasim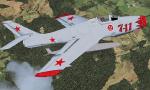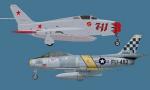 4.50Mb (650 downloads)
Textures only for Kazunori Ito's F-84F Thunderstreak. Requires RepublicF-84-F-am.ZIP file. This is painted to resemble the MiG fighter jet flown in the 1958 movie "The Hunters". The movie used F-84F aircraft to imitate enemy fighter jets since no MiG jets were available in the USA at the time. Included in this file is an update to my "Hunters" textures of Kirk Olsson's F-86 with a cleaner bitmap. Movie notes are also included. Repainted by R.E. Wyman.
Posted Oct 31, 2011 23:44 by Repainted by R.E. Wyman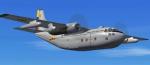 62.55Mb (7620 downloads)
Fairchild C-123K Provider v2011 Completely the new version, replacement v-2006. 4 variants of model, 5 textures, 2D panel, completely a functional cockpit, a lot of various animation, original gauges, effects. Before the use of this product - the request - NECESSARILY read a manual. Only for FS-9. Autor - V. Zhyhulskiy
Posted Oct 14, 2011 07:19 by uploader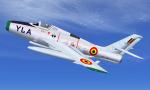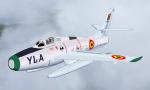 1.28Mb (678 downloads)
Textures only for the F-84F Thunderstreak by Kazunori Ito (no VC). This F-84F was flown by the Belgian Air Force in the 1950's. Aircraft not included; requires RepublicF-84-F-am.ZIP file. Repainted by R.E. Wyman.
Posted Aug 27, 2011 18:42 by R.E. Wyman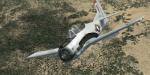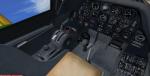 24.73Mb (6878 downloads)
T-28 Trojan Package for FS2004. The North American Aviation T-28 Trojan is a piston-engined military trainer aircraft used by the United States Air Force and United States Navy beginning in the 1950s. Besides its use as a trainer, the T-28 was successfully employed as a Counter-insurgency (COIN) aircraft, primarily during the Vietnam War. Features comprehensive VC and model. Ex payware from Alphasim/Virtuavia.
Posted Aug 13, 2011 06:42 by alphasim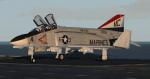 14.10Mb (1983 downloads)
Textures for the Alphasim/Virtuavia F-4B Phantom II for FS2004. This folder contains textures only for a US MARINES McDonnell Douglas F-4B Phantom II, number 153006, of MARINE Air Reserve Squadron VMFA-351, Atlanta, Georgia circa 1976. These textures have been created specifically for Pack I, "model 2", and "model 3"; and Pack II, "model", for which I have included config entries.
Posted Aug 3, 2011 11:58 by michael litze (uploader)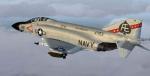 13.30Mb (2027 downloads)
FS 2004/ FSX textures for the Alphasim/Virtavia F-4J Phantom II in US NAVY McDonnell Douglas F-4J Phantom II, number 154783af, of NAVY Fight Squadron VF-41 Black Aces aboard USS F.D. Roosevelt, 1972. These textures have been created specifically for Pack I, "model", "Model 1" and "model 5", for which I have included config entries.
Posted Aug 3, 2011 11:55 by michael litze (uploader)