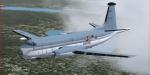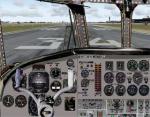 22.45Mb (3378 downloads)
The aircraft model, completely reworked as to the original model released some years ago, has been designed using Abacus Flight Design Studio v3.51 and compiled with makemdl.exe. The model can be used also in FSX, but you must read the note in the readme.txt. The package contains a specific version of the Atlantic as that used by French marine in two different liveries, the old colors and the new one . The model with older livery carry the badge of the 24F navy squadron , the example with new livery carry that of 23F navy squadron both based at Lann-Bihoue. The model has no 3D virtual cockpit (no VC) instead it uses a series of photographic fixed views taken aboard a French Atlantic example.
Posted Aug 21, 2012 14:49 by Massimo Taccoli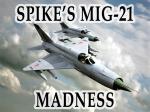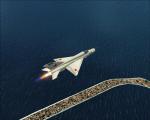 36.94Mb (7413 downloads)
Added FX for fun, realism and respect for this classic Russian aircraft. Mikoyan-Gurevich MiG-21 bis Fishbed N. Original model by Kazunori Ito. Kazunori Ito spared no expense in getting these flight dynamics accurate, thus, I spent a lot of time finishing and fine-tuning the effects on this aircraft as best I could to give realistic representation of flying a MIG-21. I made the XML coding as simple as possible and the sounds as small as possible (without sacrificing quality) to ensure a fast functioning aircraft on most PCs.
Posted Aug 15, 2012 05:59 by Spike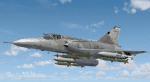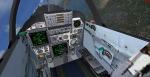 31.11Mb (6074 downloads)
The Atlas Cheetah is a fighter aircraft of the South African Air Force. It is a major upgrade of the Dassault Mirage III. Three different variants were created, the dual-seat Cheetah D, and the single-seat Cheetah E and Cheetah C. The Cheetahs have been retired and was replaced by Saab JAS-39 Gripens. This package contains an entirely new visual model and the airfile has been redone to improve the flight dynamics of the aircraft. It includes one model with the choice of multiple weapon configurations, custom sounds, and panel with aircraft specific gauges, and easy-to-read clickable virtual cockpit. It also features a working radar, camera simulated gauges, a new MFD, new nav instruments, drag chute and sound effects. It also includes a normal and wide screen panel. Thinus Pretorius
Posted Aug 7, 2012 11:18 by Thinus Pretorius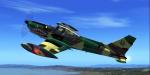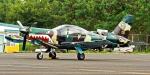 2.39Mb (1748 downloads)
The mission of the 15th Strike Wing is to conduct tactical air operations in support of Armed Forces of the Philippines units. The unit is headquartered at Danilo Atienza Air Base, Sangley Point, Cavite, just outside the capital Manila. 17th Attack Squadron (Jaguars) - based at Sangley Point, Cavite. 25th Attack Squadron (Lobos) - popularly known as the LOBOS, was re-manned into 25th Composite Attack Squadron based at 3rd Tactical Operations Wing, Edwin Andrews Air Base, Zamboanga City. Aircraft w/ VC Panel by : Marco Spada Aircraft: visual and flight model by: Giovanni Clemente Repainted by: Gerard G. Olvis
Posted Jul 14, 2012 16:17 by Gerard G. Olvis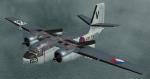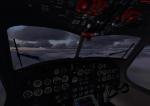 20.41Mb (8776 downloads)
(can be used in FSX) The Grumman "Seven" Projects for MSFS2004/FS9 ACof - VERSION 1.0 (S2F-1) by Milton Shupe, Scott Thomas, Tom Fliger, Nigel Richards, Steve Bryant, and Jan Visser with help from SOH members. Functional VC model included; Pkg incl one Aircraft with three textures, a great flight model, authentic radial custom sounds, and features custom panels with aircraft specific gauges, easy-to-read clickable virtual cockpits, and beautifully crafted exterior textures. The panel and sounds are aliased to the C-1A, S2F-3, or E-1B in your library. There are re-paints that should be available at SOH shortly after this July 08, 2012 release. This aircraft release is one of 7 aircraft in a series release. (There are actually 12 models, 3 yet unreleased but coming). NOT INTENDED FOR USE IN FSX, but if you prefer to run it as a port over, there is an FSX prop texture in the Documentation folder.
Posted Jul 9, 2012 16:34 by Milton Shupe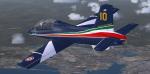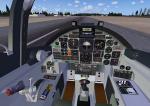 16.88Mb (5712 downloads)
This model is a complete rework of the original MB-339A PAN (Pattuglia Acrobatica Nazionale) released some years ago with an improved visual model, and virtual cockpit. This new version of the model contains textures for a standard example of "Frecce Tricolori", the acrobatic military Italian team, with added 10 different fuselage textures to choose from to make a personalized tail code example in the team. Visual Model, textures and revised Flight Dynamics by Massimo Taccoli. Original panel and Gauges by Paolo Zamparo, Sound files with permission of Aaron R. Swindle.
Posted Jul 6, 2012 05:49 by Massimo Taccoli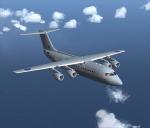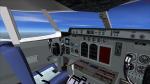 5.64Mb (5357 downloads)
Complete package for FS2004. This model represents ZE708, one of two refurbished BAE 146-200's purchased by the Royal Air Force in April 2012 to supplement the transport capability of the RAF. The aircraft was originally manufactured in 1991 and passed through the hands of several airlines until 2012 when it was refurbished by BAE Systems and converted to military configuration. Package includes custom panel and VC. Model, panels & FD by Premier Aircraft Design. RAF paint by Stephanie Lawton.
Posted Jun 26, 2012 10:40 by Bob May (PAD)

3.46Mb (1054 downloads)
RAF VC-10 101 SQn 2007 50th anniversary textures for the 101 sqn VC-10 of XR808 which celebrates 50 years of the VC10 Requires Dave Maltby's VC-10 for FS2004. Textures by UKMil.
Posted Jun 7, 2012 09:02 by UKMIL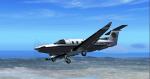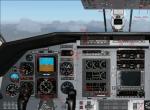 12.65Mb (2625 downloads)
FS2004 PILATUS PC-12 Philippine Air Force livery The Pilatus PC-12 is a multipurpose single engine turboprop built in Switzerland. the cabin is able to be configured diferently depending on the operators needs. It can be set up as an Air Ambulance, Executive Transport, Freighter, Combi Passenger Freight Hauler and 9 Seat Airliner. Pilatus aircraft are known for their innovative design, precision engineering, and quality craftmanship. The PC-12 continues this reputation, offering a business aircraft that is Swiss-built and -engineered, and completed with the highest quality materials, finishes, and craftmanship.Integrating a single turboprop engine into an aerodynamically advanced airframe, the Pilatus PC-12 combines excellent economy and reliability with the inherent safety of single-engine turboprop operation. It offers multiple configurations, ranging from executive-level transportation in spacious, pressurized cabin comfort to long-distance delivery of cargo and oversized equipment. The PC-XII also offers some unique special mission capabilites. This is utilize by DYNCORP as CCCI multi-role aircraft in the Philippines. This model was built using FSDS 2.1 and features all the standard animations like working suspension and opening doors, along with Dynamic shine and reflective textures. By Brian Gladden. Copyright 2003 by Tony Bolton. All Rights Reserved. Model by: Brian Gladden FP12 Panel by: Pierre FASSEAUX Repainted by: Gerard G. Olvis
Posted May 13, 2012 05:46 by Gerard G. Olvis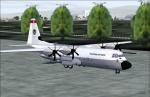 6.09Mb (6860 downloads)
FS2004 LOCKHEED MARTIN C-130J Super Hercules Philippine Air Force livery The Lockheed Martin C-130J "Super" Hercules is a four-engine turboprop military transport aircraft. The C-130J is a comprehensive update of the venerable Lockheed C-130 Hercules, with new engines, flight deck, and other systems. The Hercules family has the longest continuous production run of any military aircraft in history. During more than 50 years of service, the family has participated in military, civilian, and humanitarian aid operations. The Hercules has outlived several planned successor designs, most notably the Advanced Medium STOL Transport contestants. Fifteen nations have placed orders for a total of 300 C-130Js, of which 250 aircraft have been delivered as of February 2012. View panels by: Clive Ryan Updated fs2004 panel for Hercules C-130J. This new update uses a custom bitmap made by Marco Spada using a photorealistic image of last real C130j, uses also default and third party gauges. Radar and Hud gauges are by Eric Marciano. In this new release all 4 engines work well with all eicas instruments working. Panel By Marco Spada. Air & aircraft.cfg by: Bob Chicilo. Aircraft model by: Mike Stone Repainted by: Gerard G. Olvis
Posted May 13, 2012 04:46 by Gerard G. Olvis