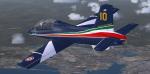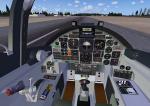 16.88Mb (5624 downloads)
This model is a complete rework of the original MB-339A PAN (Pattuglia Acrobatica Nazionale) released some years ago with an improved visual model, and virtual cockpit. This new version of the model contains textures for a standard example of "Frecce Tricolori", the acrobatic military Italian team, with added 10 different fuselage textures to choose from to make a personalized tail code example in the team. Visual Model, textures and revised Flight Dynamics by Massimo Taccoli. Original panel and Gauges by Paolo Zamparo, Sound files with permission of Aaron R. Swindle.
Posted Jul 6, 2012 05:49 by Massimo Taccoli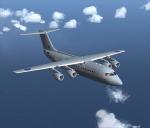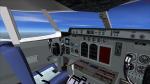 5.64Mb (5238 downloads)
Complete package for FS2004. This model represents ZE708, one of two refurbished BAE 146-200's purchased by the Royal Air Force in April 2012 to supplement the transport capability of the RAF. The aircraft was originally manufactured in 1991 and passed through the hands of several airlines until 2012 when it was refurbished by BAE Systems and converted to military configuration. Package includes custom panel and VC. Model, panels & FD by Premier Aircraft Design. RAF paint by Stephanie Lawton.
Posted Jun 26, 2012 10:40 by Bob May (PAD)

3.46Mb (1019 downloads)
RAF VC-10 101 SQn 2007 50th anniversary textures for the 101 sqn VC-10 of XR808 which celebrates 50 years of the VC10 Requires Dave Maltby's VC-10 for FS2004. Textures by UKMil.
Posted Jun 7, 2012 09:02 by UKMIL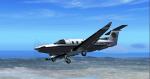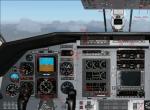 12.65Mb (2542 downloads)
FS2004 PILATUS PC-12 Philippine Air Force livery The Pilatus PC-12 is a multipurpose single engine turboprop built in Switzerland. the cabin is able to be configured diferently depending on the operators needs. It can be set up as an Air Ambulance, Executive Transport, Freighter, Combi Passenger Freight Hauler and 9 Seat Airliner. Pilatus aircraft are known for their innovative design, precision engineering, and quality craftmanship. The PC-12 continues this reputation, offering a business aircraft that is Swiss-built and -engineered, and completed with the highest quality materials, finishes, and craftmanship.Integrating a single turboprop engine into an aerodynamically advanced airframe, the Pilatus PC-12 combines excellent economy and reliability with the inherent safety of single-engine turboprop operation. It offers multiple configurations, ranging from executive-level transportation in spacious, pressurized cabin comfort to long-distance delivery of cargo and oversized equipment. The PC-XII also offers some unique special mission capabilites. This is utilize by DYNCORP as CCCI multi-role aircraft in the Philippines. This model was built using FSDS 2.1 and features all the standard animations like working suspension and opening doors, along with Dynamic shine and reflective textures. By Brian Gladden. Copyright 2003 by Tony Bolton. All Rights Reserved. Model by: Brian Gladden FP12 Panel by: Pierre FASSEAUX Repainted by: Gerard G. Olvis
Posted May 13, 2012 05:46 by Gerard G. Olvis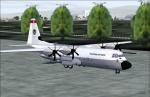 6.09Mb (6716 downloads)
FS2004 LOCKHEED MARTIN C-130J Super Hercules Philippine Air Force livery The Lockheed Martin C-130J "Super" Hercules is a four-engine turboprop military transport aircraft. The C-130J is a comprehensive update of the venerable Lockheed C-130 Hercules, with new engines, flight deck, and other systems. The Hercules family has the longest continuous production run of any military aircraft in history. During more than 50 years of service, the family has participated in military, civilian, and humanitarian aid operations. The Hercules has outlived several planned successor designs, most notably the Advanced Medium STOL Transport contestants. Fifteen nations have placed orders for a total of 300 C-130Js, of which 250 aircraft have been delivered as of February 2012. View panels by: Clive Ryan Updated fs2004 panel for Hercules C-130J. This new update uses a custom bitmap made by Marco Spada using a photorealistic image of last real C130j, uses also default and third party gauges. Radar and Hud gauges are by Eric Marciano. In this new release all 4 engines work well with all eicas instruments working. Panel By Marco Spada. Air & aircraft.cfg by: Bob Chicilo. Aircraft model by: Mike Stone Repainted by: Gerard G. Olvis
Posted May 13, 2012 04:46 by Gerard G. Olvis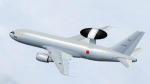 12.04Mb (3282 downloads)
Japan Air-Self Defense Force Boeing E-767 84-3504. Features ( in depth ): Dynamic flexing wings Body gear steering under 15kt above 1kt. Nose gear steering under 60kt above 1kt. Rudder lock under 60kt above 1kt. Ground spoiler only works on ground. Low speed aileron locks at high speed. Fully animated control surfaces Fully independent suspension Trim Animation Opening Passenger Doors Animated tilting bogies Rolling wheels Animated thrust reversers Detailed textures Full night lighting Crash affects Ground Service Vehicles when Cargo door open And more.... Model by Skyspirit. Painted by: Yosuke Ube
Posted Apr 29, 2012 06:09 by uploader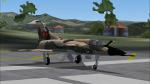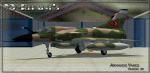 3.67Mb (744 downloads)
Mirage 50EV FAV 4058 of Venezuela Air Force. Model by Eduardo Fadul, Texture by Jose Armando Yanez
Posted Apr 27, 2012 11:14 by Jose Armando Yanez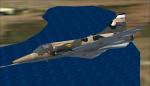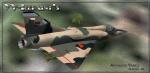 4.01Mb (534 downloads)
Mirage 5V FAV 1225 of Venezuela Air Force, Model By Eduardo Fadul, Texturas por Jose Armando Yanez
Posted Apr 27, 2012 10:40 by Jose Armando Yanez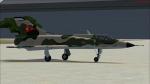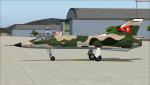 1.28Mb (465 downloads)
Mirage IIIEV FAV 0624 Textures only for the Mirage III by J.E.Narcizo. Textures by Jose Armando Yanez, Mirage IIIEV FAV 0624, BAEL-Venezuela
Posted Apr 26, 2012 13:16 by Jose Armando Yanez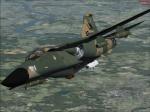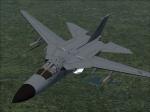 22.66Mb (8124 downloads)
This is the freeware Alphasim F-111 aircraft updated with new 2D and Virtual Cockpit panels. A right seat WSO panel has been added. There are new Gauges, Afterburner effects and Fuel Dump and burn effects. All the textures have been redone and a Pre-production FB-111A gray & white texture has been added. There are basic functioning radar and threat warning gauges. A basic terrain following radar is included. Enjoy!
Posted Apr 24, 2012 14:41 by Steve Hess