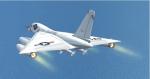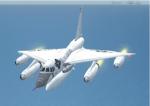 1.75Mb (5330 downloads)
This is an update, the third I think, for FS9 of the B-58 Hustler by JRLucariny. I have added all the wheels, added smoke effects that don't need to be in the lights section, changed the burner part of the afterburners, and changed the flight dynamics a bit. This is the whole aircraft. No virtual cockpit.
Posted May 8, 2010 10:51 by Bob Chicilo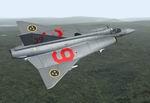 12.17Mb (6944 downloads)
ALPHA_SAAB_Draken_FS9.zip. The Saab 35 Draken (Draken is Swedish for "The Kite", but can also mean "The Dragon") is a fighter aircraft manufactured by Saab between 1955 and 1974. The Draken was built to replace the Saab J 29 Tunnan and, later, the fighter variant (J 32B) of the Saab 32 Lansen. The indigenous J 35 was an effective supersonic Cold War fighter that was also successful as an export product. Doing some Spring cleaning at Alphasim. Removing a few titles from the catalog to make them available as freeware releases. Here is our SAAB Draken for FS2004. 3 models, 4 textures. Includes panel and gauges.
Posted May 7, 2010 06:40 by Alphasim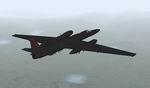 4.88Mb (7782 downloads)
ALPHA_U-2S_FS9.zip. The Lockheed U-2, nicknamed "Dragon Lady", is a single-engine, very high-altitude reconnaissance aircraft operated by the United States Air Force and previously flown by the Central Intelligence Agency. It provides day and night, very high-altitude (70,000 feet / 21,000 meters), all-weather surveillance.[1] The aircraft is also used for electronic sensor research and development, satellite calibration, and satellite data validation. Doing some Spring cleaning at Alphasim. Removing a few titles from the catalog to make them available as freeware releases. Here is our Lockheed U-2S for FS2004. 2 models, 1 texture. Includes panel and gauges.
Posted May 7, 2010 06:30 by Alphasim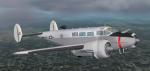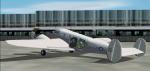 13.34Mb (2066 downloads)
The classic Beech in U.S. Navy colors based upon similar aircraft seen on "Black Sheep Squadron" and other Hollywood movies and television programs. These aircraft were primarily transports for staff officers and VIP's around the Pacific Theatre of Operations. Original Aircraft model and panel by F. Giuli, repaint and improved sound package by Don Brynelsen.
Posted May 5, 2010 12:33 by Don Brynelsen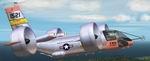 5.95Mb (9365 downloads)
FS2002/FS2004 Bell X-22A. The X-22A was designed and built to evaluate Bellfs patented dual tandem ducted-propeller configuration for a V/STOL transport. Later it was configured to serve as a testbed for STOL handling qualities using a variable stability control system. Four General Electric YT53-GE-8D turboshaft engines powered it. By Kazunori Ito
Posted Apr 23, 2010 06:05 by Kazunori Ito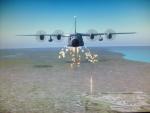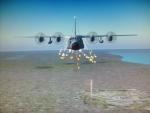 31.59Mb (3219 downloads)
I fixed the effect by making more side flares come out and i added sound when the flares come out.(you need to hold (i) to constantly hear sound go on).
Posted Apr 18, 2010 07:09 by Claudio Pizzirani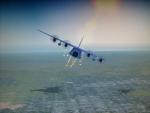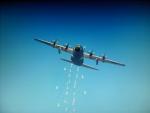 59.53Mb (3310 downloads)
AC-130 flare effect. It also includes the flares that go to the side. I included a video of the flares but its prety crap.You can use this with any aircraft. Will work in FSX.
Posted Apr 16, 2010 10:43 by Claudio Pizzirani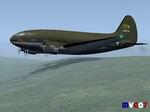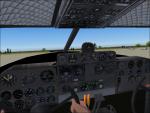 67.63Mb (8371 downloads)
C-46 Mashup Commando for FS2004 This package combines the wonderfull C-46 by Libardo Guzman, Tom Gibson and Greg Pepper, with the DC-3C gauge set by Charles "Dutch" Owens. It contains realistic failure code that will cause both pilot induced and random system failures and fires. This is a complete package with aircraft, sound, VC and 5 panels. Modifications By Terry Jones.
Posted Apr 2, 2010 17:18 by Terry Jones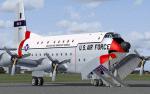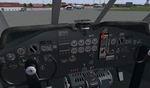 18.60Mb (18597 downloads)
The C-124 Globemaster II was the standard USAF stategic transport during the 1950s and 60s, until it was replaced with the Lockheed C-141 Starlifter. The C-124A and C-124C are both included in this package. Features include virtual cockpit (VC). For FS2004 only, FSX users should download C124_V10X.zip instead. By Jens B. Kristensen.
Posted Mar 30, 2010 04:19 by Jens B. Kristensen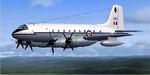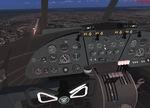 27.48Mb (5341 downloads)
This is an all-new model of the HP67 Hastings, a British military transport that was the mainstay of RAF Transport Command from 1947 into the 1960s. The last Hastings transport was retired in 1968. Five variants are included: Hastings C.1, C.1A, Met.1, C.2 and C.4. For FS2004 only, FSX users should download Hastings_V10X.zip instead. By Jens B. Kristensen
Posted Mar 27, 2010 05:14 by Jens B. Kristensen