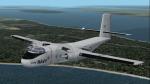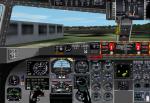 1.14Mb (4166 downloads)
A repaint of Mike Stone's excellent DeHavilland in US Navy Grey. Features a panel by John Rushby-Smith and Barry Magann, and improved flight dynamics by Jerry Allen that makes the model fly more like an actual Caribou. Repaint by Don Brynelsen.
Posted Jul 29, 2010 15:20 by Don Brynelsen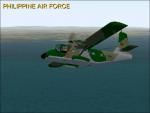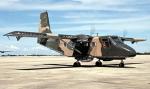 2.60Mb (2378 downloads)
223rd Tactical Airlift Squadron (Nomads) N-22B no. 87, under the 220th Airlift Wing based in Mactan Benito Ebuen Airbase. This served as VIP, Logistical transport & Intel-Recon flights. This is the aircraft were we took a flight from Iloilo, stopping by Bacolod dropping a officer took off and refuelled in Mactan Air Base before proceeding to Zamboanga Edwin Bautista Air Base. GAF NOMAD N-22A/B TECHSPECS Origin: Australia Type: multi-role utility transport Max Speed: 168 kt / 193 mph Max Range: 1,352 km / 840 miles Dimensions: span 16.51 m / 54 ft 2 in length 12.57 m / 41 ft 3 in height 5.54 m / 18ft 2 in Weight: empty 2,092 kg / 4,613 lb maximum take-off 3,855 kg / 8,500 lb Powerplant: two 313-kW (420-shp) Allison 250-B17C turboprops Armament: four underwing hardpoints each rated at 227 kg (500 Ib) can carry gun pods, rocket-launcher pods, and other stores FS Panel by Mike Hill Paint Kit by Kim P. Staneart Repainted by Gerard G. Olvis
Posted Jul 15, 2010 08:04 by Gerard G. Olvis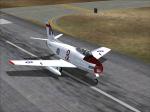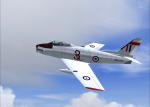 1.09Mb (232 downloads)
FS2004 Commonwealth CA-27 Sabre. The CAC Sabre, sometimes known as the Avon Sabre or CA-27, is an Australian variant of the North American Aviation F-86F Sabre fighter aircraft. The F-86F was redesigned and built by the Commonwealth Aircraft Corporation (CAC). Equipping five RAAF squadrons, the type saw action in the Malayan Emergency in the late 1950s, and was employed for air defence in Malaysia and Thailand in the 1960s. Ex-RAAF models also saw service with the Royal Malaysian Air Force and the Indonesian Air Force. This aircraft is built for FS2004. The aircraft may work in FS2002, but I do not support it. Use Shift-E to open the canopy. Mike Stone
Posted Jul 14, 2010 01:40 by Ronald Falzon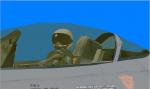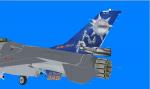 4.65Mb (999 downloads)
Belgian F16 FA-94 349(f) Sqn Textures. This is a repaint for Kirk Olson Danish Viper Texture Only You required FS2004 ViperDen Package
Posted Jul 13, 2010 14:52 by Jonathan Linart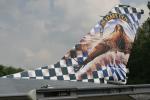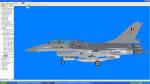 7.29Mb (1369 downloads)
This package contains the Belgian Air Force F16 two-seater FB-18(20 years Operational Conversion Unit) and the FB-13 (normal grey scheme) Textures for Kirk Olssen's F-16 You required the FS2004 2-Seater Gmax F-16 Viper Netherlands Air Force.
Posted Jul 11, 2010 13:54 by Jonathan Linart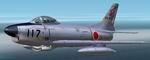 2.71Mb (3895 downloads)
FS2002/FS2004 North American F-86D Sabre Dog. The North American Aviation F-86D Sabre (sometimes called the "Sabre Dog" or "Dog Sabre") was a transonic jet all-weather interceptor. Based on North American's F-86 Sabre day fighter, the F-86D had only 25 percent commonality with other Sabre variants, with a larger fuselage, larger afterburning engine, and a distinctive nose radome. Two kinds of texture(USAF / JASDF) are included. by Kazunori Ito. 2d panel but no VC.
Posted Jul 10, 2010 18:26 by Kazunori Ito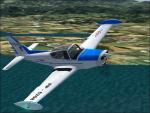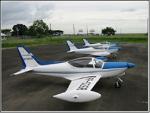 2.22Mb (2677 downloads)
FS2004 Aircraft Newly acquired aircraft supplied by Aerotech Corporation based at Clark Field, Pampanga. Delivered to the 102nd Basic Flying Training Sqn (Cougar), Air Education and Training Command, B. Fernando Airbase, Lipa, Batangas. Flight Training and Maneuvers. Panel by Marco Spada Giovanni Clemente (aircraft: visual and flight model) Repainted by: Gerard G. Olvis
Posted Jul 1, 2010 21:31 by Gerard G. Olvis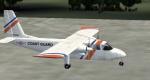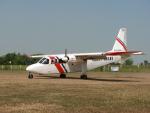 13.10Mb (2490 downloads)
Britten-Norman BN-2A Islander Version 2 - with virtual cockpit. Maritime Patrol and SAR duties. Model and Panel by Marcel Kuhnt Repainted by Gerard G. Olvis
Posted Jun 30, 2010 12:21 by Gerard G. Olvis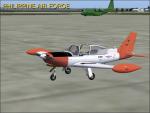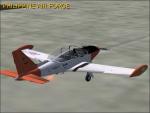 2.24Mb (2170 downloads)
SF-260MP w/ VC 102nd Basic Flying Training Sqn (Cougar), Air Education and Training Command, B. Fernando Airbase, Lipa, Batangas, Philippines. Flight Training and Maneuvers. Panel by Marco Spada Giovanni Clemente (aircraft: visual and flight model) Repainted by: Gerard G. Olvis
Posted Jun 30, 2010 11:39 by Gerard G. Olvis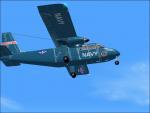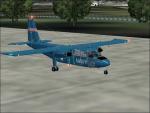 13.63Mb (1618 downloads)
BN-2A Islander Philippine Navy model Britten-Norman BN-2A Islander Version 2 - with virtual cockpit: Model and Panel by Marcel Kuhnt. Repainted by Gerard G. Olvis
Posted Jun 30, 2010 11:34 by Gerard G. Olvis