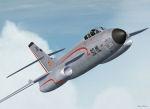 57.41Mb (5462 downloads)
The Vautour was a French twin-engined multiroles jet conceived at the beginning of 1950s. The VIIN is a two-seater all-weather fighter. By May 1957 it was in service and used until 1973 when it was replaced by the "Mirage F-1" Complete aircraft and realistic model including 2D panel custom XML gauges sounds six textures. By Philippe Penot
Posted Jun 16, 2009 01:57 by Philippe Penot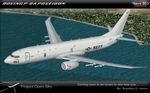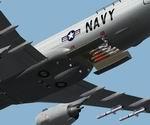 8.89Mb (15854 downloads)
Boeing P8A Poseidon United States Navy 'Rollout' Scheme. Fully animated control surfaces Fully independent suspension Nose gear steering Trim Animation Opening Passenger Doors Dynamic flexing wings Rolling wheels Animated thrust reversers Fully reflective textures ( each part has different degree of reflection based on material ) Accurate flight dynamics ( accurate FDE with full profiles for wheels, tires, struts, leading/trialing struts, engine types ... Tested by real pilots.) Accurate spoiler animation Detailed textures Full night lighting Visible landing lights from the thingypit Reflective thingypit windows Crash affects Transparent Nav light lenses Weapons bay with deployable ornaments. Project Opensky.
Posted May 28, 2009 11:06 by John Paul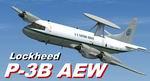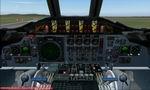 19.17Mb (11761 downloads)
FS2004 U.S. Customs Service P-3B AEW. The P-3 Airborne Early Warning (AEW) Detection and Monitoring (D&M) aircraft are the only law enforcement AEW aircraft in the world. They were developed to provide wide area search, increased command control, and communications capabilities. Model by Daisuke Yamamoto. FDE created and the textures painted by Hiroaki Kubota. Gauges by Luis da Costa Pereira. Team FS KBT.
Posted May 27, 2009 03:51 by Team KBT

0.32Mb (1006 downloads)
This is a panel config correction which did not allow full screen mode in FSX. If you downloaded this file and got a stretched out display with a black bar on bottom of screen, this will correct it. I copied correct data from ALPHASIM's F3D Skyknight panel.
Posted May 14, 2009 13:02 by Rudy Cornejo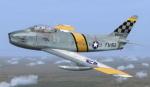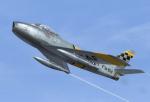 5.13Mb (1609 downloads)
This folder contains a repaint for the SectionF8 F-86 Sabre for FS9 (and FSX), representing F-86E-1-NA 51-2852 'Darling Dottie' assigned to 39th FIS. Pilot Maj John Bolt USMC. Repaint by Jan Kees Blom, based on the repaint kit by Section F8.
Posted May 12, 2009 14:46 by Jan Kees Blom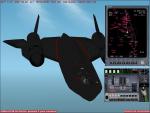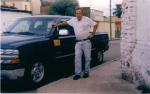 6.74Mb (19659 downloads)
FS2004-FS2002 SR-71 Aircraft. Flying Aircraft engine with modern 2d panel. Includes a fighter HUD gauges effects files. Originally developed by Lockheed. Repaint and Dynamic Flight tuning with fire effects, emergency panel and sound include by ING Alex Hassey from UNAM University. Plus DXF model at request .
Posted May 10, 2009 23:48 by Alex Hassey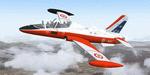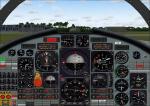 22.04Mb (9092 downloads)
This model is a complete rework of the original MB 339A - PAN released some years ago with a modified visual model, panel and virtual cockpit. This new version of the model contains textures for five examples with different paint works which llustrate the story of this aircraft from the beginning through the current days in Italian Air Force. The six livery belong to the one of the Argentina "Armada" MB 339AA during the Falklands war. Visual Model, textures by Massimo Taccoli. Flight Dynamics , original panel and Gauges by Paolo Zamparo, Sound files with permission of Aaron R. Swindle.
Posted Apr 22, 2009 11:43 by Massimo Taccoli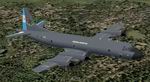 0.24Mb (1011 downloads)
FS2004 Armarda Argentina P-3C Orion. Textures for Mike Stone's P-3 Orion in the latest colour scheme of Armarda Argentina P-3C Orion. Requires Mike's original file here. Textures by Geoff Chambers. 244K
Posted Apr 10, 2009 12:41 by archive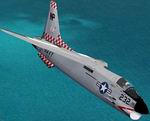 4.06Mb (4511 downloads)
FS2004/FS2002/CFS2 F-8E Crusader VF-24. Alphasim freeware 'Sader painted to represent one used by VF-24. Aircraft included. Repaint by Marc Czygan. 4.1MB
Posted Apr 10, 2009 12:41 by archive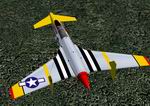 14.48Mb (8837 downloads)
FS2004 Stratojet Merlin The Merlin from Stratojet is a fictive "Warbird" powered by 2 turbocharged 2.000 hp Allison V-1710 V12 engines. The Merlin is very fast, has an excellent maneuverability and is easy to fly too.. FS2004, dynamic virtual cockpit, 5 liveries, reflective textures, opening canopy and engine bay doors, full moving parts, panel with many custom gauges, effects, pilot, passenger. Sounds by David C. Copley recorded from a real Allison V-1710 V12 engine. Aircraft by Eugene Heyart. 14.8MB
Posted Apr 10, 2009 12:41 by archive