9.60Mb (4442 downloads)
This is a 2-Seat version of Kirk Olsson's Gmax F-16 Viper for the Netherlands Air Force. Textures only in F-16 312SQ, Volkel Air Base in the Netherlands. It has full animation, dynamic shine, and a realistic VR cockpit and 2 load-outs. Default sounds are used to decrease download size. File size 6.6MB Author: Kirk Olsson. Viper2du.zip
Posted Feb 15, 2009 15:25 by Niels Boswinkel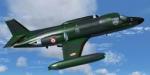 14.19Mb (2562 downloads)
Piaggio PD-808GE Package. NEEDS FS9_pd808rm.ZIP TO WORK. THIS PACKAGE DOES NOT INCLUDE THE NEEDED PANEL, GAUGES AND SOUNDS. This is a complete simulation of the Piaggio PD-808. It includes advanced engine management, realistic systems, and some failure modeling. The model features a complete 3-D virtual cockpit,and a 2-D panel. The external model features all typical animations plus a load of custom ones. Also incluides all custom special effects, including different selectable floodlights for the virtual cockpit (by simply flicking ON the proper light switch on the cockpit itself). Plus with a fly-on-the-numbers flight dynamics file. Includes full documentation. THIS IS THE FS-2004 RELEASE. IT WILL NOT WORK PROPERLY WITH FS-X. THERE IS ALSO A FS-X RELEASE THAT WILL NOT WORK PROPERLY WITH FS-2004. THis is the "GE" variant of the aircraft and requires the base package "FS9_PD808RM.zip" to work.Mario Noriega
Posted Feb 15, 2009 04:34 by Mario Noriega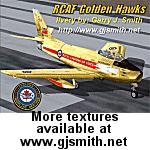 1.97Mb (1613 downloads)
This is a "shiny" rendition of the RCAF Golden Hawks Aerobatic Team livery - created for the outstanding SectionF8 F86 Sabre Aircraft (available on this site). Many more FREE textures available for this aircraft from my site: http://www.gjsmith.net
Posted Jan 31, 2009 17:29 by Garry J. Smith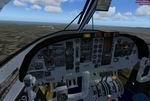 18.58Mb (8554 downloads)
This is a complete simulation of the Piaggio PD-808. It includes advanced engine management, realistic systems, and some failure modelling. The model features a complete 3-D virtual cockpit,and a 2-D panel. Sounds are included. The external model features all typical animations plus a load of custom ones. Also includes all custom special effects, including different selectable floodlights for the virtual cockpit (by simply flicking ON the proper light switch on the cockpit itself). Plus with a fly-on-the-numbers flight dynamics file. Includes full documentation. THIS IS THE FS-2004 RELEASE. IT WILL NOT WORK PROPERLY WITH FS-X. THERE IS ALSO A FS-X RELEASE THAT WILL NOT WORK PROPERLY WITH FS-2004. This is the "RM" variant of the aircraft and base package. Other PD-808 variants will come next. This base package with the RM version will be needed for these to work properly. by Mario Noriega
Posted Jan 27, 2009 07:18 by Mario Noriega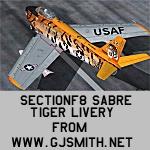 1.55Mb (1471 downloads)
Textures only - this is a fantasy livery created just for fun and visual pleasure for use on the outstanding SectionF8 Sabre Aircraft. Many more liveries for this aircraft are available at http://www.gjsmith.net
Posted Jan 10, 2009 22:12 by Garry J. Smith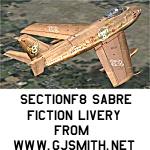 1.93Mb (1224 downloads)
Textures Only - this is a fantasy tinker in creating a reflective golden livery as a tribute to the SectionF8 Team for their outstanding F86 Sabre - many more liveries available for this aircraft at http://www.gjsmith.net
Posted Jan 10, 2009 22:09 by Garry J. Smith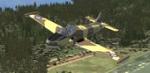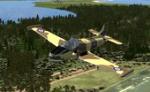 2.06Mb (3751 downloads)
Textures for Rick Pipers excellent Jet Provost For FS2004 in the colours of Top Gun Tasmania. The Original Aircraft by Rick Piper is required. Top Gun Tasmania is based in Hobart Tasmania and offers aerobatic flights in the Jet Provost and the CJ6a Nanchang. For more information visit their website at www.topguntasmania.com.au. Repaint by Matthew Devenish.
Posted Jan 5, 2009 21:10 by Matthew Devenish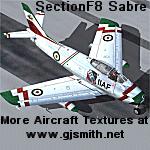 1.97Mb (1053 downloads)
Textures only. This is a rendition of the Imperial Iranian Air Force Golden Crown Aerobatic Team Sabe created for use with the excellent SectionF8 Sabre aircraft. Another 24 liveries for this girl available at: http://www.gjsmith.net.
Posted Dec 31, 2008 08:27 by Garry J. Smith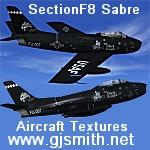 1.05Mb (1395 downloads)
Textures only. This is a fantasy black livery for the excellent SectionF8 Sabre - livery has chrome highlight effects - Created just for some visual fun. 24 other Sabre Liveries available at http://www.gjsmith.net
Posted Dec 31, 2008 08:22 by Garry J. Smith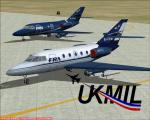 2.09Mb (4208 downloads)
This is a Multiload AI Falcon Aircraft, modified to have wing stores, as carried by FRA Aviation. By UKMil
Posted Dec 27, 2008 11:50 by UKMIL