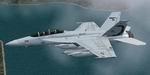 2.53Mb (1999 downloads)
FS2004 EA-18 VAQ-132 Scorpions Textures only. This is a repaint of the EA-18G Growler from Team KBT (required fa-18_sh.zip - here). The VAQ-132 Scorpions fly Electronic countermeasures against enemy radar, and SAM locations. The EA-18G is the current test bed to replace the aging EA-6B. By FireWalker. 2.6MB
Posted Apr 10, 2009 12:41 by archive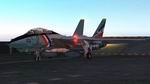 4.93Mb (2484 downloads)
FS2004 F14D VF-2 "Bounty Hunters" Textures only file for Dino Cattaneo's F14 Tomcat. Paint scheme represents the squadrons last tomcat cruise in support of "Operation Iraqi Freedom" in March 2003. Requires Dino Cattaneo's Tomcat here. War repaint by AM2 (AW) Steve Hansen. 5.75MB
Posted Apr 10, 2009 12:41 by archive

10.94Mb (24337 downloads)
FS2004 Boeing B-52G and B-52D Stratofortress. B52USAF Camo liveries. Comprehansive Gmax B-52 model by Yaetsu Yoshimitsu / Hiroaki Kubota Team KBT. Includes opening bomb doors & much more! No VC.. 11.2MB (panel here)
Posted Apr 10, 2009 12:41 by archive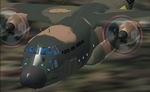 1.57Mb (5770 downloads)
FS2004 Lockheed C-130H Hercules Fuerza Aerea Venezolana Military transport and transport aircraft. Full moving part (including doors, ramp). Full interior, VC, panel, sound. Gmax model, panel - Vladimir Zhyhulskiy. Textures by Daniel Borrego. 1.6MB
Posted Apr 10, 2009 12:41 by archive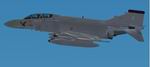 5.73Mb (1038 downloads)
FS2004/2002 Phantom FGR2 squadron textures. 4 squadrons represented in the all over grey camo scheme. Textures Only!! Requires Kazunori Ito's/AVA`s Phantom (here). By James Forrester. 5.8MB
Posted Apr 10, 2009 12:41 by uploader
3.20Mb (7733 downloads)
FS2004/2002 AVRO Vulcan B.Mk2 /B.Mk2A RAF 2 paintschemes. During the Cold War years, the Vulcan was allocated the role of a high level, stand-off attack bomber and was painted in pure white to reflect nuclear 'flash'. From the 1960's onward, as Soviet air defences improved, the attack profile was changed to low-level penetration and the more familiar camouflage markings were adopted. 3 models and 4 paint examples are included in this file. (B.Mk2 white paint with Blue Steel nuclear missile / B.Mk2A overall dark camouflage and sand camoufage paint without option / B.Mk2A bright camouflage paint with AGM-45 missile) by Kazunori Ito. 3.3MB
Posted Apr 10, 2009 12:41 by archive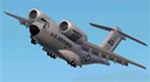 1.51Mb (7176 downloads)
FS2004/2002 Boeing YC-14 United States Air Force. STOL transport (prototype) In the early-1970s, the U.S. Air Force issued an Advanced Medium STOL Transport requirement for a new jet-powered tactical airlifter to replace the Lockheed C-130 Hercules. In 1972, two proposals were accepted for construction as the Boeing YC-14 and McDonnell Douglas YC-15 prototypes. By J R Lucariny. 1.5MB
Posted Apr 10, 2009 12:41 by archive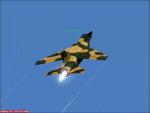 5.92Mb (2189 downloads)
This repaint by Morné Pieters is of a SAAF F1AZ #229 of 1 Sqdn. No 229 was for a number of years the "mascot" of 1 Sqdn and retained the original camouflage colour scheme. Textures only, you will need the freeware Mirage F1 Package "Gmax F1v2.5" and "F1V25patch" from Kirk Olsson.
Posted Mar 24, 2009 12:07 by Frank Safranek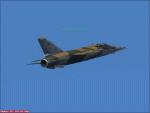 18.38Mb (10829 downloads)
This is a modification by Morné Pieters of Kirk Olsson's Gmax Mirage with his permission. The Gmax Mirage F1AZ was turned into the Super Mirage F1 with the SMR-95 Russion engine. The flightdynamics has been changed with lighter mass more thrust etc. to simulate the new SMR-95 engine. Some new sounds from Ferry Sab was used to simulate the SMR-95 or Mig-29 engine. Some new heat haze and afterburner effects was used and where all done by the old DSB now freeware packages of the Eurofighter and Hawk.
Posted Mar 24, 2009 12:02 by Frank Safranek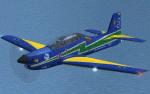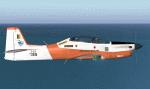 17.13Mb (16519 downloads)
FS2004 Embraer 312. Complete package with the trainer "Tucano" T-27 used by AFA - Brazilian Air Force Academy and many others AF around the world. Include AFA and EDA textures. No virtual cockpit.Panel and gauges by Paolo Dessani. Model, FDE and textures by J.E.Narcizo - RanchoJEN.
Posted Mar 24, 2009 12:00 by J.E.Narcizo