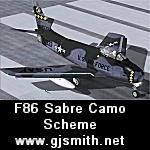 1.44Mb (1361 downloads)
This is a fun livery for the excellent SectionF8 F86 Sabre aircraft. - a rendition of a full camo scheme for a US aircraft - partly fictional creation from a single side on image of FU-333. This livery is one of many that are available from my FREE aircraft texture site http://www.gjsmith.net - feel free to pop on over and grab other textures for this superb aircraft.
Posted Dec 26, 2008 06:15 by Garry J. Smith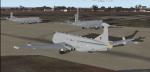 0.79Mb (3328 downloads)
AI Nimrod model only. By UKMil
Posted Dec 26, 2008 04:51 by UKMIL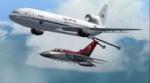 0.98Mb (11363 downloads)
AI version of the L1011 Tristar Tanker, with working extening fuel hoses. UKMil
Posted Dec 26, 2008 04:46 by UKMIL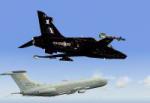 1.71Mb (7748 downloads)
Aan AI version of the VC10 Tanker. With working refuel hoses. The hoses will deploy but do not actually refuel aircraft. UKMil
Posted Dec 26, 2008 04:44 by UKMIL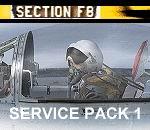 4.74Mb (11285 downloads)
FS2004 North American F-86E/F Sabre SP1 Updated gauges for the SECTIONF8 F-86E/F Sabre, fixing problems with speed brakes and auto pilot. Requires previous installation of base package (SF86EF.ZIP). Also included are two replacement bitmaps for the skin texture pack (SF86SKNS.zip, installation optional). By Hansjoerg Naegele, SectionF8 http://www.sectionf8.com
Posted Dec 24, 2008 03:58 by Hansjoerg Naegele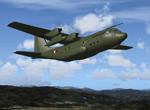 3.17Mb (4395 downloads)
Textures only for Alphasim's excellent Hercules (required for this textures-only file) in Austrian Airforce livery. In 2002/03 Austria bought 3 aircraft of this type from the Royal Air Force. This particular plane, now registered 8T-CA (built in 1967), was delivered on 21st March 2003. Textures by Roman Krauss
Posted Dec 22, 2008 17:26 by Roman Krauss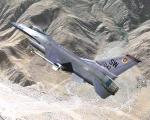 24.97Mb (39194 downloads)
F-16 Viper USAF Thunderbirds display team model. Original aircraft by Kirk Olssen. Complete aircraft included.
Posted Dec 19, 2008 23:59 by Mike Clark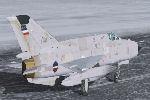 0.64Mb (1579 downloads)
Repaint of the Gmax Academy Mig-21 Bis by Pierre Marchadier in the current Yugoslavian Airforce livery. You need the original aircraft for this to work. Repaint by Shane Griffith
Posted Dec 17, 2008 19:20 by Shane Griffith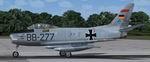 5.22Mb (2127 downloads)
Repaint for the Freeware SECTIONF8 F-86E/F Sabre model . F-86 Sabre Luftwaffe, Textures only, WaSLw 10 (Canadair Cl-13 Sabre Mk.6) W. Wollschlaeger
Posted Dec 12, 2008 13:18 by W. Wollschlaeger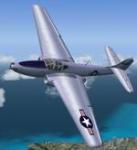 2.96Mb (2841 downloads)
FS2002/FS2004 Bell P-59A Airacomet. This was the first United States jet fighter aircraft, designed and built during World War II. The USAAF was not impressed by its performance and cancelled the contract when fewer than half of the aircraft ordered had been produced. Although no P-59s went into combat, it paved the way for another design generation of U.S. turbojet-powered aircraft and was the first turbojet fighter to have its turbojet engine and inlet nacelles integrated within the main fuselage. by Kazunori Ito.
Posted Dec 2, 2008 04:26 by Kazunori Ito