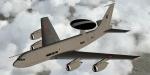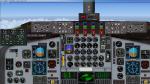 10.50Mb (5527 downloads)
Boeing E3F AWACS. The Boeing E-3 Sentry is a U.S. military airborne warning and control system (AWACS) aircraft based on the Boeing 707 that provides all-weather surveillance, command, control and communications. It is used by countries such as the United States, the United Kingdom, France, Saudi Arabia and NATO air defense forces. It is distinguished by the disc-shaped rotodome above the fuselage. Production ended in 1992 after 68 had been built. Original aircraft design by PAD. Repaint, adaptation for FSX, 4/3 and 16/9 panels, by Philippe Wallaert
Posted Dec 3, 2013 03:42 by Philippe Wallaert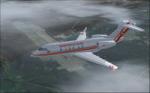 0.97Mb (833 downloads)
Bombardier Challenger 300 Polish Air Force VIP texture two pack for Richie Schwertfeger's Challenger 300 model.
Posted Nov 30, 2013 05:00 by Voiteh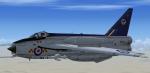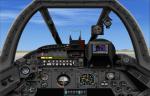 17.14Mb (5913 downloads)
This jet fighter was the first supersonic aircraft of Great Britain, which greatly improved the ability of the Royal Airforce. The package features FSX compatible gauges for the 2D panel and a basic VC, which was not part of the original model by Kazunori Ito. It also features added smoke effects and three repaints by Andrew Stokes of AVA. By Kazunori Ito, updated for FSX by Michael Pook.
Posted Nov 28, 2013 18:50 by Michael Pook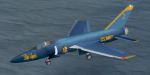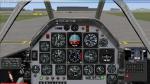 6.16Mb (2868 downloads)
The Tiger was the first supersonic fighter of the US Navy. It was introduced in 1956 and used by the Blue Angels aerobatics team until 1969. Original model by I d'Attomo. Adaptation to FSX, VC and 2D panels design for wide and standard screen by Philippe Wallaert. See the readme.txt file for installation and configuration. Credits: I d'Attomo for the original aircraft. Enjoy!
Posted Nov 28, 2013 09:58 by Philippe Wallaert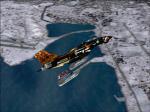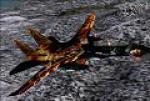 3.79Mb (876 downloads)
Flight Dynamics Ver.3-07 FSX/FS2004 F14D model by Ivan Kostic/Steve Hinson using Dino Cattaneo & Jeff Dobbings Excellent aircraft with great maneuverability and power. This aircraft was painted for the Armada fictitiously. The Beast II, "La Bestia II". Textures only. You can see video in youtube http://www.youtube.com/watch?v=Wbxou1FBSn0
Posted Nov 26, 2013 16:29 by Jorge Selandari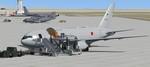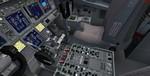 55.72Mb (4921 downloads)
FSX KC-767J Tanker Japan Self-Defense Forces with VC for FSX FSX KC-767J model by Skyspirit with advanced 737-800 VC added. Includes utility for ground services, cargo, stairs, etc (find it under - Views - Instrument panel - Posky Utility) The wonderful creation from Project Opensky will be enjoyed by many more people who do not know how to install a VC, views, exits, Utilities etc into a FSX native model. So now this 767-300 has the nearest VC I can find -- the 737-800. The layout fof the 767 cockpit is not a million miles away from the advanced 737-800. The VC is the Alejandro Rojas Lucena/FSND fantastic revised Boeing 737-800 VC model. This VC model includes Working wipers (right mouse click on switch) with rain effect. Switches for LCD Screens, EICAS, PFD, MFT. Autobrake switch. Opening pilots window. Cabin Lights switch. Realistic FMC. Ground Proximity Warning System (GPWS), More Realistic night VC textures. There are custom Boeing sounds included for that extra realism. Also added 767 sounds for more realism. Also added 767-300 exits cfgs so jetways can be used (Ctrl J) Model is not modified in any way. Just the VC added and aircraft.cfg edited to allow correct VC views. Skyspirit wonderful native FSX Boeing KC-767J model. See VC docs to get the best out of the VC and FMC. Once again thank you to the amazing talents of Skyspirit/TDS/Project Opensky for their contributions to the world of MSFS. Enhanced FSND VC added for FSX by Chris Evans.
Posted Nov 24, 2013 10:56 by Chris Evans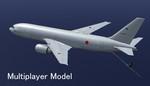 12.91Mb (900 downloads)
FSX/FS2004 SkySpirit2010 KC767J Multiplayer Special Beta Version IH27 This is the Beta of SkySpirit2010 KC-767J Multiplayer Special. There will be a difference at the main stream version. FDE is just at the test using Warren C Daniel's 767V4 767-200ER. Model by Hiroshi Igami
Posted Nov 24, 2013 10:44 by Chris E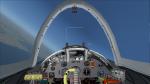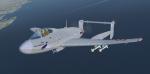 1.90Mb (1158 downloads)
FSX/FS2004 new 2D-Panel and new VC for the SO-8000 Narval from Patrice Grange (Narval.zip). This was a french prototype from 1949 with double tail and double push propellers. New airfiles with weapon effects and FSX/Accel-prop-textures included. Panel by Erwin Welker.
Posted Nov 22, 2013 05:19 by Erwin Welker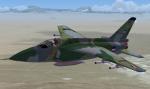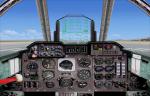 13.29Mb (1892 downloads)
The J-22 interceptor was developped in Yugoslavia in the early 1980s to replace the F-84 Thunderjet of the Yugoslav Air Force at that time. The package includes three original liveriea as well as a "Display" repaint by Mario Petrin. It features added smoke effects and FSX compatible gauges, but only has a non- functional VC. By Kazunori Ito, updated for FSX by Michael Pook.
Posted Nov 14, 2013 10:38 by Michael Pook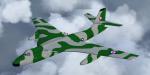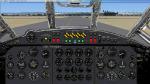 4.75Mb (1848 downloads)
The Vickers Valiant was the first of the V bombers used by the Royal Air Force during the fifties. The others V nuclear bombers were the Avro Vulcan and the Handley Page Victor. Original model by Mike Stone. Adaptation to FSX, 2D panels (no VC) for wide and standard screen with GPWS callout by Philippe Wallaert. See instructions for installation and configuration in the readme.txt file. Credits: Mike Stone for the original aircraft. Nice flights!
Posted Nov 10, 2013 09:35 by Philippe Wallaert