10.42Mb (411 downloads)
FS2004 Carenado Cessna 185F N3194D. This repaint is of N3194D, a Cessna 180 in real life. Textures created by Michael Travis. Requires the payware Carenado C185F. I hope you enjoy this repaint.
Posted Sep 8, 2014 10:30 by J. Michael Travis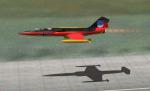 4.12Mb (561 downloads)
F-104G Starfighter of Fighter Bomber Squadron (Jabo G34 at Memmingen) German Air Force at 25th anniversary on 05. May 1984. Repaint for Payware Captain Sim Legendary Starfighter F-104. Repaint by Hans-Juergen Kasper.
Posted Jun 1, 2014 13:00 by Hans-Juergen Kasper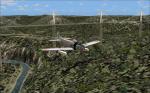 15.55Mb (142 downloads)
These 4 textures are for the "Razbam A-1DFrance" model of the Razbam Skyraider (pack 1)
Posted May 26, 2014 11:42 by pascal poupineau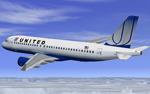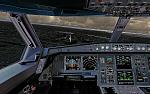 11.47Mb (1297 downloads)
Demo version: The Airbus A320 family is a family of short- to medium-range, narrow body, commercial passenger jet airliners manufactured by Airbus. The family includes the A318, A319, A320, and A321. The first member of the A320 family, the A320, was launched in March 1984, first flew on 22 February 1987, and was first delivered in 1988. The family was soon extended to include the A321 (first delivered 1994), the A319 (1996), and the A318 (2003). The A320 family pioneered the use of digital fly-by-wire flight control systems in commercial aircraft. Although there has been a continuous improvement process since introduction, currently the A320 Enhanced programme includes greater improvements. The Airbus A320 family has over 4,300 aircraft built and an additional 2,300 aircraft on order as of March 2010. According to Airbus, it ranked as the world's fastest-selling jet airliner family according to records from 2005 to 2007, and as the best-selling single generation aircraft programme. By Andreas Meyer - www.afs-design.de Demo with banners in model and VC.
Posted Apr 29, 2014 12:42 by Andreas Meyer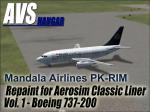 6.85Mb (243 downloads)
Mandala Airlines PK-RIM textures for the payware Boeing 737-200 Aerosim Classic Liners Vol. 1.
Posted Apr 19, 2014 00:13 by Abel Viriyamay Sumanas
0.04Mb (391 downloads)
Created especially for the FS2004 Carenado 182RG. Carenado's stock monotone alert is replaced with authentic Cessna gear warning pulse-tone: same pitch, same duration, same timing as factory. Might also work in Carenado's FS2004 Cessna 210 and 337 as well, haven't checked. Enjoy!
Posted Apr 13, 2014 17:57 by Robert A. Diaz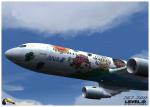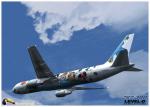 7.90Mb (510 downloads)
ANA, is a Japanese airline. It is headquartered at the Shiodome City Center in the Shiodome area in Minato, Tokyo, Japan. It operates services to 49 destinations in Japan and 32 international routes. All Nippon Airways JA8674 "You & Me Jet" photoreal textures in 32 bits format for the payware Level-D B767-300 model. Repaint by: Manuel Jose Larrahondo Burgos, Contact Ground. Happy flights.
Posted Mar 13, 2014 18:11 by Manuel Jose Larrahondo Burgos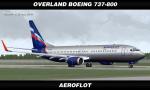 6.55Mb (437 downloads)
SMS Overland Boeing 737-800 in Aeroflot Russian Airlines livery. Texture only for payware Simmer`S Sky Overland model. Repaint by Sergey Gleba.
Posted Feb 22, 2014 16:30 by Sergey Gleba aka serg09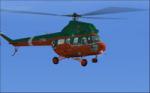 4.71Mb (238 downloads)
Polish Navy old textures for the payware Nemeth Mi-2 for FSX/FS2004
Posted Feb 19, 2014 05:17 by Wojtek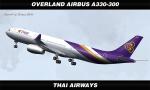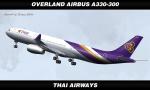 5.48Mb (1704 downloads)
SMS Overland Airbus A330-300 in Thai Airways livery. Texture only for payware Simmer`S Sky Overland model. Repaint by Sergey Gleba.
Posted Feb 18, 2014 06:44 by Sergey Gleba aka serg09