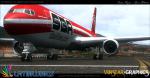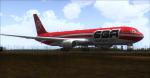 5.13Mb (241 downloads)
FS2004/FSX Santa Barbara Airlines (SBA) Boeing 767-300ER Registration YV528T. Textures for the payware SMS Overland Boeing 767. Textures by Trino Rojas Modified and Converted by Venstar Graphics (Jose Blanco)
Posted Jun 3, 2015 22:27 by Jose Blanco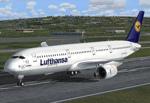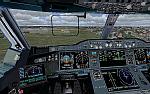 12.72Mb (2296 downloads)
DEMO VERSION with banners in VC and model: The A350 XWB (Xtra Wide-Body) is Airbus response to market demand for a medium capacity long range wide-body family. Designed with airlines priorities in mind, the A350 XWB confronts the challenges of high fuel prices, rising passenger expectations and increasing environmental concerns. Available from 2013, it has an entirely new, uncompromised, 21st Century design with a wider and taller fuselage for extra space and passenger comfort. A complete family of airliners sized to generate cost reductions and provide unprecedented operating flexibility for airlines; three basic passenger versions are being offered. With a range of up to 8,300nm/15,380km they include the A350-800 for 270 passengers in a spacious three-class configuration; the A350-900 for 314 passengers and the A350 - 1000 seating 350 passengers.
Posted May 29, 2015 04:16 by Andreas Meyer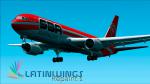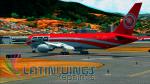 13.90Mb (319 downloads)
Santa Barbara Airlines YV528T Textures for the payware Level d B767
Posted May 19, 2015 11:32 by Trino Rojas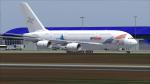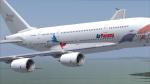 11.67Mb (600 downloads)
A380 Air Panama "the Seventh Summit of the Americas" livery. Textures for the payware Overland/SMS A380. Paint by YANKYVICTOR.
Posted Apr 10, 2015 22:05 by YANKYVICTOR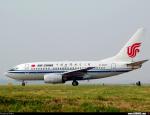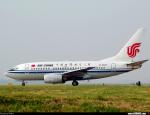 11.96Mb (1008 downloads)
Air China textures for the payware iFly Boeing 737-600
Posted Mar 23, 2015 00:13 by Liao Yitong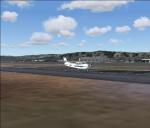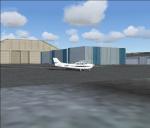 8.35Mb (71 downloads)
This download contains simple scenery enhancements for 5 airports in Northern California made with the program Abacus EZ-Scenery. This addon is intended and was designed for use with PcAviator Megascenery 2004 Northern California (payware). It may work without this addon but I'm not sure how well...
Posted Mar 9, 2015 04:50 by Pierre Shlimon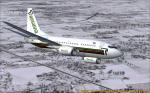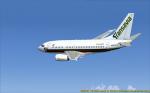 10.93Mb (174 downloads)
Remembering my very first flight on board a passenger-jet. The original aircraft is a 737-300. Transavia textures for the payware iFly Boeing 737 600 model.
Posted Feb 8, 2015 18:20 by Hartmut Hekmann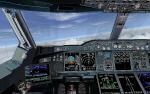 13.53Mb (5168 downloads)
DEMO VERSION - with banners in model and VC: The Airbus A380 is a doubledecker, four-engined airliner manufactured by Airbus S.A.S. It first flew on April 27, 2005 from Toulouse, France. Commercial flights should begin in 2006 after 15 months of testing. During much of ist development, the aircraft was known as the Airbus A3XX. The A380 is now the largest passenger airliner, topping the Boeing 747, which was the largest for 35 years. The first A380 prototype was unveiled during a ceremony in Toulouse, France, on January 18, 2005. Its manufacturer's serial number is 001, and is registered as F-WWOW. The new Airbus will initially be sold in two versions: the A380-800, carrying 555 passengers in a three-class configuration or up to 800 passengers in a single-class economy configuration. Expected range for the -800 model is 8,000 nautical miles (14,800 km). The second model, the A380-800F dedicated freighter, will carry 150 tons of cargo 5,600 miles (10,400 km). Airbus made the cockpit layout, procedures and handling characteristics similar to those of other Airbus aircraft to reduce crew training costs. Likewise, the A380 features a glass cockpit and side-stick flight controller. Panel, GAUGES, model, sound and textures by www.afs-design.de - Author: A.Meyer.DEMO VERSION - with banners in model and VC:
Posted Jan 9, 2015 06:33 by Andreas Meyer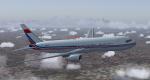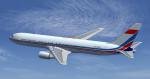 7.93Mb (211 downloads)
FS2004 China P.L.A. Air Force B-4025 textures for the payware Level-D 767-300ER
Posted Jan 3, 2015 00:01 by Liao Yitong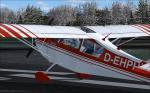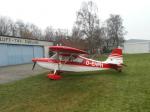 9.14Mb (163 downloads)
This is a Texture-Set for the Payware Citabria offered by Real Air. It is inspired by a good friend and an actual flying aircraft, based on EDWN. Texture in DXT3-Format.
Posted Dec 27, 2014 01:46 by Hartmut Hekmann