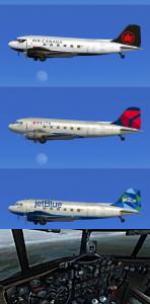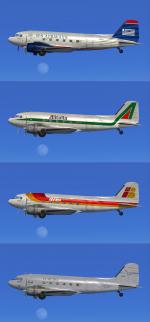 230.71Mb (1275 downloads)
This package contains six modern fictional liveries:AIR CANADA, ALITALIA, DELTA, IBERIA, JETBLUE,USAF,USAIR. This package allows simmers to fly any of Manfred Jahn's V3 C-47s from a modern. Complete model included. Available even a basic HUD VC complete Repaint by JALopezR
Posted Mar 6, 2020 10:50 by JALopezR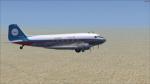 21.52Mb (132 downloads)
This is a repaint of a DC-3 in Alyemda colors. The freeware DC-3 (C-47) v3.14 by Manfred Jahn is needed for this repaint. This repaint was tested on FSX-SE. It should work on FSX & FSX-SE & P3D. Textures are 32bit dds. This repaint is of one of their 4 DC-3s, 7O-ABE. The DC-3s were phased out by 1980. Alyemda was founded by presidential decree om March 11 1971. It was the national airline of South Yemen (Aden). It replaced Brothers Air Services (BASCO) as the new national carrier.It acquired the BASCO fleet of DC-3s and the DC-6B. Alyemda's first jetliner, a Boeing 720B, previously operated by American Airlines, was delivered on November 25, 1974 and put to work early in 1975 on a daily service to Jeddah. Between 1979-1981 707s were purchased, together with a Tu-154. In 1983 the route network was : Abu Dhabi, Addis Ababa, Al Ghayday, Beihan, Bombay, Damascus,Djibouti, Jeddah, Kuwait, Mogadishu, Qishn, Riyan, Sana'a, Seiyan, Sharjah, and Socotra. 1984 saw them receive 2 737-200s, followed by a leased A310-300 from Airbus Industrie in 1993. Alyemda merged with Yemenia Airways Corporation to form Yemenia, on May 26, 1996.
Posted Mar 5, 2020 00:19 by Ted Giana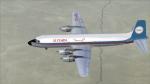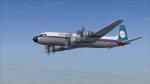 15.79Mb (140 downloads)
This is a repaint of the Douglas DC-6A (CB17 model) in Alyemda colors. The freeware CalClassic DC-6A CB-17 model by Greg Pepper and Tom Gibson is needed for this repaint. Textures are 32bit DDS & 32bit BMP. This repaint was tested on FSX-SE and should work on FSX & P3D v1-3, & FS2004. Alyemda operated 5 DC-6s from 1971 to 1985. This particular aircraft, 7O-ABO, was purchased from Inex Adria in June 1976. It flew for the carrier for 2 years, when it was damaged in Damascus in May 1978. It was withdrawn from use and stored in Aden in 1979.
Posted Mar 4, 2020 00:21 by Ted Giana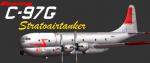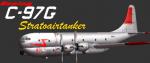 7.41Mb (294 downloads)
This repaint is designed to be used with Manfred Jahns' and company's FSX native, P3D(1-4) C-97 package. This repaint is NOT for FS2004 models. The Boeing C-97 or 377 Stratocruiser as it was also known is a gigantic radial engine transport that served as a military transport as well as a civilian airliner from the late 1940s into the 1960s. After their service was up, many sat around in the western US boneyards until eyes fell on them to become fire bombing airtankers. hawkins & Powers acquired some to turn into airtankers. Which turned out to be a labor intensive process. T-97 was a second chance airtanker, it previously was T-84. It had a massive for it's time 4,000 gallon tank installed in the belly. Making it by far, the largest air tanker in service. Even by today's standards it's still large. This however, led to it's likely downfall. It's shear size at the time limited it's use. Only being used on a few fires in Alaska and other areas in the western US and the Yellowstone Fire Storm in 1988 were it's only notable uses before it's eventual demise. It now sits at Hawkins & Powers' Museum in Greybull, WY. Repaint by: Nicholas Mitchell.
Posted Feb 28, 2020 08:14 by Nicholas Mitchell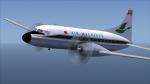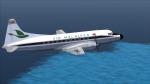 14.07Mb (157 downloads)
This is a repaint of the Convair 440 in Air Maldives colors. The freeware CalClassic Convair 440 by Greg Pepper and Tom Gibson is needed for this repaint. This repaint was tested on FSX-SE, and should work on FSX & P3Dv3. FS2004 BMP textures are also included. Air Maldives operated only the two CV-440s during its short existence. This repaint is of 8Q-AMIOI, 'Flying Fish 1'. HISTORY: Air Maldives came into existence in 1974. Two Convair CV-440 Metropolitans were acquired from Caribbean United Airlines, and it started scheduled services on October 9 1974. Apart from an internal route network, it also flew internationally to Colombo, Sri Lanka. In 1976 it went through reorganization. However, in May 1977, the Maldivian government grounded its two Convair 440s, and freezed its accounts, forcing it to cease operations. A new carrier, Maldive International Airlines, was formed as a subsidiary of Indian Airlines Corporations, and began domestic operations in 1981. However, it was also unsuccessful, and was succeeded on September 30, 1984 by Maldives Airways, a new state operation with ambitious Mideast backing.
Posted Feb 24, 2020 03:11 by Ted Giana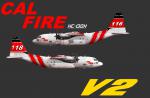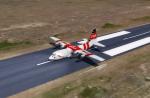 4.68Mb (280 downloads)
This small repaint pack was created mainly for P3D users, and the stock Captain Sim C-130 provided with P3D. But the liveries should work in FSX with some modifications to the aircraft.cfg entries provided in this pack. As P3D and FSX models differ if these are to be applied to the Captain Sim C-130X pack aircraft. These textures are designed to replace the Cal Fire C-130 in my original C-130 airtanker texture package, but that package is not required. Updates to the livery on T-118 were made to accurately represent the final livery design for Cal Fire. I have also included T-116, which will be the second Cal Fire HC-130H to enter service. The Cal Fire Hercules' are expected to enter service some time in mid-late 2021, equipped with Coulson's RADS XXL 4,000 gallon constant flow tanks. The same system in their C-130s. Cal Fire came to acquire these HC-130Hs from the USFS' now ended tanker program after only a few seasons of use. The USFS had acquired them originally from the US Coast Guard in exchange for surplus C-27J Spartans from the USAF. Cal Fire has acquired all 7 aircraft, which they plan to convert into LATs (Large Air Tankers). Repaints by Nicholas Mitchell.
Posted Feb 22, 2020 03:47 by Nicholas Mitchell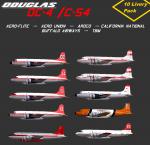 18.46Mb (304 downloads)
This repaint Pack is for the V3 JBK DC-4 pack, in particular the airtanker version. These are NOT for the merlin powered aircraft. These will work with the FSX Version. But I have included a link to the P3D v4 updated models. These repaints will work on both. But likely NOT the FS2004 version. Therefore this is for the FSX/P3D versions ONLY. The DC-4 saw service as an airtanker for decades in the United States and Canada. Sadly, policy changes with the USFS forced the DC-4 series of aircraft into retirement, rather than their age. The amount of surplus aircraft and parts made maintaining the Skymasters possible all the way until their forced retirement. Many were forced to be converted back to freighters or sold as scrap. Ironically, it is highly likely that the flying examples still flying as rural freighters or museum pieces were airtankers at some point. And is likely the only reason they are still airworthy today. This pack represents 6 operators of the DC-4/C-54 series of airtankers. And 10 total liveries for the following operators. Aero Union, Aero-Flite, California National (Cal Nat), Buffalo Airways, Ardco, and TBM Inc. Repaints by Nicholas Mitchell. Note, these will only work on the P3D V4 version if the model has been updated. The FSX version is required for those updates.
Posted Feb 9, 2020 01:41 by Nicholas Mitchell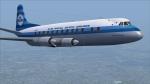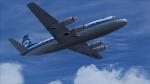 6.40Mb (157 downloads)
This is a repaint of the Viscount 803 in KLM 1966 colors. The freeware Vickers Viscount 800 for FSX by Jens B. Kristensen (JBK) is needed for this repaint. Textures are 32bit dds for FSX/P3D3 users. FS2004 DXT3 BMP textures are included as well for FS2004 users who have the FS2004 version. This repaint was tested on FSX-SE. It should also work on FSX, and P3Dv1-3. In June 1955, KLM placed an order for nine Vickers V.800 Viscounts, making it the first foreign company to order the type. They were to replace the Convair CV-340s and intended for use on the European network and a number of shorter intercontinental services to the Middle East and northern Africa. The nine Viscounts were delivered between 6 June and 23 December 1957. All aircraft were delivered in the old KLM "The Flying Dutchman" color scheme. From the early 1960s, all aircraft were equipped with the new KLM color scheme with the light and dark blue band across the hull with the slashes in the tail and in addition, red KLM with emblem. From October 1965 to November 1966 the KLM Viscounts gradually disappeared from the fleet. They were all sold to Aer Lingus of Ireland. A new color scheme was introduced in 1966, the blue stripes and white ball as depicted in this repaint. The few Viscounts that were still used by KLM, were repainted in this new color scheme in 1966.
Posted Feb 5, 2020 03:44 by Ted Giana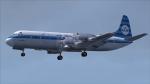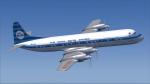 7.42Mb (161 downloads)
This is a repaint of the L-188 Electra in KLM 1966 colors. The freeware L-188 Electra by Libardo Guzman is needed for this repaint. Textures are 32bit DDS for FSX/P3D3 . FS2004 DXT3 BMP textures are included as well. This repaint was tested on FSX-SE. It should work on FSX, FS2004, & P3Dv3. On February 29, 1956, KLM signed a contract with Lockheed for the delivery of 12 Lockheed L-188C Electras. KLM needed a number of aircraft with a larger flight range and greater capacity than its Vickers Viscounts and the carrier was not convinced that the Se-210 Caravelle was profitable, which proved to be false. KLM was thus the only European user of the L-188 as most major European airlines decided to purchase the Caravelles. The twelve L-188C Electras were delivered to KLM between October 10 1959 and December 14 1960. This is a repaint of PH-LLD which was delivered to KLM on 16 December 1959. In February 1969 it was bought by the U.S. carrier Universal Airlines, and converted to a freighter.
Posted Feb 5, 2020 03:43 by Ted Giana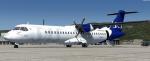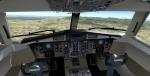 58.49Mb (3101 downloads)
FSX/P3D ATR72 210 SAS Scandanavian Airlines. SAS is based at 3 Scandanavian capital airports Copenhagen Kastrup, Oslo Gardermoen, Stockholm Arlanda and currently have 8 ATR72 in their fleet. Model and VC by Virtualcol. Ex payware. Textured and assembled for P3Dv4.5 and should be ok in FSX and earlier P3D versions by Chris Evans.
Posted Feb 4, 2020 01:13 by chris evans