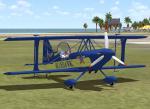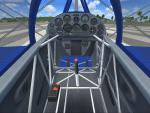 16.50Mb (463 downloads)
FSX/P3Dv3,v4 Price Ultimate 10 DASH 300s. The 10 Dash Model 100 was designed as sport biplane that could be either bought assembled or for amateur construction from either plans or a kit. A competition aerobatic variant, the 10 Dash 300 is fitted with either a 300 hp (224 kW) or 350 hp (261 kW) Lycoming engine with a three-bladed propeller. Produced by Canadian pilot Gordon Price's Ultimate Aircraft Ltd, the 10-300s was the pinnacle of a series of developments which started life as upgrade packages for the Pitts Special aerobatic bi-plane. GMAX mdl by A.F.Scrub.
Posted Jun 26, 2019 16:34 by A.F.Scrub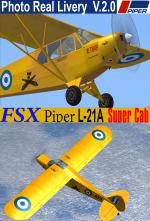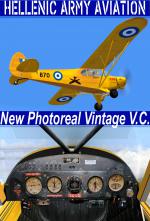 18.78Mb (1206 downloads)
FSX/P3D3 Piper PA L-21A Super Cub upgraded V.2.0.This is my second upgrade of the photoreal livery package of Piper PA L-21A.The Piper "L" series is the military designation of the Super Cub.There are two Vc and 2D panels(Vintage & modern) to choose from.On this version there are more exterior details as well a more improved interior.Also a new vintage photoreal panel and gauges.The modern panel now includes light switches and primer button.The Hellenic Army Aviation used this specific id# 870 Super Cub as a trainer and artilery observation plain at the 198 MEPAR(Unit or Aerial Observation)at Kozani in Greece.In total as many 25 of types L-18C/L-18b/L-21 A/B where used by the Army Aviation (Aeroporia Stratou) from 1949-1981.Gloss textures,2D panel,sound & Historical info.Model by J.E.Narcizo.Repaint FSX/P3D3 updates & new panels by Hellenic Aircraft/Yiannis Katehis Tsetsas 2019. File size:(18.7 MB)
Posted Jun 21, 2019 07:15 by Yiannis Katehis Tsetsas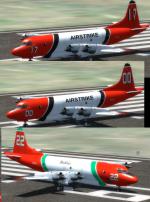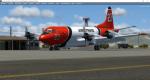 14.98Mb (460 downloads)
For those wanting to add more variation to their P-3 air tanker fleet. This repaint pack includes repaints of 3 additional air tankers for my P-3 package. 2 more for Airstrike Firefighters LLC and 1 for Buffalo Airways. The repaints included were created to represent the real aircraft. Airstrike's T-17 and T-00. Buffalo's T-22. All repaints include a thumbnail for FSX users. By: Nicholas Mitchell
Posted Jun 12, 2019 01:56 by Nicholas Mitchell

53.15Mb (1592 downloads)
FSX/P3D This is the FS KBT P-3A Aerostar modified and packaged to represent the real P-3A Aerostar more accurately by myself. There was simply way too much modification done I believe to just leave the aircraft as it was. Therefore, this package was born. It's been a number of years since the model was originally released for FSX, Features include: my custom Airstrike Firefighters LLC paint scheme to reflect the current state of the P-3s re-entering aerial firefighting service this year. Flight dynamics as well as a number of minor tweaks to fuel burn, weight loading, and a ton more of editing. Along with finding and adding an Allison T56 sound pack to more accurately represent the P-3s engine sounds and an HD retardant effect and throttle induced engine smoke modification. The model was converted some time ago and is an FSX native model, but I heavily modified it in P3D v4.5, so it should work fine from FSX up to P3D V4.5. Only the modifications are mine. The model, sounds, and effects belong to their respected creators. I simply put the package together with my modifications to the aircraft.cfg file and my repaint. Repaint and mods by Nicholas Mitchell.
Posted Jun 8, 2019 05:12 by Nicholas Mitchell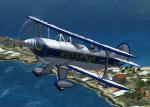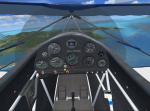 12.86Mb (860 downloads)
FSX/P3Dv3,v4 Pitts S2A The Pitts Special is a series of light aerobatic biplanes designed by Curtis Pitts. It has accumulated many competition wins since its first flight in 1944. The Pitts biplanes dominated world aerobatic competition in the 1960s and 1970s and, even today, remain a potent competition aircraft in the lower categories. This is a VERY hot model ! FSX/P3D v3,v4 upgrade by A.F.Scrub.
Posted May 13, 2019 15:11 by A.F.Scrub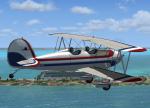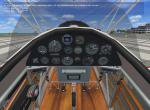 16.96Mb (802 downloads)
FSX/P3Dv3,v4 Great Lakes Sport Trainer. The Great Lakes Sport Trainer is an American biplane trainer and aerobatic aircraft. It was originally produced in large numbers before the company building it went bankrupt in the Great Depression in 1933. Owing to its continuing popularity, however, it was eventually placed back into production in the 1970s and again in 2011 by WACO Classic Aircraft. FSX/P3D v3,v4 upgrade by A.F.Scrub.
Posted May 8, 2019 10:25 by A.F.Scrub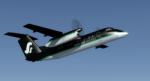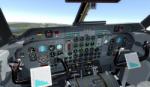 61.75Mb (1780 downloads)
de Havilland Dash 8-100 made flyable for FSX and P3D. 3 liveries: Orbit Airlines. Airwave Airlines. American Pacific. This is the P3D4 AI de Havilland Dash 8-1005 FSX Native model made flyable for FSX and P3D. The model is simple but flies okay. I added the beautiful Milton Shupe DHC7 VC. M. Shupe is a craftman and made also a internal cabin. FSX/P3D native GMAX model. I tested in with P3D4 and P3Dv3 and also should work in FSX Danny Garnier.
Posted May 5, 2019 03:23 by GARNIER D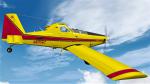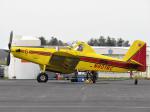 20.71Mb (376 downloads)
N801NC textures for the FSN AT802 "Fire Boss" operated by the NC Forest Service and utilized as a water bomber. I was compelled to make this after seeing the actual aircraft in action back on 04/04/19. (they were combating a brush fire that had gotten out of control) I took some pictures, which I have included alongside the screenshots, of the entire fleet that was brought down.
Posted May 1, 2019 05:58 by InDeepSchit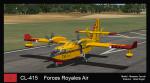 9.02Mb (89 downloads)
Textures for the Viking Air CL-415 (formerly owned by Bombardier) serving in Royal Moroccan Air Force. Textures only by Lilian Regal. Requires original Bombardier CL-415_V2_FSX by Massimo Taccoli.
Posted Apr 18, 2019 16:14 by Lilian Regal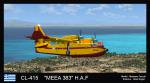 12.49Mb (107 downloads)
Textures for the Viking Air CL-415 (formerly owned by Bombardier) serving in the 383rd Special Operations & Air Fire Fighting Squadron of Hellenic Air Force. Textures only by Lilian Regal. Requires original Bombardier CL-415_V2_FSX by Massimo Taccoli.
Posted Apr 18, 2019 16:09 by Lilian Regal