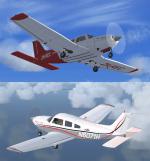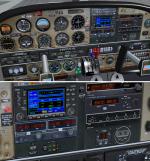 72.55Mb (5476 downloads)
FSX/P3D Piper Turbo Arrow III v 1.3 package provides 9 liveries, three VC panels, three types of autopilot, a paint-kit and a number of fixes conserning textures and gauges. For details refer to the User's Manual. (previous versions had over 3000 downloads)
Posted Mar 8, 2017 05:10 by Vladimir Gonchar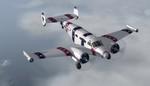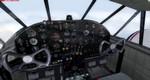 48.88Mb (2313 downloads)
FSX/P3D C-45H N8640E Grimes Flying Laboratory. The Beechcraft Model 18 aircraft is the most modified U.S.-certified aircraft design, with over 200 Federal Aviation Administration (FAA) approved Supplemental Type Certificates (STC's) on record for the aircraft. The C-45H N8640E Grimes Flying Laboratory is a flying aircraft lighting demonstrator which has been restored by the Grimes Flying Lab Foundation and operates out of Grimes Field in Urbana, OH. Original B18 model by Milton Shupe and Scott Thomas. This version was produced, at the request of the foundation and with their data support, by Dave Carroll.
Posted Oct 21, 2016 04:07 by uploader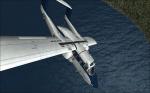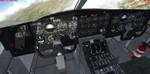 7.33Mb (2134 downloads)
Although proposed and designed, this light utility-cargo variant of the Bronco aroused considerable interest, but remained un-built. Originally a FS2002-2004 model by master Tim Conrad, long a favorite FS trash hauler, now in MDLX, fsx native format. Door assignments changed slightly, cargo on weight visibility conditions, see readme file. (V2 - now includes missing gauges)
Posted Jun 2, 2016 10:06 by LLS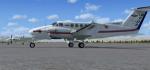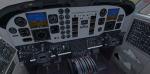 41.46Mb (10229 downloads)
ISDT Beechcraft Kingair 200 package with VC for FSX and P3D. The website isdt is no longer available and the files are now widely distributed. I had previously downloaded this file from isdt. Original docs included. I have found textures only for this aircraft in simviation but the link to the required file is dead. So here it is folks! I can find no way to contact Max .M or (ISDT team) or the website www.isdt-israel.com but all credit goes to them for the aircraft model and textures and credit for the added VC by Joao "Muas" Martins.
Posted Jan 17, 2013 01:19 by Chris Evans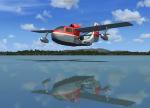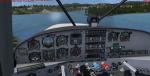 9.44Mb (5931 downloads)
Republic Seabee RC3 for FSX and P3D. Native model from Project Opensky FSX. Adapted with default Maul VC. Republic Seabee is a small flying boat and also has a gear to land on runway. In 2006, over 250 Seabees are still registered and flying, a number that is increasing yearly as new aircraft are assembled from parts and wrecks. A few Seabees are still operating commercially as bush planes and air taxis. In the history of aviation few aircraft have had longer, or more successful, careers than the Seabee. Updates by Danny Garnier.
Posted May 21, 2012 07:49 by Garnier D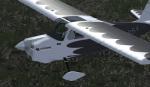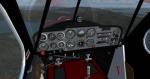 8.76Mb (8430 downloads)
FSX Bellanca Super Decathlon / Citabria 4 livery package. Updated for FSX with 4 liveries. A two seat, tandem configuration unlimited category aerobatic competition/trainer aircraft that is fully spinnable in FS2004. Initial release features 4 custom paint jobs. Features full moving parts and special openings. See readme for more details. By the Long Island Classics Design Team. Updated by Danny Garnier with FSX gauges in the VC, etc. Also works in P3D up to v3.* (not v4 +)
Posted Jan 19, 2012 07:22 by Garnier D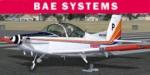 4.42Mb (4048 downloads)
FSX Native model BAE Systems CT4 Airtrainerfor FSX and also P3D. Operated at Tamworth by BAE Systems, the CT4 is a well proven trainer manufactured in New Zealand. CT4 aircraft with custom animations, gauges & textures by Frat Bros Design
Posted Mar 28, 2011 02:25 by nzd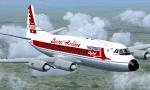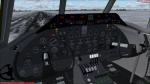 48.31Mb (13113 downloads)
FSX Vickers Viscount. Version 1.0 February 2011. A completely new model of the Vickers Viscount, famous as the first turboprop airliner and a huge success all over the world. This package covers the Viscount 700, 700D, 800 and 810 with textures for BEA, Air France, TCA, KLM, Capital, United, Continental and several others. This is in the native model format for FSX; an FS2004 version is available seperately. By Jens B. Kristensen.
Posted Mar 22, 2011 04:36 by Jens B. Kristensen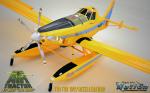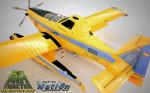 110.01Mb (15570 downloads)
This version of the FSN Air Tractor AT802 'Fire Boss' is one we were working on for commercial release. This version has now been discontinued in the development stage and has been labeled as the lite edition freeware. Has comprehensive VC, water scoop, detailed model and more!
Posted Feb 14, 2011 13:35 by FSN Development Group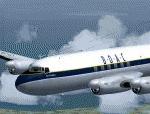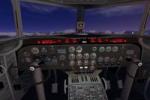 15.65Mb (9089 downloads)
The Argonaut and the North Star were Merlin-engined version of the Douglas DC-4. A total of 71 were produced by Canadair. In Canada it was called the North Star and was used by airlines and the RCAF. 22 Argonauts were delivered to BOAC 1949-1950, and they later had long careers with other operators like British Midland and charter companies. This package contains most versions. Version 3 model by Jens B. Kristensen. For FSX only, an FS2004 version is available seperately
Posted Dec 17, 2010 06:04 by Jens B. Kristensen