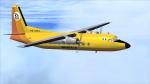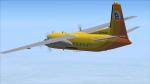 10.80Mb (248 downloads)
This is a repaint of the F-27-200 in Aviateca colors. The freeware FSX Native F-27 by Bjorn Kesten is needed for this repaint. The textures are 32bit DDS. It was tested on FSX-SE, but should work on FSX & P3Dv3. History of TG-AOA: Aviateca operated 3 F-27s over the years. The one depicted in this repaint is an F-27-200. History of TG-AOA: This aircraft began life with All Nippon Airways of Japan when it was delivered to them on November 3 1964. Ten years later to the month, it was sold to Air Niugini on November 28 1974. It was then bought by Aviateca with the registration TG-AOA, on April 6 1978. The Guatemalan Air Force was the next in line when they bought it on January 1 1983. They consequently converted it, in May 1985, to an F-27-400M which is the Military version. This version featured a large powered cargo door to facilitate movement of loads to the aircraft. It passed a few more hands along the way when it was finally bought by the German carrier WDL Flugdienst on May 15 1995.
Posted Mar 24, 2020 02:05 by Ted Giana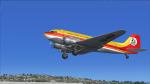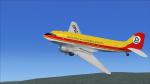 21.24Mb (174 downloads)
This is a repaint of a DC-3 in Aviateca colors. The freeware DC-3 (C-47) v3.14 by Manfred Jahn is needed for this repaint. This repaint was tested on FSX-SE. It should work on FSX & P3Dv4. Textures are 32bit DDS. History of TG-AKA: A total of five DC-3 served Aviateca. This DC-3 was first delivered to the USAF on May 16 1944, then on to the RCAF as KG956 on May 29, 1944. Its next move was to the RAF on Nov 6, 1944. It spent 2 years there, then it was bought by Canadair on Jul 17, 1946. Soon after it made its way to Empresa Guatemalteca de Aviacion (Aviateca) on January 27 1947 as LG-AKA. On October 29 1948 it was re-registered to Aviateca as TG-AKA. On Sep 30, 1977 in was involved in an accident at Flores-Santa Elena Airport in Guatemala when the tire burst on touchdown and aircraft went off the runway and the left gear dropped into a hole. Power on No 2 engine was applied, the tail raised, and the prop separated when striking the ground. There were three crew with one fatality.
Posted Mar 24, 2020 02:01 by Ted Giana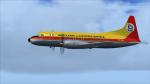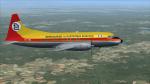 16.61Mb (158 downloads)
This is a repaint of the Convair 440 in Aviateca colors. The freeware CalClassic Convair 440 by Greg Pepper and Tom Gibson is needed for this repaint. Textures are 32bit DDS & BMP. This repaint was tested on P3D v3 and FSX-SE, it shoulkd also work on FS2004. History of TG-ABA: Aviateca operated 3 CV-440s in the 1970s. TG-ABA was a Convair 340 when it was ordered by Northeast Airlines of Boston but it wasn't taken up. Alitalia thus became the first operator of the propliner, which was delivered to them on August 24 1953. It was subsequently converted to a CV-440 and remained with Alitalia until it was bought by JAT in 1961. Two small time operations; Monarch Aircraft, and Ernest Moseley purchased the liner; the first owner in March 1974, and the latter in May 1975. Moseley then sold it to Aviateca on March 30 1976. It remained with Aviateca for 3 years, who then sold in January 1979. The aircraft was damaged beyond repair in April 1980.
Posted Mar 24, 2020 01:59 by Ted Giana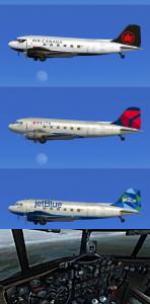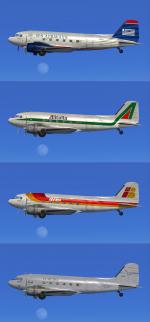 230.71Mb (1635 downloads)
This package contains six modern fictional liveries:AIR CANADA, ALITALIA, DELTA, IBERIA, JETBLUE,USAF,USAIR. This package allows simmers to fly any of Manfred Jahn's V3 C-47s from a modern. Complete model included. Available even a basic HUD VC complete Repaint by JALopezR
Posted Mar 6, 2020 10:50 by JALopezR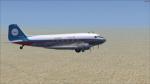 21.52Mb (165 downloads)
This is a repaint of a DC-3 in Alyemda colors. The freeware DC-3 (C-47) v3.14 by Manfred Jahn is needed for this repaint. This repaint was tested on FSX-SE. It should work on FSX & FSX-SE & P3D. Textures are 32bit dds. This repaint is of one of their 4 DC-3s, 7O-ABE. The DC-3s were phased out by 1980. Alyemda was founded by presidential decree om March 11 1971. It was the national airline of South Yemen (Aden). It replaced Brothers Air Services (BASCO) as the new national carrier.It acquired the BASCO fleet of DC-3s and the DC-6B. Alyemda's first jetliner, a Boeing 720B, previously operated by American Airlines, was delivered on November 25, 1974 and put to work early in 1975 on a daily service to Jeddah. Between 1979-1981 707s were purchased, together with a Tu-154. In 1983 the route network was : Abu Dhabi, Addis Ababa, Al Ghayday, Beihan, Bombay, Damascus,Djibouti, Jeddah, Kuwait, Mogadishu, Qishn, Riyan, Sana'a, Seiyan, Sharjah, and Socotra. 1984 saw them receive 2 737-200s, followed by a leased A310-300 from Airbus Industrie in 1993. Alyemda merged with Yemenia Airways Corporation to form Yemenia, on May 26, 1996.
Posted Mar 5, 2020 00:19 by Ted Giana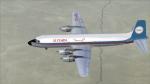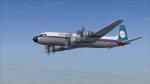 15.79Mb (188 downloads)
This is a repaint of the Douglas DC-6A (CB17 model) in Alyemda colors. The freeware CalClassic DC-6A CB-17 model by Greg Pepper and Tom Gibson is needed for this repaint. Textures are 32bit DDS & 32bit BMP. This repaint was tested on FSX-SE and should work on FSX & P3D v1-3, & FS2004. Alyemda operated 5 DC-6s from 1971 to 1985. This particular aircraft, 7O-ABO, was purchased from Inex Adria in June 1976. It flew for the carrier for 2 years, when it was damaged in Damascus in May 1978. It was withdrawn from use and stored in Aden in 1979.
Posted Mar 4, 2020 00:21 by Ted Giana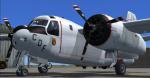 68.48Mb (17769 downloads)
Grumman S2A Tracker - CDF - FSX Native Fire Tanker - V1.1 All Fixes Applied as of November 26th, 2017 FSX Native conversion by Milton Shupe. Updated FSX textures and bump maps by Tankerguy72. Original project by Milton Shupe, Tom Fliger, Nigel Richards, Steve Bryant, Todd Disrud, Marcel Ritzema, John Humphries, CDF textures by Jeremy "Tankerguy72" U., and Jan Visser with help from SOH members. NOTE: In FSX, the retardant effects look great and cover the ground as expected. In P3D, the retardant effect may not show the drop but does cover the ground as expected. Two Aircraft liveries included; Functional VC model included; Pkg incl the S2A Fire Tanker Aircraft with two textures, great flight model, authentic radial custom sounds, and features custom panels with aircraft specific gauges, and beautifully crafted exterior textures. These two aircraft liveries represent real world examples of units flown by the California Department of Forestry.
Posted Mar 2, 2020 17:30 by Milton Shupe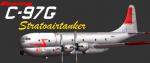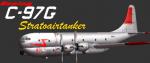 7.41Mb (424 downloads)
This repaint is designed to be used with Manfred Jahns' and company's FSX native, P3D(1-4) C-97 package. This repaint is NOT for FS2004 models. The Boeing C-97 or 377 Stratocruiser as it was also known is a gigantic radial engine transport that served as a military transport as well as a civilian airliner from the late 1940s into the 1960s. After their service was up, many sat around in the western US boneyards until eyes fell on them to become fire bombing airtankers. hawkins & Powers acquired some to turn into airtankers. Which turned out to be a labor intensive process. T-97 was a second chance airtanker, it previously was T-84. It had a massive for it's time 4,000 gallon tank installed in the belly. Making it by far, the largest air tanker in service. Even by today's standards it's still large. This however, led to it's likely downfall. It's shear size at the time limited it's use. Only being used on a few fires in Alaska and other areas in the western US and the Yellowstone Fire Storm in 1988 were it's only notable uses before it's eventual demise. It now sits at Hawkins & Powers' Museum in Greybull, WY. Repaint by: Nicholas Mitchell.
Posted Feb 28, 2020 08:14 by Nicholas Mitchell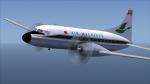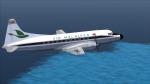 14.07Mb (212 downloads)
This is a repaint of the Convair 440 in Air Maldives colors. The freeware CalClassic Convair 440 by Greg Pepper and Tom Gibson is needed for this repaint. This repaint was tested on FSX-SE, and should work on FSX & P3Dv3. FS2004 BMP textures are also included. Air Maldives operated only the two CV-440s during its short existence. This repaint is of 8Q-AMIOI, 'Flying Fish 1'. HISTORY: Air Maldives came into existence in 1974. Two Convair CV-440 Metropolitans were acquired from Caribbean United Airlines, and it started scheduled services on October 9 1974. Apart from an internal route network, it also flew internationally to Colombo, Sri Lanka. In 1976 it went through reorganization. However, in May 1977, the Maldivian government grounded its two Convair 440s, and freezed its accounts, forcing it to cease operations. A new carrier, Maldive International Airlines, was formed as a subsidiary of Indian Airlines Corporations, and began domestic operations in 1981. However, it was also unsuccessful, and was succeeded on September 30, 1984 by Maldives Airways, a new state operation with ambitious Mideast backing.
Posted Feb 24, 2020 03:11 by Ted Giana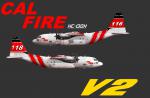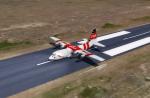 4.68Mb (406 downloads)
This small repaint pack was created mainly for P3D users, and the stock Captain Sim C-130 provided with P3D. But the liveries should work in FSX with some modifications to the aircraft.cfg entries provided in this pack. As P3D and FSX models differ if these are to be applied to the Captain Sim C-130X pack aircraft. These textures are designed to replace the Cal Fire C-130 in my original C-130 airtanker texture package, but that package is not required. Updates to the livery on T-118 were made to accurately represent the final livery design for Cal Fire. I have also included T-116, which will be the second Cal Fire HC-130H to enter service. The Cal Fire Hercules' are expected to enter service some time in mid-late 2021, equipped with Coulson's RADS XXL 4,000 gallon constant flow tanks. The same system in their C-130s. Cal Fire came to acquire these HC-130Hs from the USFS' now ended tanker program after only a few seasons of use. The USFS had acquired them originally from the US Coast Guard in exchange for surplus C-27J Spartans from the USAF. Cal Fire has acquired all 7 aircraft, which they plan to convert into LATs (Large Air Tankers). Repaints by Nicholas Mitchell.
Posted Feb 22, 2020 03:47 by Nicholas Mitchell