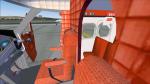 2.28Mb (797 downloads)
Firstly the repaint is for the Premier Aircraft Design DHC6-300 wheeled Otter for FS9. The texture is very loosely based around a defunct airline, 'European Air Charter' who used to fly out of Bournemouth in the UK and then went bust back in 2008
Posted Nov 30, 2011 10:02 by John O'Leary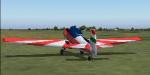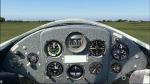 0.38Mb (745 downloads)
FS2004 Zlin Z226 Trener (updated). The first MSFS Trener model by Jiri Brozek. Hungarian Z726 livery, FD mods, including panel and a real Trener Lomcovak video. By George Csillag.
Posted Nov 25, 2011 20:36 by George Csillag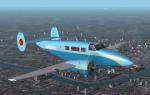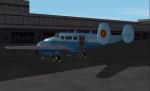 0.56Mb (180 downloads)
A Princess always travels in style and her Royal Highness Cinderella is no exception, flying to the far corners of her realm aboard her specially fitted out Beechcraft 18 Volpar. These are the textures only and are for use with the Beech Volpar by Brian Gladden. (Volpar.zip) Repaint by Don Brynelsen using Brian's paintkit.
Posted Nov 25, 2011 15:44 by Don Brynelsen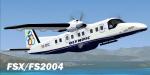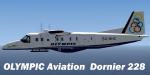 14.67Mb (4804 downloads)
FS9/2004 Dornier Do-228- 200 Olympic Aviation Isle of Leros SX-BHC Package. Olympic Aviation, the domestic operator for former Olympic Airways later Olympic Airlines and most recently Olympic Air used the Dornier 228-200 (5 Aircraft where bought in total in 1985) mostly in The Aegean Islands with small runway lengths. It became quite famous as the main ambulance transport for the remote Islands.This is a complete freeware package including instructions full Vc 2d Panel and sound: After authorization by Premier Aircraft Design and my personal thanks to Bob May. For FSX there is another package with the X Panel and texts at FSX props page. Repaint for the Hellenic colors by: Yiannis Katehis Tsetsas .
Posted Nov 24, 2011 16:25 by YIANNIS KATEHIS TSETSAS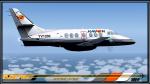 9.69Mb (1817 downloads)
The Jetstream 31, first flew on 28 March 1980,being certificated in the UK on 29 June 1982 several hundred 31s were built during the 1980s. In 1985, a further engine upgrade was planned, which flew in 1988 as the Jetstream Super 31, also known as the Jetstream 32. Production continued until 1993, by which time 386 31/32s had been produced. PREMIER AIRCRAFT DESIGN 2011 model for fs9, Texture by Gustavo La Cruz
Posted Nov 23, 2011 09:58 by Gustavo La Cruz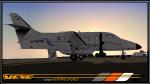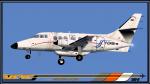 10.53Mb (1415 downloads)
The Jetstream 31, first flew on 28 March 1980,being certificated in the UK on 29 June 1982 several hundred 31s were built during the 1980s. In 1985, a further engine upgrade was planned, which flew in 1988 as the Jetstream Super 31, also known as the Jetstream 32. Production continued until 1993, by which time 386 31/32s had been produced.PREMIER AIRCRAFT DESIGN 2011 model for fs9, Texture by Gustavo La Cruz
Posted Nov 23, 2011 09:39 by Gustavo La Cruz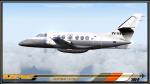 10.17Mb (893 downloads)
The Jetstream 31, first flew on 28 March 1980,being certificated in the UK on 29 June 1982 several hundred 31s were built during the 1980s. In 1985, a further engine upgrade was planned, which flew in 1988 as the Jetstream Super 31, also known as the Jetstream 32. Production continued until 1993, by which time 386 31/32s had been produced.PREMIER AIRCRAFT DESIGN 2011 model for fs9, Texture by Gustavo La Cruz
Posted Nov 23, 2011 09:38 by Gustavo La Cruz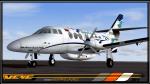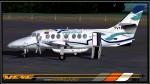 10.78Mb (2789 downloads)
The Jetstream 31 is a small twin-turboprop airliner, with a pressurised fuselage, designed to meet the requirements of the United States regional airline market. The Jetstream 31, first flew on 28 March 1980,being certificated in the UK on 29 June 1982 several hundred 31s were built during the 1980s. In 1985, a further engine upgrade was planned, which flew in 1988 as the Jetstream Super 31, also known as the Jetstream 32. Production continued until 1993, by which time 386 31/32s had been produced.PREMIER AIRCRAFT DESIGN 2011 model for fs9, Texture by Gustavo La Cruz
Posted Nov 23, 2011 09:36 by Gustavo La Cruz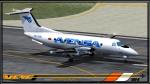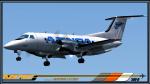 9.55Mb (1570 downloads)
This is the Embraer 120 YV-100C Of Avensa, freeware Embraer 120 model by Erick Cantu. There is no VC or internal modeling, just the exterior model.texture by Gustavo La Cruz
Posted Nov 23, 2011 08:28 by Gustavo La Cruz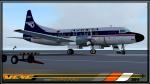 2.31Mb (873 downloads)
FS2004/Fsx Convair CV-580 Avensa yv-86C old livery, Textures only. A repaint of the original model by Greg Pepper and Tom Gibson. Requires the CV-580 from calclassic, texture by Gustavo La Cruz
Posted Nov 23, 2011 08:13 by Gustavo La Cruz