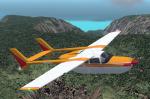 0.24Mb (433 downloads)
A repaint of the model 337 by Mike Stone in a red and orange over white scheme. These are the textures only, you need sc337.zip to use. Repaint by Don Brynelsen.
Posted Jun 2, 2012 16:49 by Don Brynelsen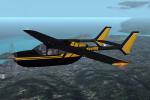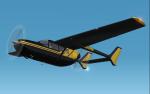 0.17Mb (505 downloads)
A repaint of the Cessna 337 by Mike Stone in a striking black and gold scheme. Textures only, you need sc337.zip to use. Repaint by Don Brynelsen.
Posted Jun 2, 2012 16:46 by Don Brynelsen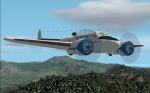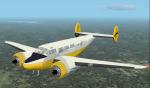 15.96Mb (1261 downloads)
The Beechcraft Expeditor done up in two liveries: a tourist airline, and a private owner scheme. Also included are a set of blank textures for your own repaints. Original Aircraft by F. Giuli, sound package by Chuck Dome and other sources, repaints by Don Brynelsen.
Posted Jun 1, 2012 13:15 by Don Brynelsen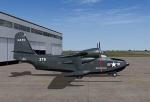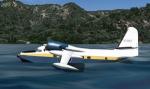 88.10Mb (5054 downloads)
Grumman HU-16 Albatross Package 2.1. The flight model is the most significant change. The flight model has been enhanced by the use of Jerry Beckwith's AirWrench. The performance of the Albatross is now much closer to the parameters published for it. I've also adjusted the contact points for the hull. Includes VC and 2d panel. Please make sure you adjust the fuel and payload before flying. This is a very heavy aircraft, and will be very sluggish if you attempt flight wtih full tanks and a full payload. I've also added a few liveries, and modified several others. The colors and lettering of the U.S. Navy versions have been revised. The font the Navy uses is USN Long Beach. The paint colors are accurate now as well. You will also find new spin prop textures. I've also slightly revised the original U.S. Air Force HU-16B and two of the U.S. Coast Guard liveries. New for this release: U.S. Navy VXE6 UF-1L triphibian that served in the Antarctic, Chalk's G-111 and two new private liveries. Greg Pepper, Michael Verlin.
Posted May 27, 2012 01:08 by uploader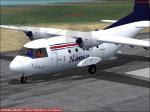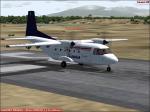 2.32Mb (2896 downloads)
CASA C-212-100 Aviocar in SANSA Costa Rica livery. Model by Thinus Pretorius. Textures by Alberto Thomas.
Posted May 20, 2012 00:02 by Alberto Thomas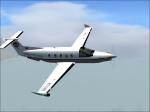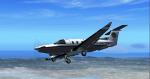 12.65Mb (4334 downloads)
FS2004 PILATUS PC-12 Philippine Air Force livery The Pilatus PC-12 is a multipurpose single engine turboprop built in Switzerland. the cabin is able to be configured diferently depending on the operators needs. It can be set up as an Air Ambulance, Executive Transport, Freighter, Combi Passenger Freight Hauler and 9 Seat Airliner. Pilatus aircraft are known for their innovative design, precision engineering, and quality craftmanship. The PC-12 continues this reputation, offering a business aircraft that is Swiss-built and -engineered, and completed with the highest quality materials, finishes, and craftmanship.Integrating a single turboprop engine into an aerodynamically advanced airframe, the Pilatus PC-12 combines excellent economy and reliability with the inherent safety of single-engine turboprop operation. It offers multiple configurations, ranging from executive-level transportation in spacious, pressurized cabin comfort to long-distance delivery of cargo and oversized equipment. The PC-XII also offers some unique special mission capabilites. This is utilize by DYNCORP as CCCI multi-role aircraft in the Philippines. This model was built using FSDS 2.1 and features all the standard animations like working suspension and opening doors, along with Dynamic shine and reflective textures. By Brian Gladden. Copyright 2003 by Tony Bolton. All Rights Reserved. Model by: Brian Gladden FP12 Panel by: Pierre FASSEAUX Repainted by: Gerard G. Olvis
Posted May 15, 2012 16:18 by Gerard G. Olvis

0.52Mb (793 downloads)
FS2004 Akrotech Giles 202 OTR750 This is a light weight, tandem, aerobatic aircraft. Designed by Don Halcom. Wayne Handley's Oracle Turbo Raven based on this plane. Added G750 FD, reduced repaint by George Csillag.
Posted May 10, 2012 12:29 by George Csillag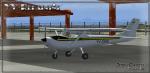 0.37Mb (349 downloads)
Cessna C-150 del Pelikan Flight School. Model by J. E. Narcizo. Textures by Jerry Capote. YV-Repaint`s
Posted May 7, 2012 13:12 by Jerry capote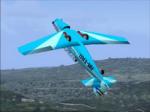 0.35Mb (580 downloads)
FS2004 Zlin 326 Trener Master (renowate) Aerobatic training plane from the former Czechoslovakia. 60' area aerobatics to 6G load, powered by 180 HP. The original HA-TRO used by the Hungarian Aero Federation from latest 60īs to middle 70īs, the plane is in the Aircraft Museum today. FS2K Designed by Oscar Pedrosa. Livery, renovaled FD mods by George Csillag
Posted May 2, 2012 19:48 by George Csillag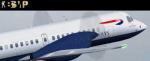 42.79Mb (1524 downloads)
Blu-Sky Mine Productions BAe ATP v1.0. Wingfold Key for GPU, Airstairs and ground scenery Tailhook Key for pushback tug
Posted Apr 24, 2012 10:42 by archive