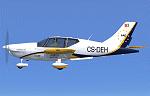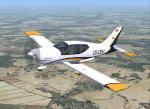 8.87Mb (17059 downloads)
FSX Socata TB200GT/XL Tobago. 4/5 seat touring & training airplane. CS-DEH of Evora Aero Academy, Portugal Full package for FSX. Custom panel & VC. Full moving parts including gull wing doors and luggage compartment. This is the 'Generation 2' version with carbon fiber cabin and aerodynamic refinements, she looks like a thoroughbred and flies beautifully. Compatible with Acceleration/SP2 by Jean-Pierre Brisard, Barry Blaisdell and Bob May - Premier Aircraft Design.
Posted Jun 23, 2008 18:13 by archive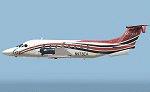 17.30Mb (15183 downloads)
FSX Beechcraft B1900D Regional Airliner 19 seat regional airliner of ERA Aviation, Alaska. New model with full animation, dynamic shine & reflective textures. Includes a 2D Panel and VC with a complete passenger cabin, opening passenger door with airstair, cargo doors and custom sound. Compatible with Acceleration/SP2 By Barry Blaisdell, Jean-Pierre Brisard, Bob May, Danny Crance and Kevin Pardy - Premier Aircraft Design.
Posted Jun 23, 2008 17:49 by archive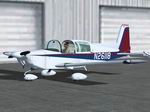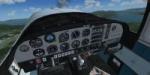 5.45Mb (7580 downloads)
FS2004/FSX Grumman American AA-5A Cheetah. First introduced in 1974, the AA-5 series were unique in their bonded honeycomb airframes, producing a simple, smooth, and strong structure. With a sliding canopy and quick controls, the AA-5 were a breed apart. The later AA-5B series had more powerful engines, giving a needed boost in performance. This SF9/FSX model is painted in a real world paint scheme, and has full ani's and VC with some custom gauges. Includes extra FSX files to ease porting over to FSX. Will work without my earier AA-5B Tiger release. Tim Piglet Conrad. 5.6MB
Posted Jun 23, 2008 14:17 by archive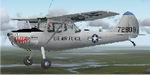 3.29Mb (8688 downloads)
FSX - Cessna L-19D (O-1D) model 305C , Bird Dog , Military version on wheels. New updated version 3.0 contains revised textures, model and Flight Dynamics for the famous light observation aircraft used by many World Air forces in the past. Two painting schemes, USAF and US ARMY included. The model, made with FSDS from ABACUS features a complete set of animations 2d and a 3d virtual cockpit and the animated pilot head. Visual Model and textures paint by Massimo Taccoli with support from Chris Coarse. Panel works by Massimo Taccoli with added gauges by Dennis Seeley who prepared also the Flight dynamics for model. 3.4MB
Posted Jun 23, 2008 14:17 by archive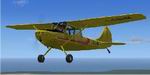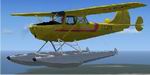 10.94Mb (7971 downloads)
FSX - Cessna L-19 (O-1) model 305C , Bird Dog , Wheels Floats and Skis Package. New updated version 3.0. contains revised textures, models and Flight Dynamics for the civilized version of the famous light observation aircraft used by many World Air forces in the past. Two painting schemes of private owners are included. The model, made with FSDS from ABACUS features a complete set of animations 2d and a 3d virtual cockpit and the animated pilot head. Visual Model and textures paint by Massimo Taccoli with support from Chris Coarse. Panel works by Massimo Taccoli with added gauges by Dennis Seeley who prepared also the Flight dynamics for model.By Massimo Taccoli. 11.2MB
Posted Jun 23, 2008 14:17 by archive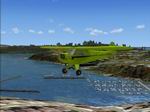 13.84Mb (1709 downloads)
FSX Taylor J-2 Cub. The Taylor J-2 Cub was the predecessor of the famous Piper J-3 Cub. It was equipped with a 37hp Continental A-40 engine. I made this plane by using the default Piper Cub, changing the texture (i saw this neonyellow texture on a real Cub once) and changing the engine/weight/fuel attributes. The plane is slower than the Piper Cub and should be a challenge to fly in bad weather (just like the default Cub). I also changed the pilots face a bit (younger), gave it a correctly coloured 2D panel and as the plane has less power than the cub i made it a tiny bit less agile. Beware, the plane is nose-heavy, you have to trim it accordingly. Oh and i gave the window reflections in the 3D cockpit the right colour, too. By Aralez Esposito 2006 based on the default Piper J-3 Cub. 14.1MB
Posted Jun 23, 2008 14:17 by archive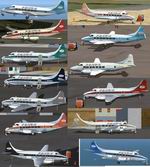 47.34Mb (5144 downloads)
FSX/2004 De Havilland DH-114 Heron, Prinair Multi-Plane package. Prinair was Puerto Rico's domestic and international airline for 3 decades. Service started in 1966, under the name Aerolineas de Ponce. The initial services were from Mercedita Airport in Ponce to Luis Munoz Marin International Airport (then known as Isla Verde International Airport) in San Juan. The company's name was changed to Prinair the following year (Puerto Rico INternational AIR lines). Prinair Multi-Plane package By Carlos Marrero. 39.1MB
Posted Jun 23, 2008 14:17 by archive
3.89Mb (2203 downloads)
FSX/FS2004 Grumman AA-5 Cabair 'G-OTIG' Textures Only. First introduced in 1974, the AA-5 series were unique in their bonded honeycomb airframes, producing a simple, smooth, and strong structure. With a sliding canopy and quick controls, the AA-5 were a breed apart. The later AA-5B series had more powerful engines, giving a needed boost in performance. This aircraft is currently based at Elstree, Herts, UK, In this scheme. Requires the freeware aircraft by Tim Conrad (above). By Ben Hartmann of UKMIL repaints. 4MB
Posted Jun 23, 2008 14:17 by archive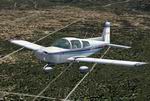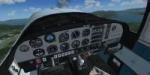 5.37Mb (7074 downloads)
FS2004/FSX Grumman American AA-5B Tiger. First introduced in 1974, the AA-5 series were unique in their bonded honeycomb airframes, producing a simple, smooth, and strong structure. With a sliding canopy and quick controls, the AA-5 were a breed apart. The later AA-5B series had more powerful engines, giving a needed boost in performance. This SF9/FSX model is painted in a real world paint scheme, and has full ani's and VC (virtual cockpit) with some custom gauges. Includes extra FSX files to ease porting over to FSX. Tim Conrad. 5.5MB
Posted Jun 23, 2008 14:17 by archive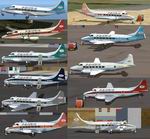 31.86Mb (4814 downloads)
FSX/FS2004 De Havilland DH-114 Heron, Prinair Multi-Plane package Prinair was Puerto Rico's domestic and international airline for 3 decades. Service started in 1966, under the name Aerolineas de Ponce. The initial services were from Mercedita Airport in Ponce to Luis Munoz Marin International Airport (then known as Isla Verde International Airport) in San Juan. The company's name was changed to Prinair the following year (Puerto Rico INternational AIR lines). By Carlos Marrero. 32MB
Posted Jun 23, 2008 14:17 by archive