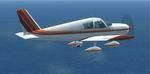 0.20Mb (5171 downloads)
This is an update for FS X of the AI Piper PA-180 to make it flyable. I have used the flight dynamics from the FS 9 update I did, and given it a panel. The panel background is by Marcelo Canovas. I have used all default FS X gauges. Follow the install instructions properly and the AI aircraft will still be there as the AI aircraft. Bob Chicilo.
Posted Aug 12, 2008 02:37 by Bob Chicilo.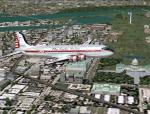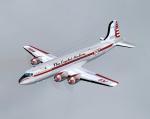 1.88Mb (2244 downloads)
These textures depict Pennsylvania Central Airlines about 1947. Note these are textures only. Model by Jens Kristensen. Textures by Gary Harper
Posted Aug 10, 2008 22:09 by Gary Harper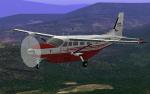 21.79Mb (11725 downloads)
This is the FS9 Cessna 208 Amphibian that has been given the flight files from the FSX Cessna 208B wheeled version. The contact points have been corrected and floats added. Mips have been removed from textures and all saved as DXT3's. There are so few Amphibs available for FSX that I thought we could use a few more. tested in FSX w/ accel and DX9. Bruce Fitzgerald
Posted Aug 9, 2008 15:06 by Bruce Fitzgerald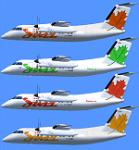 22.29Mb (28416 downloads)
De Havilland Dash-8 DHC8-Q102. Air Canada Jazz (4 liveries). 37-39 seat twin turboprop regional airliner. Full package for FSX. New design for FSX with updated 2D panel, updated dynamic VC, updated sound, wing views, full moving parts, dynamic shine, operating airstair & cargo door, new FD, HTML Check/Ref lists and more. Compatible with Acceleration/SP2 By Barry Blaisdell, Jean-Pierre Brisard, Bob May, Kevin Pardy and Danny Crance Premier Aircraft Design.
Posted Aug 6, 2008 18:49 by archive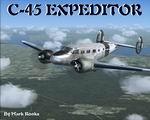 17.82Mb (17121 downloads)
This is Milton Shupe, Scott Thomas and André Folker's Beech 18 / C-45 Modified For Flight Simulator X . This Aircraft is painted in U.S. Army colors. Aircraft includes New effects, New panel and updated flight dynamics for FSX.. Textures Created with Dynamic shine. Updates by Mark Rooks of RSDG
Posted Aug 3, 2008 04:38 by archive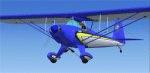 3.74Mb (6811 downloads)
A single seat open cockpit home build parasol wing onoplane.The EAA launched "Project Econoplane" in the 1970's to develop an aircraft with high fuel economy that would therefore be affordable for it's members to operate. The Pober Pixie, designed by Paul Poberezny in the early 1970's was the result. This model is highly detailed, fully animated with vc and gauges. By Simon Smeiman (South Africa)
Posted Jul 24, 2008 16:41 by archive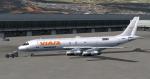 3.43Mb (2570 downloads)
This is a repaint of the default C172 in a patriotic repaint. I hope you enjoy it as much as I did making it! By Anthony Celentano
Posted Jul 13, 2008 00:26 by archive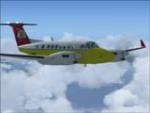 0.37Mb (2470 downloads)
This is textures only for the default King Air 350 in Raptor Virtual Airlines . Website is www.raptorva.webs.com Paint courtesy of husky paints. Adem Hull
Posted Jul 8, 2008 20:42 by archive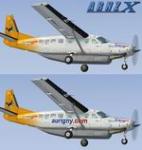 2.91Mb (2885 downloads)
FSX Aurigny Cessna 208B Textures only. Aurigny "Channel Islands and Aurigny.com "Channel Islands" repaints for the default C208B Caravan. By Jon Murchison.
Posted Jul 8, 2008 05:29 by archive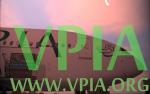 4.04Mb (966 downloads)
This is a repaint of the default C172 in a fictional N334S paint scheme. Repaint By Anthony Celentano
Posted Jul 7, 2008 21:04 by archive