2.21Mb (351 downloads)
FS2004/FSX. This is a repaint in Polish Border Forces colours of Tim Conrad's wonderful AN-2V 'annushka' floatplane. These are textures only. Requires file AN-2VPPP.ZIP
Posted Dec 26, 2012 22:42 by Enrique Medal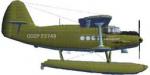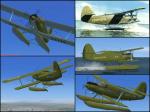 2.16Mb (344 downloads)
FS2004/FSX. This is a repaint in CCCP's Aeroflot colours of Tim Conrad's wonderful AN-2V 'annushka' floatplane. These are textures only, based in an old Aeroflot's colored postcard (I didn't find more pics of this aircraft). Requires file AN-2VPPP.ZIP
Posted Dec 26, 2012 20:01 by Enrique Medal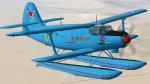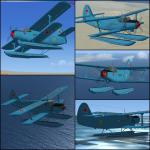 2.45Mb (360 downloads)
URSS Navy colours repaint for AN-2V Floatplane. FS2004/FSX. This is a repaint in URSS Navy colours of Tim Conrad's wonderful AN-2V 'annushka' floatplane. These are textures only.
Posted Dec 25, 2012 22:29 by Enrique Medal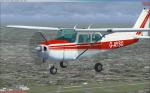 5.74Mb (683 downloads)
Default Cessna 172 Coventry Aeroplane Club Textures. As flown from Coventry Airport (UK) in the 1970's & 1980,s.
Posted Dec 24, 2012 07:24 by Peter Russell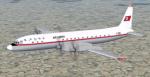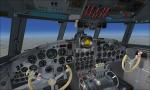 62.19Mb (6007 downloads)
Air Koryo (North Korea) Ilyushin IL-18 with clickable virtual cockpit (VC). Air Koryo is the national airline of North Korea, and is one of the few airlines still operating the classic Soviet IL-18. This package allows you to experience a realistic aircraft/airline combination that is still in use today. Entire aircraft included. Excellent model by Edgar Giunart. Air Koryo repaint by kilocharlie1.
Posted Dec 24, 2012 05:50 by kilocharlie1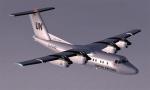 90.58Mb (20599 downloads)
FSX Port-Over DeHavilland Dash 7 - Not Compatible with FS2004 by Milton Shupe, Scott Thomas, Mike Kelly, Bernt Stolle, Tom Falley, and sounds by Nigel Richards. Final beta testing by members of Sim-Outhouse. (incl model updates) Pkg incl 3 models, custom panel and gauges, custom sounds, two Flight Model options, and 7 liveries with more available for separate downloads. With backing from the Canadian government, de Havilland Canada began in late 1972 the development of a larger capacity short/medium range Short-Take-Off-and-Land (STOL) transport that would provide the higher standards of comfort to be found in much larger airliners. Designated DHC-7, and later named Dash-7, the first of two pre-production aircraft (C-GNBX-X) made its maiden flight on 27 March 1975. The first production aircraft (C-GNBX-X) was flown on 20 May 1977 and about 47 are in service still today.
Posted Dec 23, 2012 11:06 by Milton Shupe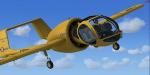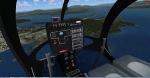 27.11Mb (6772 downloads)
The Optica, designed by John Edgley and built by Brooklands Aerospace, had an unusual configuration with a fully glazed forward cabin seating three across. Full animations, 3D gauges and Baked Textures. By Craig Richardson @ www.Classicwings.net Flight Model by Pam Brooker.
Posted Dec 22, 2012 12:41 by uploader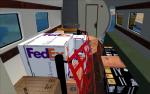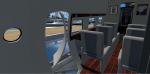 0.25Mb (562 downloads)
FSX added views for Avia-56 from Milton Shupe, Nigel Richards, John Smith, and James Banks with help from SOH members (Requires Requires Av56ms.zip). The camera definitions provides 4 aircraft- and 4 cabin views. They show the best spots for the detailed interior for the passenger- and especially for the amazing cargo-version. I have lifted the rear contact points for water of the Amphibium. Please check it out. Configuration by Erwin Welker
Posted Dec 19, 2012 07:14 by Erwin Welker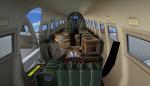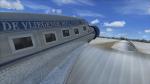 0.27Mb (723 downloads)
FSX added views for Avia-57 from Milton Shupe, Nigel Richards, John Smith, and James Banks with help from SOH members (Requires Requires Avia57Pkg.zip). The camera definitions provides 4 aircraft views and 5 cabin views. They show the best spots for the detailed interior for the passenger- and especially for the amazing cargo-version. Configuration by Erwin Welker
Posted Dec 17, 2012 06:05 by Erwin Welker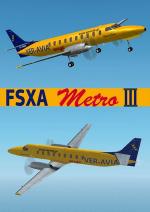 24.84Mb (4378 downloads)
FSX/FS2004 Fairchild/Dornier Metro III SA 227 AC Veravia Cargo. The SX-BMM is one of the four Metroliners of the Hellenic Air Cargo Company Ver-Avia located at Eleytherios Venizelos, Athens International Airport, Greece. This beautiful model is the creation of designer Mike Stone. The FS2004 model adopted for FSX. All Animated parts,2D panel (no VC). Textures are in Bmp format so they work also in FS2004. Repaint by Hellenic Aircraft /Yiannis Katehis Tsetsas 2012
Posted Dec 16, 2012 18:09 by YIANNIS KATEHIS TSETSAS