10.38Mb (2050 downloads)
Scenery LFBS Biscarrosse V1.0 for FSX Tested with SP2 Acceleration + UTX Europe. V1.0: Initial version This file modifies the airfield Biscarrosse in FSX. It was made with ADE (Airport Design Editor), SbuilderX and Whisplacer. Thank you to the respective authors. Biscarrosse is a commune in the Landes department in Aquitaine in south-western France. It is located 65 km (40 mi) southwest of Bordeaux, and 10 km (6.2 mi) inland from the seaside resort of Biscarrosse-Plage on the Atlantic coast.
Posted May 24, 2010 07:26 by Stephane Gouzon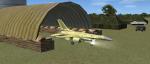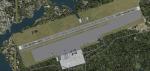 4.72Mb (646 downloads)
Tiger Team Northern Command HQ fictional military scenery. By Jim Abbey
Posted May 23, 2010 14:11 by Jim Abbey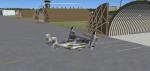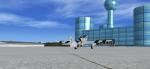 17.13Mb (785 downloads)
Tiger team Southen Command HQ Scenery. Created with a few programs I had Laying around! This is for Tiger team Missions and a meeting spot for their members. By Jim Abbey
Posted May 21, 2010 21:23 by Jim Abbey

28.79Mb (3471 downloads)
Scenery package for Rochefort-Saint Agnant in Western France. This airport has two clubs and the 721 air base's primary mission is to provide the support and the support of the Training School for officers of the Air Force. Detailed scenery with all the buildings, static planes, etc.
Posted May 20, 2010 13:12 by Alexandre Remy - FAF010

0.28Mb (2273 downloads)
FSX Aspen-Pitkin County/Sardy Field (KASE). This scenery update is for Aspen-Pitkin County airport. Located high in the Rocky Mountains, Aspen is known for it's challenging high altitude runway 15 approach. It updates various aspects of the airport, including taxiways, runways, and parking. Real world demensions were used through Google Earth. A few objects form the default FSX libraries were also added. View Readme file for installation and notes. Compiled using Airport Design Editor. By Phillip Coyle. 287K
Posted May 20, 2010 09:08 by archive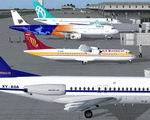 3.56Mb (2233 downloads)
FSX VYMM Mawlamyine Intl Airport V2.0 with Traffic-Pack 2 Mawlamyine International Airport in Burma, Myanmar, include Traffic-Pack 2. Traffic-Pack 1 comes with vyyy4tp1.zip. Traffic-Pack 3 comes soon too. This scenery was produced based of suppositions, stories and voices. It is therefore pure speculation. Whether this airport is ever increased, the God know. If the planned Asean-Highway leads at it past, this airport should gain importance very quickly. Version 2.0 with new docks, jetways, already extended runway, taxiways and new taxisigns. First of all we corrected the airport location to the real one. With Myanmar Air Force area, Helipads and even more parkings for civilian airplanes. You need mai321x.zip, mai738x.zip and mai744x.zip (all here) to use with this. Many Thanks go to Harald Nehring and Frank Weiss, Robert Versluys, Mike Stone and the teams of HOUSE-RP in Burma, FSX Planner, SceneGenX, SBuilder X, Open Ports Scanner, AFXBgDownloader, FSUIPC, Google Earth and AI Flight Planner. This scenery is pure fiction and for FSX only, for FS2004 please download newVYMMfs9.zip and newVYMMup.zip. By HOUSE-RP, Switzerland and Burma. 3.6MB
Posted May 20, 2010 09:08 by archive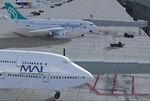 11.44Mb (2398 downloads)
FSX VYYY Yangon Intl Airport Mingaladon V4.0 with Traffic-Pack 1 Yangon International Airport "MINGALADON" in Burma, Myanmar, include Traffic-Pack 1. Version 4.0 with new dock "G", jetways, already extended runway, taxiways and new taxisigns. First of all we corrected the airport location to the real one. With Myanmar Air Force area, Helipads and even more parkings for civilian airplanes. This scenery was produced based of visit and on pictures of satellites. Traffic-Pack 2 comes with vymm2tp2.zip. Traffic-Pack 3 comes soon too. Many Thanks go to Francisco Sánchez-Castañer, Fernando Martinez, Mike Stone and the teams of HOUSE-RP in Burma, FSX Planner, SceneGenX, SBuilder X, Open Ports Scanner, AFXBgDownloader, FSUIPC and Google Earth. This scenery is only for FSX, for FS2004 please download vyyy_v2.zip (here). By HOUSE-RP, Switzerland and Burma. 11.7MB
Posted May 20, 2010 09:08 by archive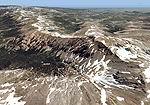 94.92Mb (1907 downloads)
FS2004/FSX Rocky Mountains, Colorado (CO), Part 6: Mt. Evans Area / Georgetown photoscenery. Extends the fifth part to the south providing another 3500 sq km of Continental Divide scenery. Contains Mount Evans where you can see the highest paved road in the US that goes thru three live-zones and leads right to the top of the mountain at 14,264 feet. By Gottfried Razek. 97.2MB
Posted May 20, 2010 09:08 by archive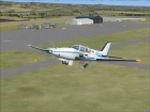 0.28Mb (904 downloads)
FSX Chico Municipal Airport (KCIC). This is a scenery update for Chico Muni. Taxiways, runways, parking, and other aspects were updated using real world demensions through Google Earth. This also places a few objects from the default FSX scenery library. Compiled using Airport Design Editor. View Readme for installation and notes. By Phillip Coyle. 285K
Posted May 20, 2010 09:08 by archive
0.03Mb (1164 downloads)
FSX KGSP Greenville Spartanburg International Airport, South Carolina Improvements. This AFX File adds all jetways for normal scenery complextion use, airline gate are correctly placed and assigned including A6 and A7 at the back of the terminal. All AITraffic will spawn on the right gates, and the Fedex cargo terminal is added. Taxiway Outlines and new vehicle paths added. Just copy and paste the file into your addon scenery/scenery folder and enjoy the scenery by Duke DeFouw. 27K
Posted May 20, 2010 09:08 by archive