2.22Mb (20841 downloads)
FS2002/FS2004 Aircraft Consistency Check - FSACC v3.5. Ever wondered why an installed aircraft does not show up in the Select Aircraft dialog, or the sound is missing, or ATC does not call the aircraft correctly? FSACC lists all aircraft folders and checks for each selected folder the aircraft's configuration. Help briefly explains how these things link up. Detlev Schmidtke
Posted Feb 23, 2009 06:50 by John Paul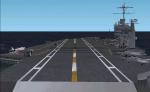 3.14Mb (9709 downloads)
ArrestorCables 2.6 for FSX/FS9 (updated). This is freeware. The exclusivity agreement with Abacus expired years ago. Uses FSUIPC for cables, catapult, fuel ops, & battle damage. NEW automatic modes support moving FSX carriers. by Rich Hogen arrcab26.zip
Posted Dec 17, 2008 21:27 by Rich Hogen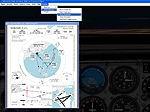 0.85Mb (9253 downloads)
FS2004 PDF Kneeboard 1.3 Module - View and interact with PDF files (e.g. charts, check-lists, etc.) right inside of MS Flight Simulator.Now - imagine PDFKneeboard - this flight-sim module renders PDF documents right inside FS9. It remembers what part of the chart the pilot is looking at (section, zoom, rotation - for each page), it lets FS9 keep the focus, remembers opened charts and offers a kneeboard-toggle button. When the important instrument approach chart is needed a simply joystick button click brings it right back where the pilot needs it while staying out of the way when not needed. Author : Nils Meier
Posted Dec 6, 2008 04:08 by Nils Meier
2.24Mb (5202 downloads)
FS2004 Aircraft Manager Version 1.0.2.0 (Updated). Modify *.cfg files, check used airlines, gauges, sounds & effects for each aircraft stored in your fs9 aircraft directory. Return texture by airline. Return a list of all gauges used and all unavailable aircraft. Sort aircraft by manufacturer, airlines and aircraft type. Works with FS2004 only. Program written by Paul Milic
Posted Nov 13, 2008 12:34 by Paul Milic
2.23Mb (5601 downloads)
FS2004 Aircraft Manager Version 1.0.1.0 (Corrected). Modify *.cfg files, check used airlines, gauges, sound & effects for each aircraft stored in your fs9 aircraft directory. Returns a list of all gauges used and all unavailable aircraft. Works with FS2004 only. Program written by Paul Milic
Posted Nov 4, 2008 16:43 by Paul Milic
0.46Mb (2056 downloads)
FS2004 only! Throttle up your jet using your keyboard! - this gauge allows you to kontrol your aiplanes thrust using your numerical keys. Very convenient for people who don't have a joystick throttle slider. It is possible to increment the lever position in 10% increments-just a thing you need when flying with those slow responce jet enginees. Aircraft supported by this version are : >>DA Piper Cheyenne >>F1 ATR 72-500 >>PMDG 737NG >>PIC 737 Installer and manual included.
Posted Oct 30, 2008 19:50 by Nikola Jovanovic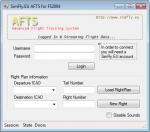 4.70Mb (2128 downloads)
SimFly.EU is proud to announce the release of our AFTS for FS9/FS2004 client. The Advanced Flight Tracking Service allows you to track and manage your flights online via a live environment, it is a totally free system, no subscriptions. It also allows you to manage virutal airlines and earn money on flights, carry passengers and much much more. If you have never used AFTS before you are in for a treat with this one, if you have previously used our FSX Version and your an FS2004 users you can start enjoying the benefits of AFTS right now! Needed files: href='http://www.simfly.eu'>http://www.simfly.eu
Posted Oct 4, 2008 09:52 by SimFly.EU Development Team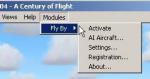 0.18Mb (7977 downloads)
Fly By Route to view different Aircraft. To change View, To Make Special Views.. etc
Posted Sep 8, 2008 13:20 by Afsal's TM
1.68Mb (2208 downloads)
Traffic Route Creator FIX This is the missing QTINTF.DLL file that is needed to run my Traffic Route Creator program.
Posted Jun 29, 2008 13:21 by archive
2.03Mb (28351 downloads)
fsuipc.zip. v2.975 FS2004/FS98/FS2000/FS2002/CFS/CFS2 FSUIPC.dll application interfacing module . FSUIPC is effectively a successor to FS6IPC.dll. Both modules are designed to allow external (i.e. separate) programs to communicate with and perhaps control Microsoft Flight Simulator. Also included is WeatherSet.exe, an advanced weather application for FS2000. By Pete Dowson.. 672K
Posted Jun 23, 2008 14:31 by archive