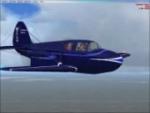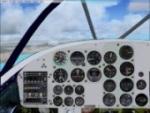 16.91Mb (2442 downloads)
FS9/2004 1939 HM-4 Aeroval (moonship) deisgned by Howel Miller of the famed GeeBee racers of the 1930's.Planned as a feeder airliner and crew trainer. Vidal resin-coated plywood over steel-tube fuselage twin pusher engines. Retractable tricycle gear, with steerable nose wheel. Enclosed cabin with seating for four in two pairs, with entrance doors on both sides of the plane. Only one aircraft was ever made and it failed to attract buyers and was eventually donated to a trades school. Built with FSDS3.5.1 and FSTweaks. The Aircraft has fully lighted VC and detailed 2-d cockpit. Glossy textures on paint and glass. Flight Dynamics by Airwrench and Brian Horsey. Another free aircraft from Rarewings.com
Posted Jun 30, 2010 15:17 by Patrick Dyer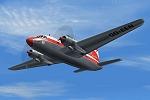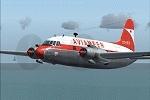 2.54Mb (506 downloads)
This Vickers Viking is in the livery of Belgian operator AVIAMEER and it was the sole airplane of that company. They were founded in October 1957 but had to cease operations already in the summer of 1960. AVIAMEER flew general charter flights and inclusive tours within Europe and the Middle East and had it's home base at the airport of Antwerp, Deurne. Needed file: FSDS Vickers Viking by Rick Piper
Posted Jun 28, 2010 07:16 by Jaap de Baare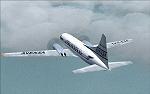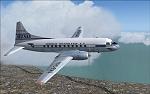 2.43Mb (470 downloads)
Convair 340 twins were introduced to the Venezuelan airline AVENSA in 1953 for a new service to Miami, Florida. The close association with Pan American Airways was already apparent in the external liveries of all aircraft and the new Convairliners were also painted in the familiar blue striped decoration. YV-C-EVA (subject of this repaint) was the first of five and was delivered in December 1953. Needed file: Convair cv340 model from: www.calclassic.com
Posted Jun 28, 2010 06:59 by Jaap de Baare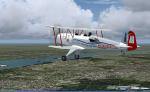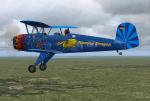 18.03Mb (4878 downloads)
FS2004 Buecker Jungmann 131 The Buecker Jungmann was the first plane produced by Buecker Flugzeugbau GmbH company founded in 1932. This is the complete aircraft with three new liveries, "Hamburger Hafengeburtstag, "Eagle" and "Flying Dragon". Original by Oliver Fischer. Full high quality package including VC. Repaints by Ingo Schwan.
Posted Jun 18, 2010 14:53 by Ingo Schwan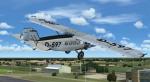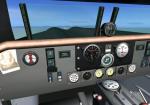 15.15Mb (2598 downloads)
Dornier Komet III / Merkur Part A Author: Ralf Kreibich The Dornier Komet III / Merkur was an early German airliner and Ralf Kreibich has come up with another winner in his short line of early German aircraft. There is a beautifully modelled and textured exterior with 3D passengers and animated crew but inside it gets even better with fully 3D modelled instruments, clickable controls and animated parts that flap in the wind. A truly awesome freeware package and you're not even limited to a single model, there's three to choose from! For additional details, see readme inside
Posted Jun 15, 2010 13:51 by Wolfgang Brown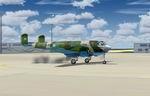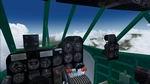 50.99Mb (3983 downloads)
FS2004 Dinfia I.A.35-II "Huanquero" The IA-35 "El Justicialista del Aire" (renamed "Huanquero" in 1955) was the first design from the Dinfia Organisation of Argentina to enter production and the head of a family of succesful planes that later included the Ia-35 X "Pandora", the "Guarani I" and the turbopowered Ia-50 "Guarani". A twin-engined all metal (except for fabric covered ailerons) low-wing cantilever monoplane with a high-mounted tailplane with two fins and rudders; and a retractable tricycle landing gear. Powered by two IA 19R "El Indio" radial engines of 750 HP each that allowed a maximum cruise speed of 370 kmh and a maximum range of 1250 KM with a full load of 2300 kg. The major design was done by Paul Klages under the direct supervision of Prof. Kurt Tank, former Focke Wulf designer who also built the I.Ae 33 "Pulqui II" jet fighter in 1950. The first series prototype of the Ia-35 made its maiden flight the 21st September of 1953 flown by First Lt. Pilot Connan Doyle, and was followed by a planned production batch of 100 aircraft but in the end less than half of the aircraft were built when production ceased in the mid-1960s. Most of the Ia-35 Type II were assigned to the "II Brigada Aerea" of Parana to the "II Grupo de Exploracion y Ataque" where remained in service until 1974, when the lasts "Huanqueros" were replaced with the newest Ia-58 "Pucara". Original 3D modelling (external and internal), flight dynamics, and "A-316" textures by Victor Astiz; sound set by Gary Jones; additional textures and general modding by Damian Radice.
Posted Jun 7, 2010 06:11 by Indigo Blue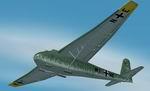 2.20Mb (2905 downloads)
FS2002/FS2004 Messerschmitt Me 321 Gigant. The Messerschmitt Me 321 Gigant was a large German cargo glider developed during World War II. by Kazunori Ito
Posted Jun 7, 2010 05:50 by Kazunori Ito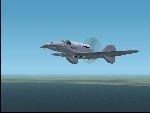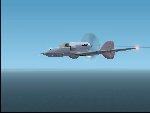 3.62Mb (2068 downloads)
FS2002/FS2004 SAI Ambrosini SS4-FIGHTER PROTOTYPE First fighter monoplane canard configuration and first with retractable nose wheel undercarriage, all-metal construction powered by a 960hp Isotta Fraschini Asso XI R.C.40 engine driving a three bladed variable-pitch pusher. First flight on 7 March 1939,but was destroyed during its second flight the day after.Model and texture by F.Giuli, 2d panel by Alphasim. Gauges by different authors
Posted Jun 5, 2010 10:40 by Francesco Giuli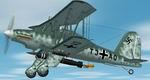 3.01Mb (2150 downloads)
FS2002/FS2004 Fieseler Fi-167. This was a 1930s German biplane torpedo and reconnaissance bomber designed for the new aircraft carriers then being planned. Two kinds of models(Clean / with weapons) are included. No VC. by Kazunori Ito.
Posted Jun 3, 2010 04:44 by K Ito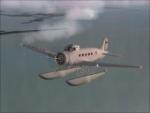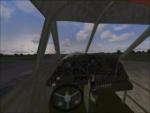 21.79Mb (1132 downloads)
FS9/2004 1934 General Aviation Ga-43 or Ga-43j by Rarewings.com: Designed with FSDS3.5.1 and FSDSTweak . It has full working virtual cockpit with back-lite gauges. Limited 2-D panel, custom sounds. The plane has reflective glass and metal textures. This package comes with a Paint kit for re-paints. The General Aviation GA-43 was an airliner produced in small numbers in the United States in the mid 1930s, also known as the Pilgrim 150, Fairchild 150, and Clark GA-43. The prototype was developed and built by Fairchild's American Pilgrim division, but the program was taken over by General Aviation when the firm purchased American Pilgrim shortly before it had flown. Flight Dynamics by Airwrench and Brian Horsey.
Posted May 29, 2010 07:41 by Patrick Dyer