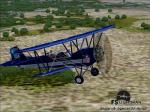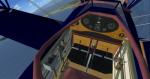 13.08Mb (882 downloads)
A 5 seat open cockpit utility biplane From Aviations Golden Age. This Aircraft has been redone in the NFL Dallas Cowboys colors. This aircraft is fun to fly and that is why, I have redone it just for fun flying and great vfr views. You can get low and slow. This wonderful flight model was created By: Golden Age Simulations. The A2A 3D Light & Redux codes,Texures and Paint Kit. By: David Grindele, Captain Dave the FSLightman. www.fslightman.com
Posted Jul 22, 2011 02:24 by michael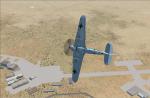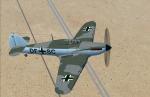 11.95Mb (685 downloads)
Sea Hurricane Mk Ib P3114. 3D Model: Robert Sanderson This texture of the German Captured Sea Hurricane repainted by SJ Avila.
Posted Jul 18, 2011 21:57 by Steven J. Avila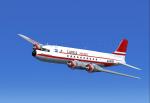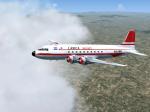 2.80Mb (404 downloads)
FS9 LANICA (Lineas Areas De Nicaragua S. A.)textures for the JBK DC-4-1009 V.3 by Jens Kristensen. These textures depict Lanica DC-4 AN-AWK about 1968. Textures by Gary Harper.
Posted Jul 7, 2011 00:28 by Gary Harper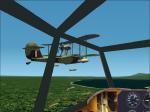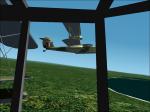 0.49Mb (323 downloads)
FS2004 option to display a virtual wingman for all Supermarine Walrus Seaplanes from Mike Stone, requires (swalrus.zip). How to Use: While flying in 2-D panel view mode, just press some numeric keys to see from your cockpit the virtual wingman, with moving flaps, rudders, or gear and see the effects of your smokesystem or the falling bombload at CFS2. Bitmaps and configuration by Erwin Welker.
Posted Jul 6, 2011 04:59 by Erwin Welker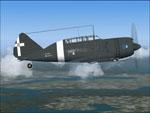 9.41Mb (1167 downloads)
FS2004-Reggiane Re 2003 Fighter Reconnaissance plane. Re 2003 was a development of the Re 2002 fighter bomber. First flew on 29 June 1941. A second crewman sat behind the pilot. It was equipped with an onboard camera equipment.The Fiat A.74 RC.38 engine was intended to be used originally, but the Piaggio P. XI RC 40 Bis was chosen instead. Only two were produced . Model,texture and 2d panel by F.Giuli. Gauges by different authors
Posted Jun 23, 2011 04:30 by FRANCESCO GIULI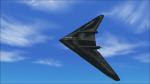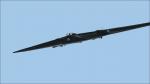 12.88Mb (2966 downloads)
Horten H-VII, experimental flying wing and trainer. Based on the experiences of the smaller H-Vc, the two-seated H-VII made its first flight in May 1943. The H-VII was powered by two Argus AS-10-SC engines driving two-bladed constant-speed propellers via extension shafts. The aircraft had a fully retractable twin nosewheel undercarriage. The aircraft could reach a max. speed of 340 km/hr. The paintings were in Luftwaffe camouflage, assigned to the RLM-no.8-226 This extraordinary aircraft probably suffered the same fate as the H-Vc and was burned after US troops occupied the Goettingen airfield in april 1945. By Andreas Becker.
Posted Jun 20, 2011 17:08 by Andreas Bcker
1.64Mb (302 downloads)
FS9/FSX Provincetown-Boston Airlines textures only for Dee Waldron's Martin 404. PBA textures by Gary Harper.
Posted May 20, 2011 22:48 by Gary Harper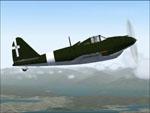 6.36Mb (832 downloads)
FS2004 - Piaggio P119 WW2 Fighter - Prototype. First flight 19 Dec 1942,all metallow-wing monoplane single-seat fighter with enclosed Piaggio P.XV RC.60 radial engine in fuselage behind pilots cockpit,a three-blade propeller driven by an extension shaft,the engine air intake under the fuselage.The armament:four nose mounted 12.7mm machineguns,20mm cannon firing through the propellerhub.Model,texture panel byF.Giuli.Gauges by different authors
Posted May 20, 2011 06:43 by FRANCECO GIULI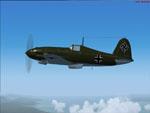 12.61Mb (1221 downloads)
FS2004-FIAT G56 FIGHTER The new aircraft was built from the Fiat G55 the fuselage was extended and amplified;in such modified hull was built the powerful engine Daimler-Benz 603A.Removed the Breda machine guns,only the three 20 mm cannons were left The first prototype flew on March 28th 1944 and due to the end of the war, no others were built Model,texture,panelby F.Giuli. Gauges by different authors
Posted Apr 27, 2011 11:19 by FRANCESCO GIULI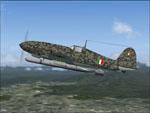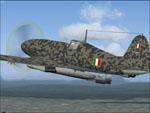 9.96Mb (1113 downloads)
FS2004-FIAT G55 S Centauro-Torpedo Fighter. Derivation of the G55,modified to carry a torpedo under the fuselage. First flew in August 1944.The radiator for the engine liquid cooler was split in two and two racks were mounted under the fuselage. The tail wheelstrut was lengthened and a shock absorber added. Removed the Breda machine guns, only the three 20 mm cannons were left. Model,texture, panelby F.Giuli. Gauges by different authors
Posted Apr 16, 2011 06:25 by FRANCESCO GIULI