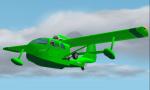 0.55Mb (142 downloads)
A repaint of the Seabee in a bright green scheme for use with John Woodward's Seabee (seab2k4.zip) Textures only. Repaint by Don Brynelsen
Posted Jun 26, 2012 14:32 by Don Brynelsen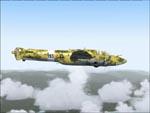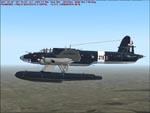 13.44Mb (628 downloads)
FS2004-C.R.D.A.Cant Z1014 Bomber & Z512 Float Plane Two models,the second derived from the first, both entered in the Long Range Bombers project of the Regia Aeronautica; Z1014 first flight on July 19th, 1940,only 20 were built. None of them entered in service because Piaggio P108 was preferred. Z512 never flew for the first time and remained as project. Model, texture, vc- cockpit F.Giuli. Panel by alphasim. Gauges by other authors
Posted Jun 21, 2012 12:05 by FRANCESCO GIULI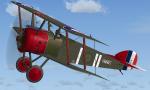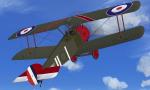 2.92Mb (781 downloads)
Repaint of the David Eckert FS2004 Sopwith Camel. Also works with the W.E. Stephens FSX mod. Although controversy remains, the RAF officially credited Captain Roy Brown with shooting down the Red Baron on April 21, 1918. A less noted distinction of Capt. Brown was that he never lost a single pilot under his command in air combat, a credit to his training methods. Brown finished WWI with 10 aerial victories. Repainted by R.E. Wyman.
Posted Jun 21, 2012 03:13 by R.E. Wyman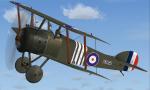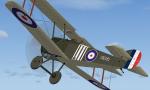 2.76Mb (511 downloads)
Repaint of the David Eckert FS2004 Sopwith Camel. Also works with the W.E. Stephens FSX mod. Captain Oliver "Boots" LeBoutillier was one of the few pilots to witness the downing of the Red Baron, Manfred Von Richtofen. After WWI he enjoyed a small measure of fame as a Hollywood stunt pilot and was also one of Amelia Earhart's flight instructors. Repainted by R.E. Wyman.
Posted Jun 21, 2012 03:08 by R.E. Wyman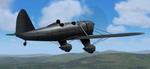 0.19Mb (585 downloads)
FS2004 Ryan STA Golden Wings a GW3 AI Plane designed by Bill Lyons. The AI model's flyable version now with a aerobatics training Flight Dynamics. Mods by George Csillag.
Posted Jun 19, 2012 19:53 by George Csillag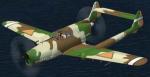 3.44Mb (1211 downloads)
FS2002/FS2004 Fokker D.XXIII. This is a fighter of the Netherlands developed just before World War II. The layout that arranges two engines before and behind the body is taken. Though the test was begun in May, 1939,The low output of the engine it, and cooling a back engine became problems. The Netherlands surrendered by the Netherlands invasion of German army in May, 1940, and development was discontinued. Only one-plane prototype was destroyed afterwards or is said being confiscated to Germany and having been made to the research material. by Kazunori Ito.
Posted Jun 6, 2012 15:48 by k ito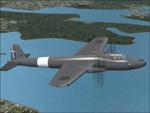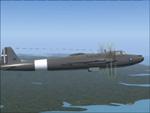 8.48Mb (1375 downloads)
FS2004-Umbra MB 902 The all-metal MB.902 mounted two 1475 h.p. FIAT R.A.I050 R.C.58 Tifone (license DB 605A) twelve-cylinder vee engines buried in the fuselage and driving twin contra-rotating props in the wings by extension shafts.This resulted in a well-streamlined airframe without the drag of engine nacelles. A further refinement was the tricycle landing gear. Model, texture, F.Giuli. Panel by Alphasim.
Posted May 24, 2012 11:23 by FRANCESCO GIULI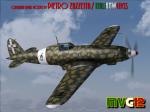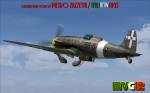 20.38Mb (1373 downloads)
FS2004 and also works in FSX. The C.202 Folgore was a World War II fighter aircraft built by Macchi Aeronautica and operated by the Regia Aeronautica (Royal Italian Air Force). Considered one of the most beautiful fighters to fly with wartime Axis forces,the C.202 was a development of the earlier C.200 Saetta,with a more powerful German Daimler-Benz DB 601 engine and with an extremely streamlined fuselage.Undoubtedly the best wartime fighter to serve in large numbers with the Regia Aeronautica,the Folgore operated on all fronts in which Italy was involved. ATTENTION,this is only an upgrade/fixing package,so you must have already installed the main package 'c202_v01.zip'. Contains 2 FIXED/UPGRADED and 4 NEW Hi-Res GMax models (4 different versions) feature the usual moving parts,such as all flight controls,props pitch and leading edge flaps.Eight (8) different liveries.VC only.GMax Models and Skins by Manuele Villa,Huub Vink & Italianwings,Flight dynamics by Manuele Villa & Kikko Zanaboni,It also works (Tested) subject to some limitations within in FSX.By Manuele Villa/MVG3D,May 2012.
Posted May 18, 2012 03:52 by Manuele Villa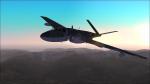 20.34Mb (1941 downloads)
Heinkel P-1079, a new twin-jet fighter project of the Heinkel Aircraft Construction Corp. was designed in five variations, all under the same designation. The first of these advanced designs, the Heinkel P-1078A was basically developed as a two-seated nightfighter. The pilot and the gunner/navigator were sitting in tandem position. The wings were swept back 35 degrees, mounted to mid-fuselage. The tail had a V-shaped rudder. The armament were three Rheinmetall-Borsig MK 108 30mm cannons in the nose and 24 R4-M 'Orkan' high explosive rockets on two racks mounted under the wings. Another feature of armament was the so-called 'schraege musik' with four upward-firing 20 mm Mauser MG 151/20 autocannons, mounted in the back of the aircraft. Therefore, the nightfighter had to approach and attack bombers from below, guided into position by commands from the navigator. The aircraft should be equipped with the new FUG 228 radar unit. This sophisticated radar would have empowered the aircraft with an almost all-weather ability. The engines were located in the wing roots. This version should be fitted with two Junkers Jumo 004D turbojet engines with two-stage fuel injector, each with 8.8 kN of power. The max. speed was about Mach 0.89 = 950kph The Range 1079.22nm = 1241.9 sm = 2000 km The max. Service Ceiling was up to 51,000 ft = 15,545m
Posted May 7, 2012 16:24 by Andreas Becker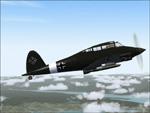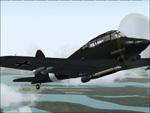 9.11Mb (731 downloads)
FS2004-Savoia Marchetti SM93 dive/torpedo bomber The pilot in an unusual prone position to prevent blacking-out in pulling out of dives. Powered by the Daimler-Benz DB 605twelve- cylinder vee engine.Bomb load was 1800 lb below the fuselage and 1400 lb under the wings armament:one 20mm cannon through the hub,one 12.7mm machine gun in each wing, and a third 12.7mm. gun fired by the observer.Model, texture,panelF.Giuli.Gauges other authors
Posted Apr 30, 2012 05:20 by FRANCESCO GIULI