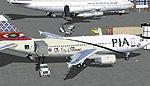 2.32Mb (3373 downloads)
Pakistan International Airlines Airbus A310-324/ET in the new livery wearing the Punjab tail and carrying the title "Ziarat - The City of Flowers". Based on real world pictures of the aircraft. Accurately placed titles and design, with brand new P&W engines repainted to match the real ones. This 310, leased to PIA by Air Jamaica is powered by P&W 4156A. Includes Harald Nehring's 310 P&W model, to give the airplane a realistic look. Complete package. Base texture by Umair Ayaz, repaint by Ahmed Ahsen
Posted Nov 25, 2009 05:59 by Ahmed Ahsen(VIRTUAL PIA/WWW.VP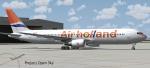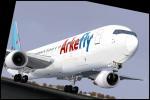 37.15Mb (5511 downloads)
Project Opensky 767-300 Package: KLM, Arke Fly, Martinair, and the bankrupt Air Holland. No VC! Uses High Detail FS9 767 Panel
Posted Nov 23, 2009 09:54 by Hugo Van Pelt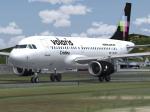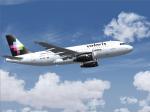 2.78Mb (2436 downloads)
Volaris Airbus A319-132, cn 2997, registration XA-VOC, using the name of "Cristina" as a part of a promotional campagne called "Ponle un nombre aun Volaris". Textures only for the Project Airbus A319, by Andy Warden, Derek Mayer, Peter Binamira, Demetris Themistocleous, Alessandro Savarese, Thomas Ruth, John Tavendale, Gianmarco Bettiol, Alexander Kvitta, Trevor Slack, Nicholas Wu, David Bromwich, Matthey Murray,Tom Collins, Terence Pereira, Dickson Chan, Sheldon Fernandes, Ben Jones, Manny Osias, Spike Acenas, Mark Bolatete, Kester Masias and Fraser Turner. By Juan Ernesto Oropeza.
Posted Nov 20, 2009 22:45 by Juan Ernesto Oropeza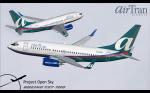 9.03Mb (3549 downloads)
AirTran Boeing 737-700 with winglets. Model by Project Opensky. Painted by Corey Ford.
Posted Nov 20, 2009 15:43 by Donald D

2.22Mb (5275 downloads)
AirTran DC-9. Model by Eric Cantu/SGA. Texture by Jozef Ciberej
Posted Nov 20, 2009 15:40 by Donald D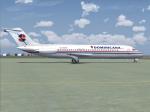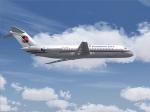 3.14Mb (848 downloads)
Pan American World Airways Dominicana, registration HI876, showing the actual livery used by this airline. Textures only for SGA's latest Douglas DC-9 series release,(SGA930.zip). By Juan Ernesto Oropeza.
Posted Nov 20, 2009 00:34 by Juan Ernesto Oropeza

5.31Mb (1730 downloads)
FS2004 Vietnam Airlines Airbus A350-900 XWB V2. Versions 2 is an all new version of the A350-900 seen at the Paris Air Show 2009, with a new nose, new cockpit windows, new wings and winglets. This CamSim Version 2 is also includes three aircraft with different updated new Animated Ground Servicing (AGS). Model design and paint by: Camil Valiquette
Posted Nov 19, 2009 11:36 by Camil Valiquette

10.45Mb (6318 downloads)
Boeing 747-400 Garuda Indonesia. Project Opesnky 747-400 v4 base model. This is a repaint of the posky 747-400 v4 in the Garuda Indonesia New Livery version by Xudeva Irribarra
Posted Nov 18, 2009 08:02 by Uploader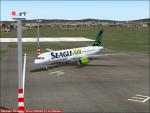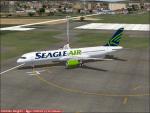 24.60Mb (3015 downloads)
Fiction repaint of Boeing 757 Seagle Air (fictional livery) Model by Project Opensky. Texture Jozef Ciberej
Posted Nov 17, 2009 13:29 by Jozef Ciberej/Topper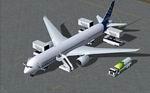 6.24Mb (1914 downloads)
FS2004 Airbus House Colors Airbus A350-800 XWB V2. Versions 2 is an all new version with a new nose, new cockpit windows, new wings and winglets. This CamSim Version 2 is also includes three aircraft with different updated new Animated Ground Servicing (AGS). Model design and paint by: Camil Valiquette
Posted Nov 13, 2009 09:36 by Camil Valiquette