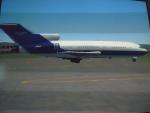 2.96Mb (1782 downloads)
This was created from a photo of the "Roush-Fenway Racing" Boeing 727-300. Tail Number N422BN Boeing 727 texture of 'Roush-Fenway Racing' Tail Number N422BN Painted from a photo Free-Hand by Scott Cash. For Nascar fans. Using the simple Ai model by AI Aardvark. Will show in your Aircraft list and will also Fly great. Has 2d Panel and Sound Files included.
Posted May 17, 2009 12:55 by Scott Cash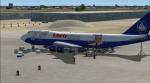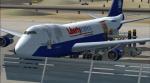 12.76Mb (1257 downloads)
FS2004 Liberty Express Cargo Boeing 747-200F Textures only. The new member in the long haul cargo fleet, The Boeing 742 Freighter, this is the best unity on service in the world. Registration N749W name " Borinquen", delivery in May 2009. Complete Project Opensky 747-200F model required. Repainted by Miguel Peņa.
Posted May 17, 2009 11:49 by Miguel Peña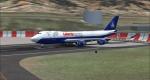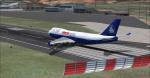 6.74Mb (913 downloads)
Liberty Cargo Boeing 747-400F Textures. The new member in the long haul cargo fleet, Registration YV-2502, delivery in April of 2009. Original model of Project Opensky. Repainted by Miguel Pena. Requires any full Project Opensky Boeing 747-400 model (above)
Posted May 17, 2009 01:05 by Miguel Peña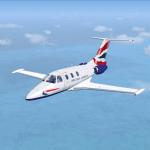 2.24Mb (7353 downloads)
This is an updated model of Dave Eckerts' Eclipse, the source file of which I obtained from his website. With his permission and help, I have added animations including a female pilot and female passengers. Included in this file are two texture sets, one for British Airways and a fictional airline, Helandair. It has all the other usual animations and landing light effects. Much help was also given by John Cillis who provided me with the .air file and info on the virtual cockpit. The model uses the default Learjet gauges and sounds, so you should have no probelems. Enjoy. 2.3mb Andrew Randall, copyright 2008.
Posted May 16, 2009 11:57 by Andrew Randall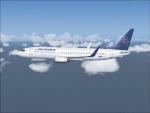 3.42Mb (1841 downloads)
Textures for the default Boeing 737-800 in Futura, a Spanish airline.
Posted May 16, 2009 09:57 by ravi patel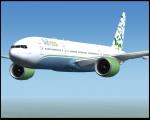 13.32Mb (1582 downloads)
This is a Repaint of the Project Opensky 777-200LR, Model By Project Opensky, Repaint by Justin Graham.(Textures Only)
Posted May 12, 2009 18:39 by Justin Graham

11.57Mb (2725 downloads)
Boeing 747-400BCF DragonAir Cargo B-KAF. Model by Project Opensky.
Posted May 11, 2009 09:08 by Ryan C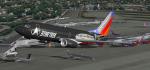 5.53Mb (3950 downloads)
In honour of the new Star Trek movie. A repaint of the Project Opensky 737-700 in a fictional Southwest Star Trek movie theme.
Posted May 8, 2009 20:51 by Jordan Skok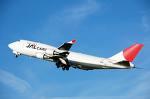 13.93Mb (3035 downloads)
Boeing 747-400 Cargo B. Model by Project Opensky.
Posted May 1, 2009 08:00 by Ryan C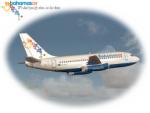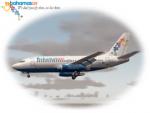 8.59Mb (2980 downloads)
For all of you "Pilots of the Caribbean" out there, I am proud to present this realistic, detailed repaint of Bahamasair's Boeing 737-2K5, registration C6-BGK, in the Bahamasair new livery. This is one of 2 Boeing 737's operated by Bahamasair. The 737's are the only aircraft in Bahamasair's fleet with this new livery. Bahamasair also operates several Dash-8-300's which are still painted in their old livery. This aircraft makes regular runs to and from MYNN (Nassau, Bahamas) to Ft. Lauderdale/Hollywood (KFLL), Miami (KMIA) and Orlando (KMCO) in the United States. This repaint has a hand rendered 'Bahamasair' logo as well as a hand-painted tail logo. They are crisp and sharp. Although the Tinmouse paint kit has a nice weathering and dirt layer in it, I made the grime a tad more realistic as this bird regularly shows her wear. For this as with all of the aircraft I paint, I paid attention to detail and realism as much as possible and generated this repaint with realistic but not overstated details. This is a "textures only" package; you must have the Tinmouse 737-200adv v2 base package and all patches installed. All textures very detailed, 32-bit with no mips. Repaint by Jeffrey S. Bryner. Model by the TinMouse II project.
Posted Apr 30, 2009 22:47 by Jeffrey S. Bryner