12.09Mb (2043 downloads)
Boeing 747-200F Southern Air. Model by Project Opensky.
Posted Apr 14, 2009 15:49 by Ryan C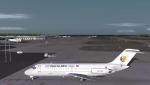 2.42Mb (3525 downloads)
Douglas DC-9 14 Air Puerto Rico N931EA. DC-9 model by SGA. Texture update Air Puerto Rico by Carlos Marrero
Posted Apr 14, 2009 15:12 by Carlos Marrero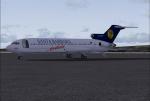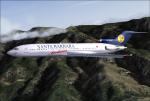 1.48Mb (1195 downloads)
Vistaliners Boeing 727 Santa Barbara Airlines YV-1056C (Circa 2003) textures only for the Erick Cantu Vistaliners Boeing 727-200 model. Textures by Gaetano Tortolani and Luis Fernando Quimbayo
Posted Apr 12, 2009 21:55 by Luis Fernando Quimbayo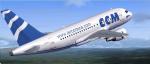 1.86Mb (962 downloads)
Airbus A318-100 CCM textures only. Requires the iFDG A319
Posted Apr 12, 2009 03:54 by Henry Rastouil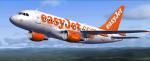 2.31Mb (4562 downloads)
IFDG A318-100 Easyjet textures only. Requires the iFDG A319
Posted Apr 12, 2009 03:48 by Henry Rastouil


0.75Mb (1227 downloads)
Escape to the sun aboard Sunchaser Airways! These textures represent a low cost carrier catering to those flying to Florida, Mexico, and the Bahamas.
Posted Apr 11, 2009 13:44 by Don Brynelsen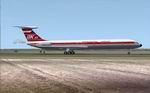 33.31Mb (11801 downloads)
Project Tupolev Ilyushin Il-62M, Version 1.03 - Ilyushin Il-62M Vim Airlines with several custom features (e.g. extendable/retractable landing light, tail support, etc.) - Captain, Copilot and Navigator Panel - custom Autopilot - authentic NV-PB Navigation System with several modes incl. the standard maneuver mode (rectangular approach pattern). - Interial Navigation System I-21 INS - KLN-90B GPS (Beta) - Weather radar 'Groza' - custom Joystick Setup device - a lot of unique features, e.g. landing gear tail support, custom elevator and stabilizer handling - continuous Flaps operation - authentic reverse thrust control (incl. opening/closing of reverser doors), reverse selectable when airborne - flight data recordeP - basic soundset (authentic soundset will follow soon) - preliminary manual. FS2004 aircraft. Includes 2d panel but no VC. ByStepan Gritsevsky and Michael Ackermann
Posted Apr 10, 2009 12:43 by Project Tupolev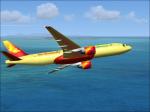 71.90Mb (2046 downloads)
Boeing 777-200 v2 for FS2004/FSX with 'Air-Butterfly' texture. Repaint by Monatbord Miguel. "Air-Butterfly" is a Virtual airline company. Includes a virtual cockpit model and a wings view model, both with Ground Service Vehicles when cargo door open. And more... Happy flights !
Posted Apr 7, 2009 19:12 by MONTABORD Miguel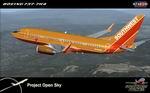 8.67Mb (7395 downloads)
Boeing 737-700 Southwest N748SW Old Colors. This package contains N748SW in the old colors with Southwest.com winglets. Features: Dynamic flexing wings that respond to turbulence. Fully Animated control surfaces, pushback truck with animated ground crew, opening doors & cargodoors, accurate FDE, highly detailed textures, etc... This package includes the winglet (no eyebrow) model. Model Builder: Hiroshi Igami and supported by Project Opensky members
Posted Apr 7, 2009 04:19 by John Paul

15.24Mb (2397 downloads)
Boeing 747-400FV4 JAL Cargo Silver. Boeing 747-400 V4 model by Project Opensky.
Posted Apr 7, 2009 04:17 by RyanC