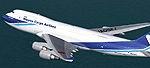 13.30Mb (3554 downloads)
Boeing 747-400FV4 NCA- Nippon Cargo Airlines. Original model created by Project Opensky.
Posted Jan 8, 2009 13:46 by Ryan C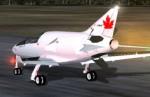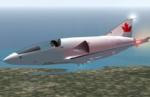 0.92Mb (6282 downloads)
HD - 1 Swift. The result of bored stiff engineers asking "How big a jet engine can you strap to your ass?" Improved landing gear and landing performance since last build. New dynamic 3D virtual cockpit and 2D instrument panel. More texture mapping completed. Plus the standard stuff like the 14ft wing span; 16ft fuselage; Mach 1.8; 3700lb thrust jet; animatedreverse thrust, animated dual slotted fowler flaps and slats. animated speed brakes and spoilers, animated trailing link landing gear with dual wheels and nose steering.
Posted Jan 8, 2009 02:09 by Harold Dickert

13.32Mb (1240 downloads)
Boeing 747-200 Northwest Cargo Old Colors. Original model by Project Opensky.
Posted Jan 5, 2009 03:40 by Ryan C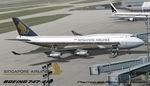 12.55Mb (6225 downloads)
Singapore Airlines Boeing 747-412 9V-SPG. Singapore Airline's livery painted on Project Opensky's Boeing 747-400 v4 model. Its features: Opening doors & Cargo doors, dynamic flexing wings that respond to turbulence, highly detailed textures, shine & effects and many more. Abdullah Rahman
Posted Jan 3, 2009 12:07 by Abdullah Rahman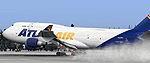 13.08Mb (3072 downloads)
Boeing 747-400 BCF Atlas Air Cargo. Model by Project Opensky.
Posted Dec 31, 2008 04:33 by Ryan C

6.24Mb (1917 downloads)
Airbus A320-200 CFM Mexicana New colors textures only. Project Airbus A320 with the new Mexicana's livery. Requires any full Project A320. Textures by Luis Gerardo Trevino
Posted Dec 29, 2008 06:07 by Luis Gerardo Trevino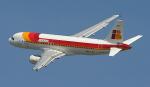 7.77Mb (19214 downloads)
The Airbus A340-600 is used by Spanish airline, Iberia, for long distances flights from Madrid. Model by Simubuild
Posted Dec 26, 2008 18:02 by MASW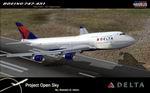 11.76Mb (4632 downloads)
Delta Boeing 747-451 2007 Colors. Project Opensky 747-400 V4. Model Features include fully animated control surfaces, fully independent suspension, main gear steering, trim animation, opening passenger doors, opening cargo doors, dynamic flexing wings, animated tilting bogies, rolling wheels, animated thrust reversers, fully reflective textures ( each part has different degree of reflection based on material ), accurate flight dynamics ( accurate FDE with full profiles for wheels, tires, struts, leading/trialing struts, engine types ... Tested by real pilots.), newly re-defined individual part damage profiles, accurate spoiler animation, detailed textures, full night lighting, visible landing lights from the cockpit, reflective cockpit windows, crash effects, transparent nav light lenses, newly re-defined individual part damage profiles. Model Designer Hiroshi Igami. Flight Dynamics Designer Warren C. Daniel | Brandon D. Henry. Tested by Project Open Sky Members. Master textures by Corey Ford/Yosuke Ube. Delta Paint by Brandon D. Henry of Project Opensky.
Posted Dec 26, 2008 12:53 by Brandon D. Henry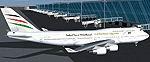 10.25Mb (1307 downloads)
Palestinian Boeing 747-400. Model by Project Opensky. Repaint by Yvan Young
Posted Dec 26, 2008 03:32 by Paul Atreides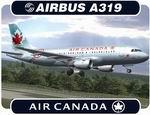 10.51Mb (8738 downloads)
Air Canada Airbus A319-114 - C-GBHZ. Model by Project Airbus. Repaint by Denis Minaev
Posted Dec 26, 2008 03:23 by Denis Minaev