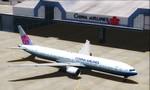 54.19Mb (931 downloads)
Boeing 777-300ER China Airlines. Model by Project Opensky. Textures by Britney Ren.
Posted Aug 18, 2014 09:11 by chris E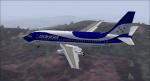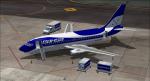 4.01Mb (326 downloads)
Textures for the Boeing 737-200 TinMouse II of SAHSA Airlines. Servicio Aereo de Honduras S.A. SAHSA was the International Airline of Honduras, but ceased operations on January 1994. This repaint represents HR-SHO, a 737-2A3 cn20299.
Posted Aug 17, 2014 16:46 by Oscar Josue Elvir Vasquez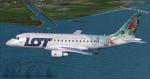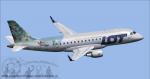 21.65Mb (3133 downloads)
This is an Embraer 170 of Lot Polish Airlines, in the special Planes movie colors. Registration: SP-LDH, Repaint by: Mathieu Vos (APSS), Model by: Dreamwings. (also compatible with FSX)
Posted Aug 17, 2014 15:32 by Mathieu Vos (APSS)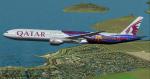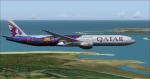 24.18Mb (1958 downloads)
This is an Boeing B777-3DZ(ER) with the special FC Barcelona livery of Qatar Airways. Registration: A7-BAE, Repaint by: Mathieu Vos (APSS), Model by: Sky Spirit 2012
Posted Aug 17, 2014 05:42 by Mathieu Vos (APSS)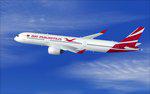 3.56Mb (841 downloads)
FS2004 Air Mauritius Airbus A350-900 v4. This CamSim version 4 features more Animated Ground Servicing (AGS), featuring trucks hooking and unhooking trailers and static displays. Tilted main landing gear bogies updated. Model design and paint by Camil Valiquette.
Posted Aug 14, 2014 02:39 by camil valiquette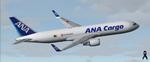 11.91Mb (720 downloads)
Boeing 767-316F/ER WL ANA Cargo JA605F. Model by Skyspirit. Features ( in depth ): Dynamic flexing wings Nose gear steering under 60kt above 1kt. Rudder lock under 60kt above 1kt. Ground spoiler only works on ground. Low speed aileron locks at high speed. Fully animated control surfaces Fully independent suspension Trim Animation Opening Passenger Doors Animated tilting bogies Rolling wheels Animated thrust reversers Detailed textures Full night lighting Crash affects Ground Service Vehicles when Cargo door open And more. Textures by Stefan Bree
Posted Aug 14, 2014 02:02 by chris E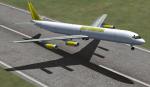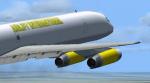 1.40Mb (442 downloads)
These are Airlift International textures for the Historic Jetliners Group (HJG) Douglas DC-8-63F. Airlift International is a cargo airline based at Kotoka International Airport in Accra, Ghana. They currently operate a small fleet of some of the last surviving DC-8's still in service, including this one, 9G-RAC. Thank you!
Posted Aug 12, 2014 05:13 by Mitchell Green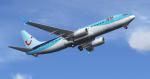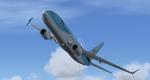 123.21Mb (2306 downloads)
This pack contains: Model (By: Tenkuu Developers Studio) Sound, And the whole Arke 737 fleet. Reg: PH-TFA/TFB/TFC/TFD/TFF. No Panel included. Suitable for FSX as well. Textures by: Mees Jansen
Posted Aug 11, 2014 05:05 by Mees Jansen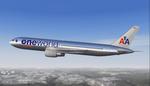 7.30Mb (2600 downloads)
Boeing 767-323/ER American Airlines OneWorld package with enhanced 737 VC. Project Opensky B767-300 v5. Model features High resolution textures, Dynamic flexing wings, Body gear steering, Nose gear steering, Rudder lock, Ground spoilers, Low speed aileron locks at high speed, Fully animated control surfaces, Fully independent suspension, Trim Animation, Opening Passenger Doors, Animated tilting bogies, Rolling wheels, Animated thrust reverser's with reverser block doors, Detailed textures, Full night lighting, Crash affects, Ground Service Vehicles And more. Model Designer Hiroshi Igami/Yosuke Ube. Flight Dynamics Designer Warren C. Daniel and Brandon Henry. Textures by Xudeva Irribarra.
Posted Aug 8, 2014 08:39 by chris E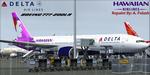 23.91Mb (1321 downloads)
FS2004 Delta Hawaiian Hybrid Boeing 777-232LR. Model features include fully animated control surfaces, fully independent suspension, main gear steering, trim animation, opening passenger doors, opening cargo doors, dynamic flexing wings, animated tilting bogies, rolling wheels, animated thrust reversers, fully reflective textures (each part has different degree of reflection based on material), accurate flight dynamics (accurate FDE with full profiles for wheels, tires, struts, leading/trialing struts, engine types; tested by real pilots), newly re-defined individual part damage profiles, accurate spoiler animation, detailed textures, full night lighting, visible landing lights from the cockpit, reflective cockpit windows, crash effects, transparent nav light lenses, newly re- defined individual part damage profiles. Model, dynamics by Project Open Sky, repaint by Aziz Polash.
Posted Aug 6, 2014 06:52 by chris E