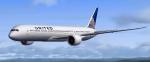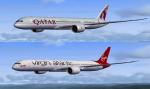 8.98Mb (6439 downloads)
CamSim Boeing 787-9 V3. I've Painted 3 liveries for This Version 3 787, United, Virgin and Qatar. All latest liveries. Some have photo real parts. They feature an improved aircraft wing root design. Model design by Camil Valiquette. Repaints by Stephen Browning. Models have 2d panel but do not have VC.
Posted Jan 5, 2013 10:37 by Stephen Browning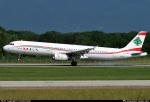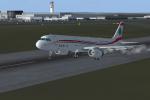 5.59Mb (1444 downloads)
MEA textures for the default FSX Airbus A321.
Posted Jan 5, 2013 00:37 by Herz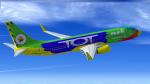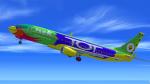 12.29Mb (2022 downloads)
The airline was established in February 2004 beginning its first international service on 31 May 2007, with daily flights to Bangalore, India. Today Nok, (which is Thai for bird) has the highest number of domestic routes within Thailand, largely because Thai Airways International has failed to increase its share holding in Nok Air. This is a High Definition repaint for the default FSX Boeing 737-800 and is Textures only.
Posted Jan 4, 2013 15:51 by Paul Davies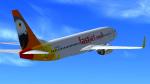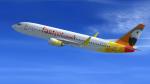 7.46Mb (1196 downloads)
After many months of speculation the low cost African airline Fastjet.com was launched in November 2012. Spearheaded by Sir Stelios Haji-Ioannou (EasyJet), and an operating base in Dar es Salaam, Tanzania, flights to Kilimanjaro and Mwanza are on offer. Further destinations such as Ghana and Angola are in the pipeline. This is a High Definition Textures only repaint for the FSX default 737-800 complete with blue tint cockpit glass and daylight filters on wing and nose wheel lights.
Posted Jan 3, 2013 11:00 by Paul Davies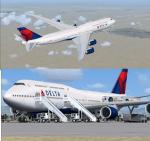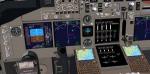 68.03Mb (10232 downloads)
FSX Boeing 747-8i Delta Delux Package. Assembled and edited for FSX with the developed B747 VC from Alejandro Rojas Lucenda. This is the Project Opensky FSX Boeing 747-8i model, and includes ground cargo servicing, stairs (FSX - Go to Views - Instrument Panel -Posky Utility), jetway (Ctrl J). Included CF engine sounds from BrandonG, with realistic jet whine to make your flight sound great. Upgraded using the vastly improved Boeing 747 VC from Alejandro Rojas Lucena/FSND (See panel docs for details). VC includes FMC, EICAS, MFD with control panel, GPWS, working wipers, cabin lights, fire suppression, avionics switch, fuel crossfeed, landing lights switches, taxi light switch, engine generators, APU generator, battery switch, starter switches, de-ice switch, general lights switches. Thank you to Skyspirit for their outstanding donations to the worldwide community of flight simulation. Professional Delta textures by Gabriel Guzman. Also includes the Boeing 747 VC textures upgrade. This give a much clearer 747 interior virtual cockpit look. Assembled and edited for FSX by Chris Evans. Zip preview for larger pictures. See panel docs and images for VC details and controls
Posted Dec 30, 2012 04:59 by chris evans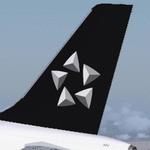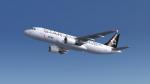 16.69Mb (2240 downloads)
Shenzhen Airlines Airbus A320-214 Star Alliance for Flight Simulator X. Aircraft model and texture of B-6296 are included, along with panel, sound & virtual cockpit from the default A321. Original aircraft by Project Airbus, texture by Lingyuan He from China. Note: This package can be used in FS9, please read the instructions inside the package.
Posted Dec 29, 2012 23:37 by Lingyuan He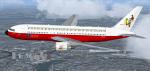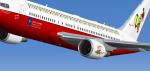 19.76Mb (611 downloads)
FSX Sky Spirit 2010 Boeing 767-200ER repaint textures for a Star Alliance Christmas livery. I fly these textures on the 767-200ER-GE-CF6-80A passenger version. Merry Christmas! Screenshots enclosed. Easy installation. Requires a full Skyspirit Boeing 767-200ER package. By Tom Tiedman.
Posted Dec 24, 2012 19:57 by tom tiedman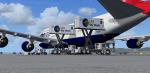 0.34Mb (2257 downloads)
LSG Sky Chefs catering truck textures for the Air Service trucks on Project Opensky Boeing 747 models. Works in any Project Opensky B747 with the 'Os_ct*' in the textures folder. LSG Sky Chefs operates world wide therefore is seen at almost every major airport. Add some realism to your gate! Only for -Project Opensky B747 400 and 800 series models.
Posted Dec 23, 2012 00:32 by Andy A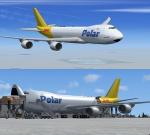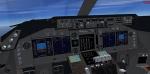 69.81Mb (3863 downloads)
FSX SkySpirit2012 Boeing 747-8 Freighter, in Polar Air Cargo/DHL Livery, registration N853GT Assembled and edited for FSX with the developed B747 VC from Alejandro Rojas Lucenda. This is the Skyspirit FSX Boeing 747-8F cargo model updated November 2012, and includes ground cargo servicing, stairs (FSX - Go to Views - Instrument Panel -Posky Utility), jetway (Ctrl J), opening nose section and more. Included CF engine sounds from BrandonG, with realistic jet whine to make your flight sound great. Upgraded using the vastly improved Boeing 747 VC from Alejandro Rojas Lucena/FSND (See panel docs for details). VC includes FMC, EICAS, MFD with control panel, GPWS, working wipers, cabin lights, fire suppression, avionics switch, fuel crossfeed, landing lights switches, taxi light switch, engine generators, APU generator, battery switch, starter switches, de-ice switch, general lights switches. Thank you to Skyspirit for their outstanding donations to the worldwide community of flight simulation. Beautiful Polar/DHL textures by Carlos Eduardo Salas. Also includes the Boeing 747 VC textures upgrade. This give a much clearer 747 interior virtual cockpit look. Assembled and edited for FSX by Chris Evans. Zip preview for larger pictures. See panel docs and images for VC details and controls
Posted Dec 21, 2012 09:57 by Chris Evans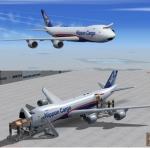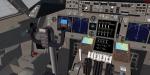 68.11Mb (2402 downloads)
SkySpirit2012 Boeing 747-8 Freighter, in Nippon Cargo Airlines NCA New Livery, registration JA13KZ Assembled and edited for FSX with the developed B747 VC from Alejandro Rojas Lucenda. This is the Skyspirit FSX Boeing 747-8F cargo model updated November 2012, and includes ground cargo servicing, stairs (FSX - Go to Views - Instrument Panel -Posky Utility), jetway (Ctrl J), opening nose section and more. Included CF engine sounds from BrandonG, with realistic jet whine to make your flight sound great. Upgraded using the vastly improved Boeing 747 VC from Alejandro Rojas Lucena/FSND (See panel docs for details). VC includes FMC, EICAS, MFD with control panel, GPWS, working wipers, cabin lights, fire suppression, avionics switch, fuel crossfeed, landing lights switches, taxi light switch, engine generators, APU generator, battery switch, starter switches, de-ice switch, general lights switches. Thank you to Skyspirit for their outstanding donations to the worldwide community of flight simulation. Beautiful Nippon Cargo Airlines textures by Carlos Eduardo Salas. Also includes the Boeing 747 VC textures upgrade. This give a much clearer 747 interior virtual cockpit look. Assembled and edited for FSX by Chris Evans. Zip preview for larger pictures. See panel docs and images for VC details and controls
Posted Dec 21, 2012 09:46 by Chris Evans