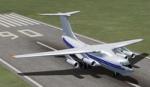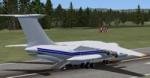 0.10Mb (1837 downloads)
Views ( defined by camera definitions in the aircraft.cfg file ) for the "FSX IL-76 Cargo" ( Ilyushin ) package. Original model by Sergey Varnavskiy. Textures and updates by Mark Rooks of RSDG. NO VC ! 13 outside views of the aircraft and a total of 3 virtual cockpit views ( front, left right, no panels). See Read me.txt file for very easy installation procedures. Also included is a text file that contains the new camera definitions. Enjoy !
Posted Jun 29, 2012 22:52 by Marc Renaud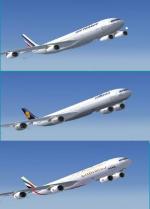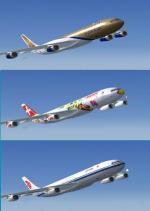 191.94Mb (33954 downloads)
Tom Ruth A340-300, -500 , -600 Airbus A340 mega package including multiple airlines, with added FMC, altitude callouts, autoland. Liveries include: Airbus Industrie, Lufthansa, Air France, Hainan, Air China, China Southern, China Eastern, TAP, Virgin, KLM, Sabena, SAA Star Alliance, SAA, Thai, Swiss, Qatar (old and new), Iberia, Emirates, Cathay, Turkish, Eva Air, Arik Air, TAM, Etihad, Gulf, Finnair. See files for credits. Bry Hardee altitude call outs - Garrett Smith FMC - AutoLand. Original models and VC's by Thomas Ruth.
Posted Jun 28, 2012 10:25 by T.Marson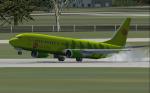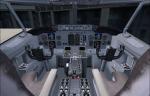 18.02Mb (4518 downloads)
In the first half of the 1990s, Siberia Airlines was a medium-sized regional airline, like many others created from former Aeroflot divisions. Operations were mainly focused on domestic flights from Novosibirsk. By the end of the decade, however, the airline started an aggressive expansion plan in the Russian domestic market. Model FS2004 default updated for FSX. (inc. VC) Textures by ricardo_tv.
Posted Jun 28, 2012 08:38 by ricardo_tv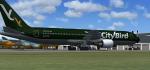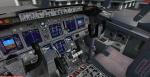 21.41Mb (3935 downloads)
Boeing 767-300ER CityBird Livery. Upgraded to FSX using Alrot's revised Boeing 737-800 VC. This model includes Working wipers (right mouse click on switch) with rain effect. Switches for LCD Screens, EICAS, PFD, MFT. Autobrake switch. Opening pilots window. Cabin Lights switch. Realistic FMC. Ground Proximity Warning System (GPWS), More Realistic night textures. Model features High resolution textures, Dynamic flexing wings, Body gear steering, Nose gear steering, Rudder lock, Ground spoilers, Low speed aileron locks at high speed, Fully animated control surfaces, Fully independent suspension, Trim Animation, Opening Passenger Doors, Animated tilting bogies, Rolling wheels, Animated thrust reverser's with reverser block doors, Detailed textures, Full night lighting, Crash affects, Ground Service Vehicles (Activate under Views-Instrument panel - Posky Utilities).. Model Designer Hiroshi Igami/Yosuke Ube. Flight Dynamics Designer Warren C. Daniel. High quality repaint by Febriant Leocesio. FSX native model by Skyspirit. VC by Alejandro Rojas Lucena (Alrot). Modified for FSX by Chris Evans.
Posted Jun 27, 2012 08:42 by Chris Evans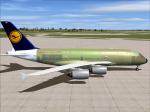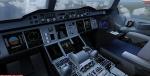 29.44Mb (4668 downloads)
Project Airbus A380 Lufthansa F-WWAK in Airbus Industrie factory colors. Includes VC for FSX.
Posted Jun 26, 2012 10:32 by Jim Fly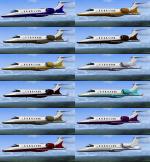 26.63Mb (2515 downloads)
These new Textures are for the default FSX Lear 45 Jet. This File contains 11 new colors and 1 Project Texture. All are in high resolution BMP Textures. Download Includes a easy to use step by step with illustrations. Textures by Mark " Fireball " Rooks
Posted Jun 26, 2012 00:45 by Mark Rooks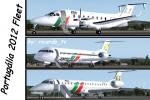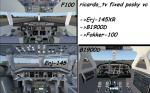 50.26Mb (7255 downloads)
Portugalia aircraft fleet 2012. This package includes 3 complete aircraft packages - the Beech-1900D, Erj-145 and F-100. Models by Posky & Premier Aircraft. About this airline: when it was an independent company its head office was in Building 70 on the grounds of Portela Airport in Lisbon. It operates scheduled international and domestic services from Lisbon and Porto, as well as European charter services, since 2007 exclusively under TAP flight codes. Textures by ricardo_tv.
Posted Jun 24, 2012 16:46 by ricardo_tv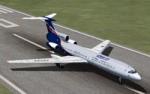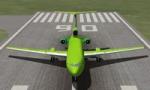 0.10Mb (2758 downloads)
Reworked and additionnal views ( defined by camera definitions in the aircraft.cfg file ) for the "Tupolev Tu-154 V1 package". Original model by team Project Tupolev. Panel and additionnal textures by Ricardo_tv. VC cockpit by Thomas Ruth (B727-200). 11 outside views of the aircraft and a total of 7 virtual cockpit views. See Read me.txt file for very easy installation procedures. Also included is a text file that contains the new camera definitions. Enjoy !
Posted Jun 24, 2012 16:12 by Marc Renaud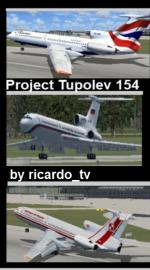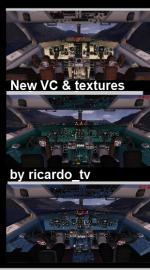 35.96Mb (23745 downloads)
The Tupolev Tu-154 is a three-engine medium-range narrow-body airliner designed in the mid 1960s and manufactured by Tupolev. Russian airlines for several decades, it serviced over a sixth of the world's landmass and carried half of all passengers flown by Aeroflot and its subsidiaries (137.5 million/year or 243.8 billion passenger kilometers in 1990). With a cruising speed of 975 kilometres per hour (606 mph), the Tu-154 is one of the fastest civilian aircraft in operation and has a range of 5,280 kilometres (3,280 mi). This package is the ProjectTupolev 154B-2 modified and added a simple and easy Panel to fly, very familiar to use with realistic textures from original by ricardo_tv. Textures made by ricardo_tv (most) & Air Force by PT Tu-154. Have Russian Air Force, Polish Air Force, American, Aeroflot (New), Air France, British, Cubana, Interflug, Lufthansa, LOT, Siberia S7 and UTair. Have fun
Posted Jun 22, 2012 12:03 by ricardo_tv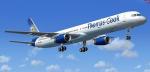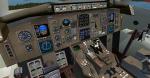 69.65Mb (21233 downloads)
Boeing 757-300 painted in the Thomas Cook colors. Textures by Posky team. Model by Project Opensky. Custom B757 sounds. Panel mods for FSX by Sanjay Blair.
Posted Jun 20, 2012 06:44 by Mohd