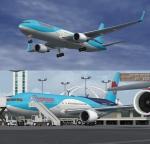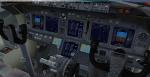 68.83Mb (12834 downloads)
Thomson Airways Boeing 767-300ER G-OBYG With Winglets and Enhanced VC. Upgraded to FSX using Alejandro Rojas Lucena/FSND revised Boeing 737-800 VC. This model includes Working wipers (right mouse click on switch) with rain effect. Switches for LCD Screens, EICAS, PFD, MFT. Autobrake switch. Opening pilots window. Cabin Lights switch. Realistic FMC. Ground Proximity Warning System (GPWS), More Realistic night textures. Model features High resolution textures, Dynamic flexing wings, Body gear steering, Nose gear steering, Rudder lock, Ground spoilers, Low speed aileron locks at high speed, Fully animated control surfaces, Fully independent suspension, Trim Animation, Opening Passenger Doors, Cargo facilities (Use Posky Utility under FSX - Go to Views - Instrument Panel -Posky Utility) Animated tilting bogies, Rolling wheels, Animated thrust reverser's with reverser block doors, Detailed textures, Full night lighting, Crash affects, Ground Service Vehicles And more. Model Designer Hiroshi Igami. Flight Dynamics Designer Warren C. Daniel. Painted by: Carlos Eduardo Salas. FSX native model by Skyspirit/Project Opensky. VC by Alejandro Rojas Lucena (Alrot). Modified for FSX by Chris Evans. Thank you to Carlos Eduardo Salas for professional textures and Project Opensky/Skyspirit for phenominal aircraft contributed as freeware! Modified and assembled for FSX by Chris Evans. Please read the VC docs to get the most out of this VC
Posted Jan 14, 2013 17:55 by Chris Evans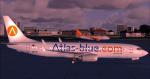 9.70Mb (1011 downloads)
Atlas-blue textures for the default Boeing 737-800 FSX.
Posted Jan 13, 2013 09:47 by Jim Fly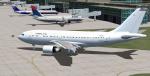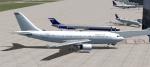 3.64Mb (1172 downloads)
FSX Airbus A310-222 repaint textures for the real world Delta N805PA in her post-PanAm livery. For the Thomas Ruth A310-300, which you must have previously installed in FSX. After aquiring PanAm's transatlantic system, this simple Delta livery was used in order to quickly repaint PanAm's airplanes. Screenshots enclosed. Easy installation. By Tom Tiedman.
Posted Jan 12, 2013 22:23 by Tom Tiedman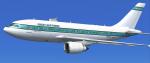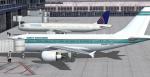 3.82Mb (821 downloads)
FSX Airbus A310-300 repaint textures Great Northern Airlines, for the Thomas Ruth Airbus A310-300, which you must have previously installed in FSX. Screenshots enclosed. Easy installation. By Tom Tiedman.
Posted Jan 12, 2013 06:28 by Tom Tiedman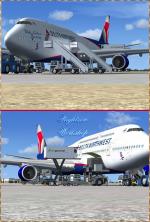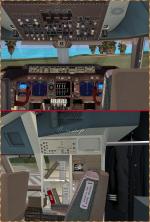 79.85Mb (14294 downloads)
FSX Boeing 747-8i Delta Northwest with advanced VC by Alejandro Rojas Lucena and VC Texture Upgrade by Enrique Cornejo. This gives the b747 a payware Virtual Cockpit look! It even has a pilot jacket hanged in the rear of the cockpit (besides the right jumpseat). The panel.cfg and the aircraft.cfg have been assembled and edited by the Flightsim Workshop Team. Now you can pop up "My icons" window in the Virtual Cockpit to easily reach the following windows: GPS, avionics, map, ATC, Climb/Radio Altimeter/Spoiler switch, auto-break switch, throttle quadrant, clock, descentometer, kneeboard and overhead panel. The aircraft has new engine views (from both wings) and new Virtual Cockpit interior views from the left, right and central jump seats. The Delta Northwest texture is wonderful and it has a unique paintscheme by Mcphat Studios with a repaint by Enrique Cornejo which also includes details such as some stains caused by humidity and other details just like a real aircraft. This aircraft uses the Project Opensky FSX Boeing B747-800 Model OSX748V4_GENX(MDL), and includes the gauge window Posky Utility to view the main stairs, ground cargo servicing, etc. The engine sounds are edited like the real ones with cockpit ambient, so you can enjoy a pleasant flight. The Flight Management Computer (FMC) is fixed and looks like a payware instrument. The VC includes FMC, Primary Flight Display (PFD) and Multi-Function Display (MDF) displayed in the correct size. The virtual cockpit also has an Engine-Indicating and Crew-Alerting System also known as EICAS, Ground Proximity Warning System (GPWS), working wipers, cabin lights, fire suppression, avionics switch, fuel crossfeed, and you can identify those intruments in the overhead panel because they are bordered with color lines. You can also find landing lights switches, taxi light switch, engine generators, APU generator, battery switch, starter switches, de-ice switch, general lights switches which are a great work of Alejandro. So now the whole cockpit and texture upgrade with all these improvements looks better than a payware version. The clock numbers are now in orange which makes them look better and easily recognizable. Assembled and edited for FSX by Enrique Cornejo.
Posted Jan 11, 2013 00:53 by Enrique Cornejo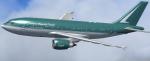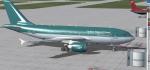 3.90Mb (955 downloads)
FSX Airbus A310-300 Thomas Ruth repaint textures Carlson Wagonlit Travel. For Thomas Ruth's A310 package. For decades a staple of the Twin Cities travel industry, the real world but now out of business Carlson Wagonlit (pronounced Vahh-gun-lee) Travel agency imaginarily aquires an Airbus A310-300 and begins offering discount group rate charter flights to resort vacation destinations across North America, relying heavily on their scheduled twice weekly gambling junkets to Las Vegas and once weekly Minneapolis/Detroit/Buffalo "Run For The Canadian Border and/or Niagra Falls Weekend Vacation Getaway (tm)" departing KMSP at 0900 each Friday. Screenshots enclosed. Easy installation. By Tom Tiedman.
Posted Jan 10, 2013 06:53 by Tom Tiedman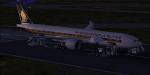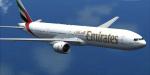 367.86Mb (29695 downloads)
Project Opensky Volume 3 of the Boeing 777 Mega-Package for Flight Simulator X. It includes the Boeing 777 realistic Virtual Cockpit and Panel from Project Opensky including GPWS, FMC, AutoBrake and several more systems by other authors, 6 Boeing 777 models created by the Project Opensky team (containing the -300 and -300ER variants), Pratt & Whitney PW4090, General Electric GE90-115B and Rolls-Royce Trent 800 sounds created by Luke Hogan, Ismail Zayan and Emil Serafino, 23 High-Quality Liveries divided into the already mentioned variants, custom Aircraft Ground Service (AGS) by P. Opensky, Read-Me file with easy installation instructions and more details about this package. For a more detailed Description, Images, and other great packages at: -fsxluchoals.blogspot.com-
Posted Jan 9, 2013 21:56 by Luis Quintero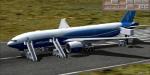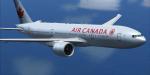 206.11Mb (22406 downloads)
Project Opensky Volume 2 of the Boeing 777 Mega-Package for Flight Simulator X. It includes the Boeing 777 realistic Virtual Cockpit and Panel from Project Opensky including GPWS, FMC, AutoBrake and several more systems by other authors, 2 Boeing 777 models created by the Project Opensky team (containing the -200LR and -200LRF variants), General Electric GE90-115B sounds created by Luke Hogan, 10 High-Quality Liveries divided into the already mentioned variants, custom Aircraft Ground Service (AGS) by P. Opensky, Read-Me file with easy installation instructions and more details about this package. For a more detailed Description, Images, and other great packages at: -fsxluchoals.blogspot.com-
Posted Jan 9, 2013 19:47 by Luis Quintero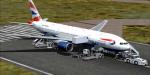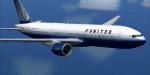 410.47Mb (28352 downloads)
Project Opensky Volume 1 of the Boeing 777 Mega-Package for Flight Simulator X. It includes the Boeing 777 realistic Virtual Cockpit and Panel from Project Opensky including GPWS, FMC, AutoBrake and several more systems by other authors, 7 Boeing 777-200ER models created by the Project Opensky team, Pratt & Whitney PW4090, General Electric GE90-115B and Rolls-Royce Trent 800 sounds created by Luke Hogan, Ismail Zayan and Emil Serafino, 47 Really Good-Quality Liveries, custom Aircraft Ground Service (AGS) by P. Opensky, Read-Me file with easy installation instructions and more details about this package. For a more detailed Description, Images, and other great packages at: -fsxluchoals.blogspot.com-
Posted Jan 9, 2013 15:31 by Luis Quintero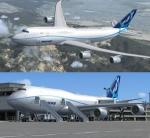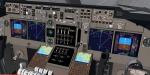 63.67Mb (5644 downloads)
FSX Boeing 747-8i Sunrise Livery YU 1st Flight Delux Package. Assembled and edited for FSX with the developed B747 VC from Alejandro Rojas Lucenda. This is the Project Opensky FSX Boeing 747-8i model, and includes ground cargo servicing, stairs (FSX - Go to Views - Instrument Panel -Posky Utility), jetway (Ctrl J). Included CF engine sounds from BrandonG, with realistic jet whine to make your flight sound great. Upgraded using the vastly improved Boeing 747 VC from Alejandro Rojas Lucena/FSND (See panel docs for details). VC includes FMC, EICAS, MFD with control panel, GPWS, working wipers, cabin lights, fire suppression, avionics switch, fuel crossfeed, landing lights switches, taxi light switch, engine generators, APU generator, battery switch, starter switches, de-ice switch, general lights switches. Thank you to Skyspirit for their outstanding donations to the worldwide community of flight simulation. Professional Boeing 748-i BCF textures by unknown. Also includes the Boeing 747 VC textures upgrade. This give a much clearer 747 interior virtual cockpit look. Assembled and edited for FSX by Chris Evans. Zip preview for larger pictures. See panel docs and images for VC details and controls
Posted Jan 9, 2013 09:20 by Chris Evans