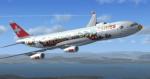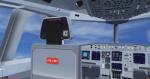 21.41Mb (7261 downloads)
Airbus A340-313X Swiss (San Francico). Uses Danny Garnier's modified VC. Some parts of the VC could not be edited. Airbus A340-313X Swiss (San Francico). FS2004 model by Project Opensky. Textures by Mathieu Vos. FSX mods by Chris Evans. Modified by Chris Evans
Posted Jan 13, 2012 08:59 by Chris Evans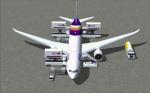 5.45Mb (2221 downloads)
FSX Thai Boeing 787-9 V3, This CamSim Version 3 feature an improve aircraft's wing root design including Animated Ground Servicing (AGS). 2d panel. No VC. Model design and paint by Camil Valiquette
Posted Jan 13, 2012 06:02 by Camil Valiquette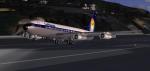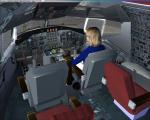 70.45Mb (13936 downloads)
This is the great Boeing 707 collection by Alejandro Rojas Lucena. Includes high quality textures for the following: -American Airways -Pan American -Air France -Qantas -British Airways -Air TAP -Lufthansa This aircraft comes to with the Best freeware VC (alongside the Guzman VC) and animation. Model by Alejandro Rojas Lucena. Textures by ricardo_tv Happy Fights!
Posted Jan 12, 2012 13:10 by ricardo_tv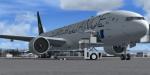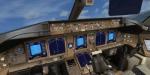 52.63Mb (7931 downloads)
BOEING 777-300 v2 for adapted for FSX All Nipon Airways (ANA) 'Star Alliance'textures. Model and VC Adapted for FSX by Chris Evans using Danny Garnier's B777-300ER VC and 2d panel updates. Custom Pratt & Whitney PW4077 Soundset. Fully tested before uploading as I always do with my files.
Posted Jan 11, 2012 07:53 by Chris Evans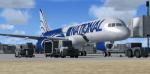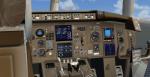 29.59Mb (7950 downloads)
Boeing 757-200 National Airlines for FSX Model by Project Opensky. Great textures by Mathieu Vos. Includes B757 sound file by Eric DeRoche (thank you). I researched the best freeware FSX B757 VC and included the Jim Waters version. Thank you Jim! Assembled by Chris Evans.
Posted Jan 10, 2012 06:45 by Chris Evans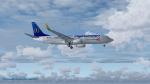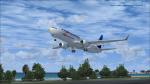 10.49Mb (395 downloads)
FlightsimHD1 textures for the default B737-800(1 year on flying!)
Posted Jan 9, 2012 13:52 by David Madienguela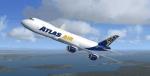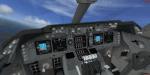 29.44Mb (2445 downloads)
FSX Atlas Air Boeing 747-8F Modified and added the FSX default Boeing 747 VC and cutsom sounds. FSX Atlas Air Boeing 747-8F, complete package for FSX of the Project OpenSky B747-8F version 4 in fictional Atlas Air livery. Repaint by Mohammed Al-Khalifa. FSX mods by Chris Evans.
Posted Jan 9, 2012 11:11 by Chris Evans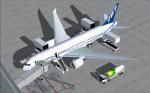 5.75Mb (2658 downloads)
FSX N787ZA flight World Record's Boeing test airplane Boeing 787-8 V3, On Dec. 8, 2011, N787ZA set a speed record for flying around-the-world in 42 hours and 27 minutes and set another record when N787ZA flew from Seattle to Dhaka, Bangladesh marking the Dreamliner's distance record of 10,337 nautical miles for the plane's weight class. This CamSim Version 3 feature an improve aircraft's wing root design including Animated Ground Servicing (AGS). 2d panel but no VC. Model design and paint by Camil Valiquette.
Posted Jan 9, 2012 10:25 by Camil Valiquette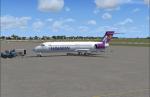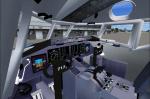 30.78Mb (15666 downloads)
Uses the super Boeing 717 model by Simviation's Alejandro Rojas Lucena. Has Lufthansa, Hawaiian, Qantas, British, American, Midwest & House texture. Great aircraft from a great designer with a perfect freeware VC, model and sound. Textures by ricardo_tv
Posted Jan 8, 2012 12:48 by ricardo_tv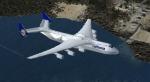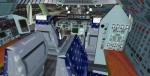 24.74Mb (38029 downloads)
An-225 Lufthansa with VC and super effects. Thomas Ruth's beautiful AN225 model and VC. You will learn to land the big lady. The AN225 is the world's largest aircraft! Fictional Lufthansa textures by ricardo_tv
Posted Jan 8, 2012 02:54 by ricardo_tv