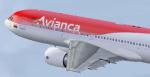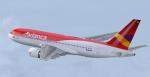 29.69Mb (3360 downloads)
Avianca textures for the Sky Spirit Boeing 767-200 package.
Posted Jan 17, 2013 14:41 by Abrahan Pineda Jimenez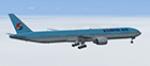 12.16Mb (3112 downloads)
This is the Korean Airlines Boeing 777-3B5ER with registration HL7533. This paint requires the download of the SkySpirit2012 Boeing 777-300 model base package. Will work in FS2004 and FSX versions. For more information, support or bug reports, please read the readme files.
Posted Jan 17, 2013 11:14 by Sean Kneppers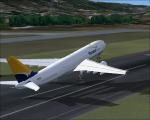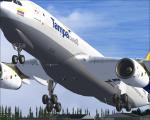 7.49Mb (1859 downloads)
Tampa Cargo textures for the A330 200 by Thomas Ruth . By Abrahan Pineda Jimenez.
Posted Jan 17, 2013 01:58 by Abrahan Pineda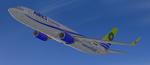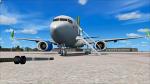 4.19Mb (1241 downloads)
Aires (Colombia) textures for the default FSX Boeing 737-800
Posted Jan 16, 2013 23:02 by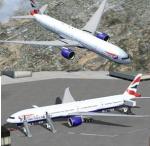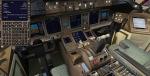 60.24Mb (14034 downloads)
Boeing 777-300ER British Airways G-STBA with new Virtual Cockpit with FMC for FSX British Airways Speedbird Boeing 777-336 ER Registration "G-STBA". Includes revised VC and FMC (via Views-Instrument panel). Model features are Opening doors & Cargo doors, detailed textures, accurate paint, dynamic shine & effects, dynamic flexing wings that respond to turbulence, fully independent suspension, trim animation, gear steering, accurate flight dynamics, spoiler animation, reflective cockpit windows, crash effects, animated tilting bogies, full night lighting, ground service vehicles when cargo door open, (FSX - Go to Views - Instrument Panel -Posky Utility), detailed virtual cockpit, jetway (Ctrl J) and more. Model by Project Opensky and professionally textured by Carlos Eduardo Salas. Updated VC by Isaac Tan. Mods for FSX by Chris Evans. See FMC docs.
Posted Jan 16, 2013 15:51 by Chris Evans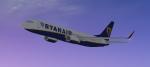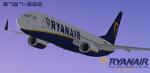 7.86Mb (9830 downloads)
Ryanair textures for the FSX default Boeing 737-800.
Posted Jan 15, 2013 23:43 by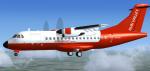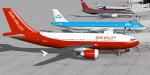 27.59Mb (2961 downloads)
FSX Sun Valley Airlines textures only 5-pack: (Base files required) : Thomas Ruth Airbus A310-300 Sun Valley passenger (with VC), Thomas Ruth Airbus A310-300F Sun Valley cargo (with VC), iSDT ATR42-300 Sun Valley Express commuter (no VC), SGA-Cantu Douglas DC-9-10 Sun Valley Express commuter (no VC), and Sun Valley Airlines employee flying club default FSX Cessna 172SP Skyhawk (VC analog gauges). Screenshots enclosed. Easy installation. Repaints by Tom Tiedman.
Posted Jan 15, 2013 13:19 by Tom Tiedman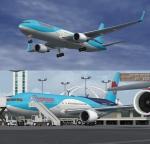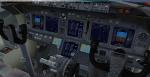 68.83Mb (12918 downloads)
Thomson Airways Boeing 767-300ER G-OBYG With Winglets and Enhanced VC. Upgraded to FSX using Alejandro Rojas Lucena/FSND revised Boeing 737-800 VC. This model includes Working wipers (right mouse click on switch) with rain effect. Switches for LCD Screens, EICAS, PFD, MFT. Autobrake switch. Opening pilots window. Cabin Lights switch. Realistic FMC. Ground Proximity Warning System (GPWS), More Realistic night textures. Model features High resolution textures, Dynamic flexing wings, Body gear steering, Nose gear steering, Rudder lock, Ground spoilers, Low speed aileron locks at high speed, Fully animated control surfaces, Fully independent suspension, Trim Animation, Opening Passenger Doors, Cargo facilities (Use Posky Utility under FSX - Go to Views - Instrument Panel -Posky Utility) Animated tilting bogies, Rolling wheels, Animated thrust reverser's with reverser block doors, Detailed textures, Full night lighting, Crash affects, Ground Service Vehicles And more. Model Designer Hiroshi Igami. Flight Dynamics Designer Warren C. Daniel. Painted by: Carlos Eduardo Salas. FSX native model by Skyspirit/Project Opensky. VC by Alejandro Rojas Lucena (Alrot). Modified for FSX by Chris Evans. Thank you to Carlos Eduardo Salas for professional textures and Project Opensky/Skyspirit for phenominal aircraft contributed as freeware! Modified and assembled for FSX by Chris Evans. Please read the VC docs to get the most out of this VC
Posted Jan 14, 2013 17:55 by Chris Evans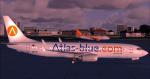 9.70Mb (1029 downloads)
Atlas-blue textures for the default Boeing 737-800 FSX.
Posted Jan 13, 2013 09:47 by Jim Fly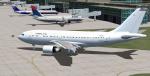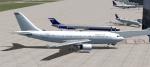 3.64Mb (1209 downloads)
FSX Airbus A310-222 repaint textures for the real world Delta N805PA in her post-PanAm livery. For the Thomas Ruth A310-300, which you must have previously installed in FSX. After aquiring PanAm's transatlantic system, this simple Delta livery was used in order to quickly repaint PanAm's airplanes. Screenshots enclosed. Easy installation. By Tom Tiedman.
Posted Jan 12, 2013 22:23 by Tom Tiedman