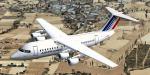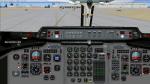 8.35Mb (11669 downloads)
The BAE 146 is a short-haul regional airliner equipped with 4 turbofan engines. Three different liveries: FLY BE, Air France and Airlink. Original design by PAD & JP Brisard. Wide screen panel, GPWS callout, FD and VC modifications by Philippe Wallaert. See readme.txt file for installation and configuration. Credits: PAD and J-P Brisard for the original aircraft. Enjoy!
Posted Feb 23, 2013 11:13 by Philippe Wallaert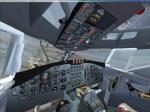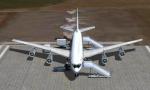 67.17Mb (8620 downloads)
Boeing 707 Upgraded version I've have made and small upgrade for this model for due to a lot request from the people to eliminate the female copilot from the cockpit and I took the chance to also add more features to this very old model of my own by adding rain effect in the windshield with wiper clean and remove the copilot ,I have also add features like esterior stairs and cargo vehicles ,all these features can be apply by pressing shift+5
Posted Feb 23, 2013 08:44 by Alejandro Rojas Lucena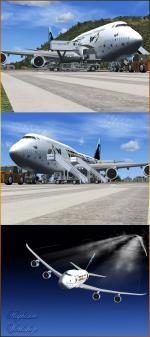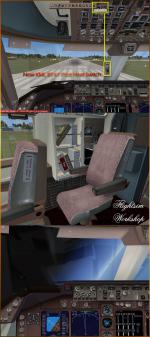 78.88Mb (15422 downloads)
POSKY Boeing 747-8i, painted with the colors of Virgin Galactic. This particular airplane wears the "Virgin Galactic Spaceships texture" wonderful and unique paintscheme includes a dirty look, some stains and signs of humidity just like a real airplane and other body texture fixes by Enrique Cornejo. Uses the B747-800 Model OSX748V4_GENX(MDL) from Posky, with the New FSX-B747 VC upgrade by Alejandro Rojas Lucena and the FSX-B747 VC textures upgrade. Paintscheme by Enrique Cornejo. Also I add some pop up gauges windows to the panel.cfg for better and friendlier flights, I hope you enjoy them. Please read 'My Icons Readme' text and follow the easy steps, I also include Panels images. I add real smoke in the four engines, more cabin views, realistic cockpit and engines sound & more realistic night VC lights and fuselage night textures by Enrique Cornejo. I fixed the VC Lights effects, you only have to reset the Instrument panel light dim switch to see night lights inside the cockpit! Assembled and edited for FSX by Enrique Cornejo
Posted Feb 21, 2013 13:00 by Enrique Cornejo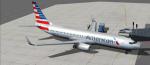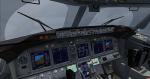 105.16Mb (14101 downloads)
Boeing 737-800w American Airlines (New c/s) for FSX Model by Project Opensky/Skyspirit. with advanced VC. Professional textures by Mathieu Vos. For Microsoft Flight Simulator X upgraded to FSX using Alejandro Rojas Lucena/FSND revised Boeing 737-800 VC model. This model includes Working wipers (right mouse click on switch) with rain effect. Switches for LCD Screens, EICAS, PFD, MFT. Autobrake switch. Opening pilots window. Cabin Lights switch. Realistic FMC. Ground Proximity Warning System (GPWS), More Realistic night textures. Includes stairs (shift e 2). Also added jetway (Ctrl J) and there are custom Boeing 737-800 sounds included for that extra realism. Skyspirit/Project Opensky native FSX Boeing 737-800 model included. . Modified and assembled for FSX by Chris Evans.
Posted Feb 20, 2013 07:31 by Chris Evans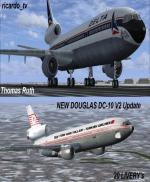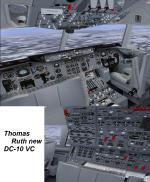 108.05Mb (23319 downloads)
The McDonnell Douglas DC-10 is a three-engine widebody jet airliner manufactured by McDonnell Douglas. The DC-10 has range for medium- to long-haul flights, capable of carrying a maximum 380 passengers. Coming with 20 real livery's, from the Douglas Prototype, Air France, Air New Zealand, Alitalia, American, British, Continental, Delta, Finnair, Hawaiian, Iberia, JAL, KLM, Lufthansa (old/new), Northwest, Pan Am, Swissair, Turkish and United. Model and VC by Eric Cantu & Thomas Ruth, textures by ricardo_tv. Enjoy flying this big old girl.
Posted Feb 15, 2013 23:53 by ricardo_tv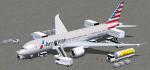 5.45Mb (3498 downloads)
FSX American Airlines New Colors Boeing 787-8 v4. This CamSim version 4 features an improved aircraft wing root design, new wider pax doors with revised window shapes, additional animated air ducts, additional comm and satellite antennas, increasingly more Animated Ground Servicing (AGS), including additional animations featuring trucks hooking and unhooking trailers and static displays. 2d panel but no VC. Model design and paint by Camil Valiquette.
Posted Feb 15, 2013 16:55 by Camil Valiquette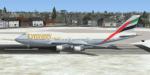 3.86Mb (5094 downloads)
This is a repaint of the default FSX Boeing 747-400. I painted this is the Emirates Airline livery.
Posted Feb 13, 2013 23:42 by Mike Johnson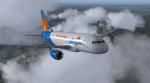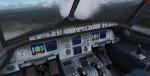 55.58Mb (7638 downloads)
Allegiant package. Project Airbus A319. Visual model by Andy Warden and Derek Mayer. Livery by Nicholas Chung. Uses custom CFM sounds and the default A321 VC.
Posted Feb 13, 2013 04:42 by chris hanson

8.48Mb (4987 downloads)
Repaint of the default FSX 737-800, I could not just find a simple repaint of the default 737 in FSX so I created my own. I hope you enjoy this and plan to do more in the future. Install info included.
Posted Feb 11, 2013 20:12 by Mike Johnson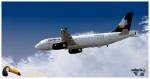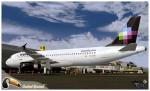 10.83Mb (2220 downloads)
FS2004/FSX Volaris Airbus A320 Textures for the Project Airbus A320-200. Volaris is a Mexican low-cost airline and the country's second largest airline after Aeromexico. Repaint be Manuel Jose.
Posted Feb 10, 2013 17:47 by Manuel Jose Larrahondo Burgos