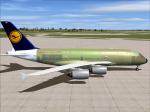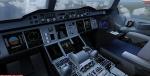 29.44Mb (4710 downloads)
Project Airbus A380 Lufthansa F-WWAK in Airbus Industrie factory colors. Includes VC for FSX.
Posted Jun 26, 2012 10:32 by Jim Fly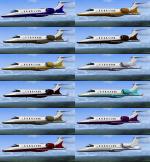 26.63Mb (2593 downloads)
These new Textures are for the default FSX Lear 45 Jet. This File contains 11 new colors and 1 Project Texture. All are in high resolution BMP Textures. Download Includes a easy to use step by step with illustrations. Textures by Mark " Fireball " Rooks
Posted Jun 26, 2012 00:45 by Mark Rooks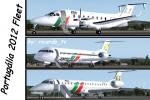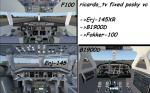 50.26Mb (7365 downloads)
Portugalia aircraft fleet 2012. This package includes 3 complete aircraft packages - the Beech-1900D, Erj-145 and F-100. Models by Posky & Premier Aircraft. About this airline: when it was an independent company its head office was in Building 70 on the grounds of Portela Airport in Lisbon. It operates scheduled international and domestic services from Lisbon and Porto, as well as European charter services, since 2007 exclusively under TAP flight codes. Textures by ricardo_tv.
Posted Jun 24, 2012 16:46 by ricardo_tv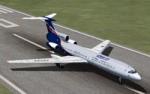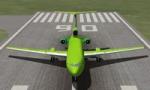 0.10Mb (2796 downloads)
Reworked and additionnal views ( defined by camera definitions in the aircraft.cfg file ) for the "Tupolev Tu-154 V1 package". Original model by team Project Tupolev. Panel and additionnal textures by Ricardo_tv. VC cockpit by Thomas Ruth (B727-200). 11 outside views of the aircraft and a total of 7 virtual cockpit views. See Read me.txt file for very easy installation procedures. Also included is a text file that contains the new camera definitions. Enjoy !
Posted Jun 24, 2012 16:12 by Marc Renaud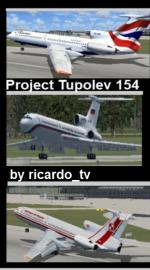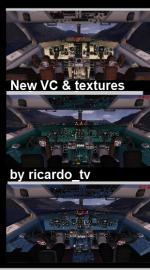 35.96Mb (25114 downloads)
The Tupolev Tu-154 is a three-engine medium-range narrow-body airliner designed in the mid 1960s and manufactured by Tupolev. Russian airlines for several decades, it serviced over a sixth of the world's landmass and carried half of all passengers flown by Aeroflot and its subsidiaries (137.5 million/year or 243.8 billion passenger kilometers in 1990). With a cruising speed of 975 kilometres per hour (606 mph), the Tu-154 is one of the fastest civilian aircraft in operation and has a range of 5,280 kilometres (3,280 mi). This package is the ProjectTupolev 154B-2 modified and added a simple and easy Panel to fly, very familiar to use with realistic textures from original by ricardo_tv. Textures made by ricardo_tv (most) & Air Force by PT Tu-154. Have Russian Air Force, Polish Air Force, American, Aeroflot (New), Air France, British, Cubana, Interflug, Lufthansa, LOT, Siberia S7 and UTair. Have fun
Posted Jun 22, 2012 12:03 by ricardo_tv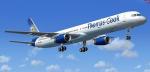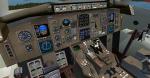 69.65Mb (21328 downloads)
Boeing 757-300 painted in the Thomas Cook colors. Textures by Posky team. Model by Project Opensky. Custom B757 sounds. Panel mods for FSX by Sanjay Blair.
Posted Jun 20, 2012 06:44 by Mohd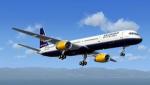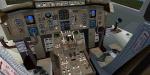 68.72Mb (10503 downloads)
Boeing 757-300 painted in the IcelandAir colors. Textures by Posky team. Model by Project Opensky. Custom B757 sounds. Panel mods for FSX by Sanjay Blair.
Posted Jun 20, 2012 06:42 by Mohd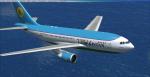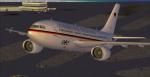 222.84Mb (24241 downloads)
Done! The Airbus A310 series Multi-Livery Mega-Package is now available! This package contains all the A310 series models, created by Thomas Ruth, custom VIRTUAL COCKPITS and panels for each variant of the A310 (also created by Mr. Ruth), CUSTOM SOUNDPACKS for the GE and the PW engines (created by Mike Maarse), 12 different liveries, a fully edited aircraft.cfg with 27 CUSTOM-MADE VIEWS THROUGHOUT THE ENTIRE AIRCRAFT, and a lot of time and dedication! For more Information of this package, images and a extended explanation in English and Spanish, visit my blog at: http://fsxluchoals.blogspot.com/
Posted Jun 19, 2012 02:56 by Luis Quintero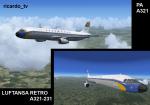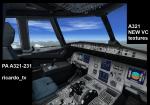 65.19Mb (3616 downloads)
This is the Project Airbus A321-132 Lufthansa Retro or Retrojet liner. Celebrating the 50th year of traveling in Instanbul and for the recording the old airliner colours. Textures & model by PA. Packed and add new VC textures & update by ricardo_tv. Enjoy
Posted Jun 18, 2012 15:32 by ricardo_tv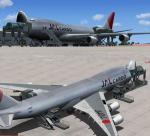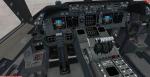 25.07Mb (3422 downloads)
Project Opensky - Boeing 747-400FV4 JAL CARGO. Package with ground servicing and a edited default FSX 747 VC and panel. Project Opensky Freighter 747-400F model. Opening cargo doors. Includes ground services (To operaate go to - Views - Instrument Panel - Posky Utilities). Thank you to the great talent of the Posky team and the original repainter Ryan C. Converted to FSX using the Posky native FSX model by Chris Evans.
Posted Jun 18, 2012 08:51 by Chris Evans