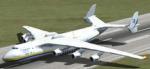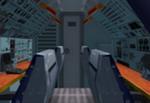 0.08Mb (19003 downloads)
Reworked and additionnal views ( defined by camera definitions in the aircraft.cfg file ) for the "Antonov AN225 Mriya Package" by Thomas Ruth. The AN-225 has a front loading ramp. 13 outside views of the aircraft, 2 in the cargo bay ( they are disabled ) and 6 VC views. See Read me.txt file for very easy installation procedures. Also included is a text file that contains the new camera definitions. Enjoy !
Posted May 21, 2011 21:38 by Marc Renaud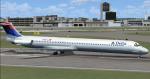 0.00Mb (3118 downloads)
The enclosed data fixes a couple of small issues with the wonderful McDonnell-Douglas MD-81/MD-88 package by Rob "Ace_Pilot_Rob" McAlister, which you must have previously installed in FSX. I can only speak for FSX-SP2... but if your computer is like mine and displays Rob's engine smoke above and below the left wingtip, and displays both the MD-81 and MD-88 hovering a couple of feet above the runway, then these simple fixes may work for you too! Easy installation. By Tom Tiedman
Posted May 21, 2011 18:33 by Tom Tiedman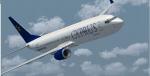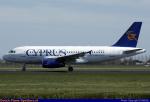 8.55Mb (1294 downloads)
Cyprus Airways textures only for the default Boeing 737-800.
Posted May 21, 2011 16:51 by Lars V.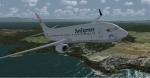 8.76Mb (1609 downloads)
SunExpress Textures for default Boeing 737-800.
Posted May 21, 2011 12:49 by Lars V.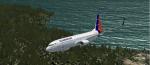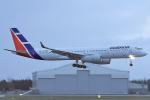 8.42Mb (1311 downloads)
Cubana Airlines textures only for the default FSX Boeing 737-800.
Posted May 21, 2011 07:45 by Lars V.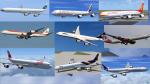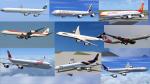 39.45Mb (12573 downloads)
A340-600 textures only package this package includes the following liveries: Lufthansa, Qatar Airlines, Virgin Atlantic, Iberia, Cathay Pacific, Hainan Airlines, Emirates, Thai International, Swiss International and Tap Portugal.Credit goes also to other repainters for some of the liveries in this package.Requires the Thomas Ruth A340-600 package.
Posted May 20, 2011 06:10 by lee roy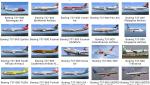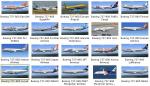 95.90Mb (16684 downloads)
101 Best Liveries Collection Pack for the default B787-800 in only 206 MB by Edoardo Ammannati, EDO1976. The ZIP file contains 101 Liveries : 6 Original liveries, 19 Air India liveries and 76 Real Airlines 2011 updated liveries : Air Berlin, Air Canada, Air China Olympic, Air Europa, Air France, Air Jamaica, Air New Zealand, Air One, Alaska, Alaska.com, Alaska Spirit of Seattle, Alaska Starliner 75, Alitalia, All Nippon Airways (ANA), ALOHA, American Airlines, America West, Austrian Airlines, British Airways, Brussels Airlines, Bulgaria Air, Caribbean Airlines, Continental Airlines, Corendon Airlines, Delta Airlines, DHL Cargo, EasyJet, EgyptAir, Europe Airpost, FedEx Cargo, Finnair, FLY Dubai, Frontier Airlines, Garuda Indonesia, GOL, Hainan Airlines (x2), Japan Airlines (JAL), JAT Airways, Kenya Airways, Lufthansa, Luxair, Malev, MAI - Myanmar Airlines, MIAT Mongolian Airlines, NASA, NAVY, Norwegian Air, NWA, Ocean Air (Avianca), Pan Am, Philippine Airlines, Qantas, Ryanair, Ryanair Vodafone, Scandinavian Airlines (SAS), Singapore Airlines, South African Airways, Southwest Airlines (New Mexico), Swiss Air, TAM (Brasil), Transavia, TUIfly, Turkish Airlines, UIA - Ukraine International Airlines, United Airlines 'Old' and 'New', UPS Cargo, US Airways, Varig Brasil, VASP, V Australia, Vietnam Airlines, XL Airways, XL Airways Excel.com and XL Airways Oger Tours. - Fixed Airlines.cfg / Aircraft.cfg so that many existing CALLSIGN work and are spelled correctly in FSX. - Deleted hundreds of MB of unuseful texture file or unuseful images left in folders by livery designers. - Added were missing or not well visible a new THUMBNAIL so each plane preview is good. - Added for each plane a description of the Airline it belongs to taken from Wikipedia. (was a long and interesting work) - Added real CALLSIGN at the end of each Airline description to set it easier when in doubt. - Added the cool Smoke System downloaded from Simviation.com
Posted May 19, 2011 09:42 by Edoardo Ammannati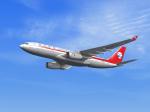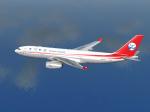 7.25Mb (1453 downloads)
Airbus Series Sichuan Airlines (China) Repaint for A330-200 for FSX. Original aircraft by Thomas Ruth,Germany, Sichuan Airlines repaint by He Lingyuan,China. This package contains Texture files only, original aircraft package is available separately: TomA332B.ZIP. For more information see Readme.txt. IMPORTANT: The Tom A330 Series is for FSX only, and you have to install FSX SP1 or SP2, or the aircraft won't be displayed properly!
Posted May 18, 2011 23:17 by He Lingyuan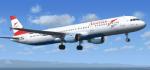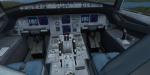 14.77Mb (6154 downloads)
Airbus A321 Austrian Airlines with VC. Project Airbus model couopled with the A321 default VC.
Posted May 18, 2011 05:36 by michael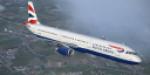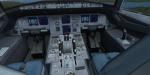 11.93Mb (8262 downloads)
Airbus A321 British Airways with VC. Project Airbus model couopled with the A321 default VC.
Posted May 18, 2011 04:57 by michael