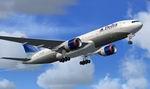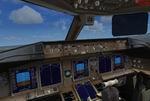 34.92Mb (37019 downloads)
Boeing 777-200 Delta Package with FSX compatible VC. Works out of the box! Project Opensky V2. Model features High resolution textures, Dynamic flexing wings, Body gear steering, Nose gear steering, Rudder lock, Ground spoilers, Low speed aileron locks at high speed, Fully animated control surfaces, Fully independent suspension, Trim Animation, Opening Passenger Doors, Animated tilting bogies, Rolling wheels, Animated thrust reverser's with reverser block doors, Detailed textures, Full night lighting, Crash affects, Ground Service Vehicles And more. FDE Service Pack D Compliant, Model Service Pack 2A Compliant, VC Model included, and POSKY Panel mods are pre-installed. Ready to fly immediately after downloading [**99% noob-proof package**]. Delta Airlines "wavey" scheme has been reworked to correct colors and a few flaws. Photoreal windows have been included as well as modified night textures to correct the issues from v1. This scheme depicts Delta's newest 777-200ER--N867DA. Model Designer Hiroshi Igami/Yosuke Ube. Flight Dynamics Designer Warren C. Daniel/Brandon D Henry. Tested by Project Open Sky Members. Textures by Ben Jones/Yosuke Ube. Delta paint by Brandon D. Henry. Panel updated for FSX by Danny Garnier.
Posted Mar 11, 2009 11:56 by GARNIER D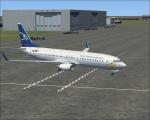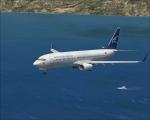 3.53Mb (1994 downloads)
737-800 Montenegro Airlines texturesonly for the default FSX Boeing 737-800.
Posted Mar 9, 2009 10:31 by Aleksa Sijakovic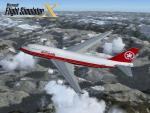 6.00Mb (3156 downloads)
This is another repaint for the FSX Default 747. The last Air Canada 747 was retired in 2004 and was replaced by Airbus A340s. The A340s retires three to four years later and were replaced by the Boeing 777-300ER fleet. This aircraft was repainted in memory of the 747-400 fleet for Air Canada. Splash Screen Included. By Victor Vu.
Posted Mar 8, 2009 21:34 by Victor Vu
8.93Mb (528 downloads)
Textures only for the default 737-800 in Crystal Air VA Livery.
Posted Mar 8, 2009 16:14 by Tom Close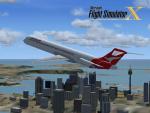 1.23Mb (3672 downloads)
This is another repaint for the FSX AI Default MD-83. This is a fictional repaint because no MD-83 was in service for QantasLink. The predecessor, the Boeing 717-200, was currently in service. A repaint is portrayed to see if an MD-83 was in service today. Splash screen included. This repaint requires the MD-83 Flyable pack by Braden Peters. By Victor Vu.
Posted Mar 4, 2009 18:43 by Victor Vu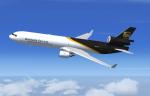 3.83Mb (21946 downloads)
FSX McDonnell-Douglas/Boeing MD-11(F). UPS Cargo version. Long range cargo transport. Full package for FSX/SP2 with 2D panel, dynamic VC, sound, full moving parts, dynamic shine, operating crew & cargo doors, new FD, HTML check/ref lists and more. By Jean-Pierre Brisard, Barry Blaisdell & Bob May -- Premier Aircraft Design. UPS livery by Piran Smith.
Posted Mar 3, 2009 15:47 by bob.may@premaircraft.com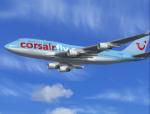 6.11Mb (10945 downloads)
FSX Boeing 747-400 Corsair Textures (two variations). Registration: F-HLOV (corsairfly.com) and Registration:F-GTUI (corsair.fr). Textures only for the default FSX Boeing 747-400. Created by Gabor Kovacs.
Posted Mar 1, 2009 09:49 by Gábor Kovács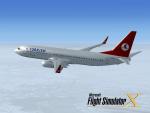 8.80Mb (9626 downloads)
This is a repaint of the FSX Default 737. Registration no. TC-JGE. On Feb. 25th, 2009, flight 1951 on this plane crashed 1,5 km north of Amsterdam-Schiphol International Airport, killing three pilots and six passengers. Remarkably, 125 occupants on that flight survived. A repaint is shown to celebrate its accident in aviation history. Splash screen included. By Victor Vu.
Posted Feb 28, 2009 23:09 by Victor Vu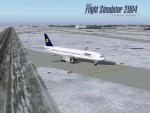 1.64Mb (4733 downloads)
This is another repaint for the FS9 Default 777. The repaint is fictional, there is no Triple-Sevens in Lufthansa. A repaint has been portrayed if there were 777s in Lufthansa. Splash screen included. 777-300 Paint Kit by Rob Smith. Note: This repaint is not 100% accurate, because the Lufthansa Logo left orange marks. By Victor Vu.
Posted Feb 25, 2009 23:36 by Victor Vu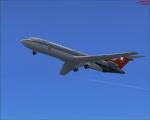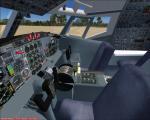 35.10Mb (37726 downloads)
FSX Boeing 727-200 Package (Updated 'aircraft.cfg' file to fix lights). The FSND 100% Native FSX-SP2 compatible model of the Boeing 727-200, with a complete, dynamic virtual cockpit. Pilot tested flight dynamics and custom gauges calibrated for accurate, realistic operation. Model by Alejandro Rojas Lucena (alrot). Flight dynamics Brett Henderson. Version 1 had 3026 downloads.
Posted Feb 25, 2009 12:49 by Alejandro Rojas Lucena